Vidit Gujrathi interview: Viswanathan Anand is a legend, but I would rather be the first me
Gujrathi is not somebody who would be smug at having escaped with a draw against Carlsen, but one who would search out his errors that let the world champion escape and find a way to banish them.
"Of course, (Viswanathan) Anand is a legend, and it will be nice to overtake him, but I (would rather) want to be the next (first) Vidit."
When someone makes such a bold statement with complete nonchalance, you pause for a second. You are taken aback. After all, the comparison that had been drawn was with the greatest Indian chess player of all time, and arguably among five of the greatest the world has ever seen. But the very next moment, when you realise the gravity of the statement, you are overwhelmed by a sense of respect. You admire the conviction and the will to carve out a niche and name for oneself, free from the burden of comparisons with the greats. The admiration gets greater when you see that the individual making that statement is no more than 23-years-old.
He is the third-highest-ranked chess player in the country, only the fourth Indian to bag the coveted 2,700 Elo rating, the player who had fought the marauding Magnus Carlsen to a stalemate in the recently-concluded Isle of Man Open, he is in more ways than one, the future of Indian chess. He is none other than Vidit Gujrathi.
On Monday, Gujrathi was in Mumbai, where he was felicitated as the 'Sportsman of the Year' by the Sports Journalists' Association of Mumbai, and it gave Firstpost an opportunity to catch up with him. In a candid chat, the chess ace shared stories of his growth and development as a chess champion, his method of preparation before a big match, the duel with Carlsen, the comparison with Anand and much more.
"If I keep playing as I have been in the past few months, it is very much possible (becoming the next Anand)," Gujrathi said, before reminding us of the merit of having an identity of his own.
One would perhaps remember, Gujrathi had been unbeaten at the World Team Championship and had the better of Le Quang Liem in the FIDE World Cup. He gained eight Elo points at Isle of Man and took his world ranking to 34th. The year 2017 has indeed been pretty rewarding so far for the Nashik lad.
Every generation looks for a hero equal to or bigger than the one the generation before, and so comparisons often become unavoidable. Indeed Gujrathi's sublime performances over a considerable period of time have occasioned comparisons with the great Anand; it is probably as inevitable as Virat Kohli being compared to Sachin Tendulkar and Tendulkar himself being compared to Don Bradman. But Gujrathi looks more like the precocious Tendulkar dispatching the legendary Abdul Qadir over his head for a six. Like the 16-year-old Tendulkar, Gujrathi is not ruffled by the big names, whether he is facing them across the board, or being compared with one.
This was borne out also by his gritty performance against Carlsen at Isle of Man last month. The two players agreed to a peace treaty after completing 30 moves. It was certainly the biggest achievement of Gujrathi's career so far.
"It was definitely a great game. Before this tournament, I was playing in the World Cup and the level of pressure in that tournament was extreme. So when I was playing against Magnus (Carlsen) in this other tournament (Isle of Man Open), I didn't have any nervous energy left. So I was very chilled out before the game. That helped me to play at my best. The game was very good overall. It was equal at the beginning, but he made a few inaccuracies, and then I got into a slightly better position. But I underestimated my chances; so he could escape with a draw," Gujrathi explained.
If readers would have noticed, the tenor of Gujrathi's statement makes it clear that he rued letting the world champion off the hook. He is not somebody who would be smug at having escaped with a draw against the mighty Carlsen, but one who would search out his errors that let the world champion escape, analyse them and find a way to banish them the next time they faced each other. This is what a champion is made of; this is how he thinks.
At this point, I sought to dig deeper in my quest to understand how the mind of a chess champion functioned. "Let's say you have a match against one of the big names — Carlsen or Wesley So or Levon Aronian — in a big tournament tomorrow. How would you prepare today? What would your strategies be? What would be thinking about?" I asked.
"First of all, I would see what have they been doing recently and what has been their style. For example, Carlsen in that tournament (Isle of Man Open) was freestyling; he was mixing up things, he was changing every day, he was not sticking to his repertoire. He was trying to be unpredictable. Then I would decide how best I should play, and for that game (against Carlsen), I decided to stick to my repertoire and be confident in my preparation and then try to be solid. It worked out really well. If I am playing an aggressive player, who is a solid player himself, then I would have to change my strategy and try to be a bit more aggressive and be more on the offensive," replied Gujrathi, giving us more than a sneak peek into his sharp mind and astute strategising.
Another factor that has helped Gujrathi become the player he has is the aggression that he has built into his game.
"A few years ago, when I was a little younger, I had the tendency to make draws. So I would offer draws when there would be a lot of fight left, and I realised that this was taking me nowhere. So in recent times I worked on it and realised that fighting till the end was much better — if you fight till the end, you definitely have more chances. You will lose some, but you will win many more. That's what I am doing in the recent times," Gujrathi said.
However, if there was an Achilles Heel for him, it was that he used to get extremely upset at losses, which many thought did him more harm than good.
"Since my childhood, I hated losing, be it in any sport. So when I used to lose to my dad, I used to ask for rematch, and after a while my dad got tired of it. So he took me to a chess club to learn the game and then I started winning. I always had the tendency to get really angry whenever I used to lose. That somehow helped me in the initial stages, but then I realised that it was not a good habit to get so angry," Gujrathi revealed.
With experience, Gujrathi has been able to channelise his frustration at losses better and come back stronger. And this has been another aspect in his development as a world-class chess player.
How satisfying has breaching the 2,700-Elo barrier been for him, given that he was only the fourth Indian, after Anand, Pentala Harikrishna and Krishnan Sasikiran at that peak?
"I remember when I was very young, I used to see them in the magazines — Anand, Hari and Sasi — and I always felt, okay, I want to be at the top and be like them. When I was growing up, it was definitely an inspiration. And finally, when I was so close, when I used to be at 2,699... and then eventually achieving it, it felt really good. I had more confidence in myself, and that really showed in the next tournament, where I increased 20 more rating points," said Gujrathi.
His 2,700-Elo rating becomes all the more significant when one considers the exceptionally talented players who are yet to reach that coveted mark. Mention that to Gujrathi and you would get a polite reply: "Yes, it is considered as a very important milestone. In chess players' views and organisers' views, it is considered to be a level of certain class."
In talking about his achievements, Gujrathi, however, doesn't fail to acknowledge the role played by Anish Giri in his development. He had been the second to the Dutch star for some time now and has benefited enormously. "I am helping him in some tournaments, but apart from that, one thing that is more important is that we are good friends. We are of the same age and we get along really well. Regarding my chess, definitely if you work and interact with a player who is at the top of the field, you gain some qualities from him, and I am sure I grasped a few qualities from him as well," Gujrathi noted.
Chess was, however, not an automatic choice for Gujrathi. "Well, I used to play cricket a lot with my dad. He used to come from the clinic and we used to play in the house and on the streets also. So I liked the game, but when I went to the (coaching) club, they said I was too young for it because I can get really hurt. And I used to play chess as well with my dad. So the other option was chess. There was something about it that I enjoyed very much. Then I started winning tournaments, which gave me confidence, and I realised, "Okay, maybe this is something which I can do,"" he recounted.
Gujrathi, who would be playing in the Chinese and Hungarian leagues next, is, however, training his guns on the tournament at Wijk ann Zee — which is considered to be a Grand Slam tournament of chess — next year.
He sounded extremely positive when asked about the future of Indian chess and when reminded of the massive pool of young talent in the country at the moment in the form of B Adhiban, SP Sethuraman, and others, apart from himself.
"India has always been respected as a chess-playing nation because of the legend, Anand. He is loved and adored everywhere, in all the countries, and now when I interact with my friends or colleagues (from other countries), they say that they are scared to play the Indian players, and that's a good thing. This is because they (the Indian players) are very talented and the most hard-working and it is not easy to beat them," Gujrathi said.
"It is a true perception. There are lots of young players who put up a really long fight and it is not at all easy (to beat them). So in the next few years, provided we keep up the good work and we get the required infrastructure and support, I think chess in India is going to get a big boom," he added.
Talking of the nature of support that is needed, he said that organising top-level tournaments in India would be a real shot in the arm for Indian chess. "It used to happen a few years ago and if it is restarted we will get more opportunities to play against the top players and I think that is the main thing that is lacking right now," he said. Regular sponsorship would also do the game in the country and its players a world of good.
But in all this, one thing is absolutely certain. There will be no stopping him in the days to come. He has all the makings of the next world champion from India. Indian chess is certainly looking up.
Sports
In a 72-page report, Chess.com investigation found Hans Niemann had cheated more often and more recently than what he claims.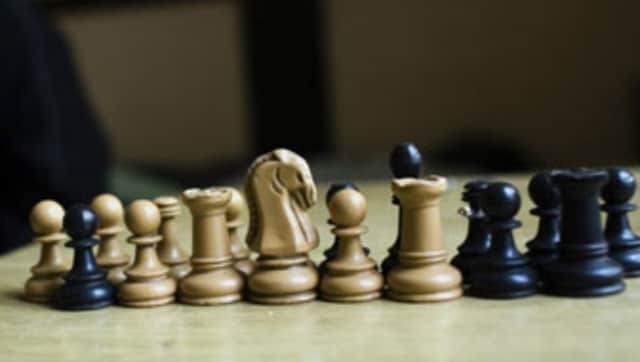 Sports
On-air, Ilya Smirin made vile comments against women, saying: "Chess is not for women".
Sports
The International Chess Federation, FIDE, says that it will create an investigatory panel comprising three members of its fair play commission to look into the claims.