Vettel's domination reminds one of Schumacher in 2002
What makes Vettel's win even more special is the company he has around him, Alonso, Hamilton, Schumacher, Button — all former world champions.
We still have four races to go this year and we already have our 2011 Champion – Sebastian Vettel.
Vettel's domination of this year's championship is reminiscent to Schumacher's 2002 and 2004 championships, only he has done it at a much younger age. The most impressive part about Vettel this year is that he has matured as a driver and is improving all the time, learning from all past mistakes.
Vettel has been able to put the Red Bull on pole in 12 out of the 15 races so far and win nine of them, which is truly incredible. Every single pole lap has been done under pressure, and that is where he has won the race even before it has begun. But was this man always destined for greatness?
Vettel started karting at the age of eight winning many events and participated in his first ever open wheel racing series at the age of 16 at the German Formula BMW championship. He came second in the championship in his first year winning five races before going on to dominate the second year by winning 18 of the 20 races enroute to his first ever title.
Next he moved to Formula 3 Euroseries and in 2006 finished runners-up to current Force India driver Paul Di Resta. The German moved to World Series Renault in 2007 before getting his big break in the F1 US Grand Prix when he was chosen to replace injured Robert Kubica.
Vettel impressed immediately qualifying 7th on the grid and finishing the race in 8th place in only his first race, and in turn becoming the youngest ever driver to earn a point in F1. Scuderia Toro Rosso immediately signed Vettel to replace Scott Speed not only for the remainder of the 2007 season but for their 2008 campaign as well. Vettel grabbed his once in a lifetime opportunity with both hands and made the most of it. Rookie drivers in F1 get just once chance to impress and it is important that they make it count like Vettel did.
Vettel announced his arrival as a serious competitor when he qualified on pole and went on to win the Italian GP at Monza in 2008. In wet conditions in a Toro Rosso, definitely not one of the fastest cars on the grid, and against all odds he comfortably won to become the youngest race winner in Formula One. This victory promoted him to the Red Bull Racing team for the 2009 campaign where he won four races and finished the championship in second place, behind Jenson Button.
2010 saw Red Bull racing giving Vettel the best car on the grid and he was lucky to win the championship in the final round, when he should have won it a lot earlier. Having the best car on the grid both the team and Vettel were responsible for making many mistakes that led to him winning the title only in Abu Dhabi and not earlier.
While Vettel put his car on pole 10 times last year he managed to win only five races. And not to forget the problems he had with his teammate Mark Webber last season. After winning the 2010 championship Vettel did not sit still. Knowing this year there would be a switch from Bridgestone to Pirelli tyres, Vettel was the only driver who took the trouble to go to the Pirelli factory to learn more about the tyres that he would be racing with in 2011. Not sure how much of a difference it made but he seems to be the only driver who can bring his tyres upto temperature the quickest this year.
Now here is why I feel Vettel is a deserving champion and why he is creating his own path to greatness. Like last year Red Bull still have the superior car but the difference this year has been Vettel. He has learned from his mistake last year and led from the front this time around. He has made his pole positions count and managed to win races from start to finish.
In the 15 races completed this year, he has won nine, finished second in four races, and third and fourth in one race each. He has shown consistency like no other driver and continues to drive every race like he is fighting for the championship. He is not taking anything for granted and I have a feeling he is not going to take the pedal off the gas till this season is over.
His move on Alonso in Monza was fantastic, proving that he will not settle for points and will race as hard as he has to, to win. He has comfortably beaten his teammate and not had a single crash this year, which is a complete contrast to last year. All in all he has had a fantastic year where he has not put a foot wrong and blown his rivals away.
Vettel is definitely a worthy champion and he will probably be one of the favourites to win the title again next year. What makes it even more special is the company he has around him, Alonso, Hamilton, Schumacher, Button, all former world champions.
However the true test of a great champion is his ability to win when the car is not far superior to others. I would like to see Vettel fight his way to victory rather than lead from the front. Please don't get me wrong it is not his fault that his car is so good. I would just like to see him be challenged before I decide which category to put him in. When he does start doing that, maybe then we can put him next to the legends of this sport – Ayrton Senna, Alain Prost, Michael Schumacher, Niki Lauda, Jackie Stewart, Juan Fangio. As of now one thing is very clear – he is definitely on his way to greatness.
Find latest and upcoming tech gadgets online on Tech2 Gadgets. Get technology news, gadgets reviews & ratings. Popular gadgets including laptop, tablet and mobile specifications, features, prices, comparison.
Sports
Laurent Rossi, director of strategy and business development for Renault, will take over the motor sports unit which will be rebranded Alpine.
Sports
Leclerc, 23, added that he had "mild symptoms" and was isolating at his home in his native Monaco.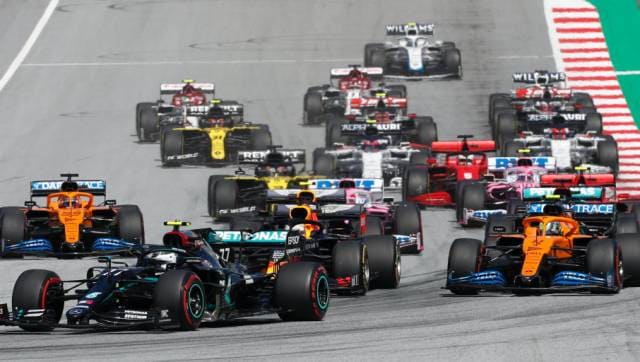 Sports
The Italian circuit of Imola, which returned last year as the calendar was hastily rearranged in the face of the pandemic, is expected to fill China's slot, AFP learned on Monday, confirming information from several specialised media.