Vasyl Lomachenko outclasses Guillermo Rigondeaux for pound-for-pound crown, takes his first step towards boxing immortality
Lomachenko proved he's a special fighter on Sunday when he outfought, out thought and simply outclassed Rigondeaux to defend his WBO junior lightweight title.
There are great fighters and then there are special fighters. Guillermo Rigondeaux is a great fighter. Vasyl Lomachenko is a special fighter. Lomachenko proved it on Sunday, when he outfought, out thought and simply outclassed Rigondeaux to defend his WBO junior lightweight title. Lomachenko didn't simply beat Rigondeaux, he forced the ultimate ignominy on him: The Cuban quit on his stool at the end of round 6. Rigondeaux may have complained of an injury in his hand or wrist, but Lomachenko took Rigondeaux's heart.
Rigondeaux isn't alone in this. He's the fourth straight Lomachenko opponent to simply give up. Rigondeaux, a renowned sharpshooter, was only able to hit Lomanchenko 15 times in 6 rounds. After the bout, Lomachenko joked that he ought to change his name to NoMaschenko (after the famous words "No Mas" reportedly uttered by Panamanian legend Roberto Duran in his return bout with Sugar Ray Leonard, where he told the referee he didn't want to fight anymore). Whether it was the age, weight or simply the gulf in class, the fact remains that a world-class competitor like Rigondeaux was made to look ordinary. Lomachenko is, for all intents and purposes, the number 1 pound-for-pound fighter in the world.
The bout began slowly. Rigondeaux arguably won the first round as Lomachenko took the opportunity to scope his fellow two-time Olympic gold medalist. From the outset, Lomachenko clearly looked like the larger man and that old adage about a good big man beating a good little man held true.
After that, it was all one-way traffic, as Lomachenko repeatedly tattooed Rigondeaux to the face and body. Rigondeaux found himself extremely frustrated. For the first time in his professional career, he could neither dodge incoming artillery nor return fire with his piston-like jab or life-taking left. Rigondeaux kept trying to set up that money punch, but Lomachenko was simply too clever for him, befuddling the Cuban with his unorthodox movement and awkward angles.
Rigondeaux seemed to comprehend the mess he was in early, resorting to dirty tactics such as hitting behind the head and fouling Lomachenko as often as he could. But Lomachenko would not be dissuaded. He knew he was the better fighter, repeatedly tagging the Cuban with the uppercut and imposing his will on the smaller man. Lomachenko lived up to his prefight prediction, simply walking through Rigondeaux's punches like a tank. The crowd got antsy pretty quickly, booing Rigondeaux's repeated attempts at grappling with Lomachenko.
Round six was the most one-sided of all, with Lomachenko eschewing any form of self-defence and going for the knock out. By now, Rigondeaux's bag of tricks was running on empty and the now desperate fighter resorted to holding onto Lomachenko for dear life. The referee had seen enough, and with a little prodding from Lomachenko's corner, deducted a point from Rigondeaux. By now, everyone could sense it was a cat toying with a mouse and only a matter of time before Rigondeaux hit the canvas and was separated from his senses. Rigondeaux did not answer the bell in the seventh round and that was that.
The boxing public is unnecessarily harsh on fighters who "quit". They aren't the one taking punches to the head in the ring, nor do they pay the medical bills for the rest of the fighter's life. No man should be sent to the gallows to fulfill the bloodlust of a mob. And yet, coming back with your shield or on it has part of the fighter's code since time immemorial: Plutarch said these were the words Spartan women would tell their sons and husbands before they set off for war. Rigondeaux need not be ashamed. He was not the better man. There may be no better man in the ring than Lomachenko. Rigondeaux would be wise to return to his division and try to scrimmage up the best opposition he can find. Perhaps now that Rigondeaux has been reduced to the status of a mere mortal, fighters his own size will be eager to take on the challenge.
As for Lomachenko, Greatness beckons him. He could end up one of the greatest fighters in history. Mouth-watering contests against lightweight king and fellow pound-for-pounder Mikey Garcia and light welterweight supremo Terence Crawford await. I'd bet he cleans Garcia's clock. And that's with all due respect to Garcia, who is a fantastic fighter in his own right. Crawford is perhaps the only fighter in the world punters would favour over Lomachenko, and that's only because of his strength and size. Incidentally, Crawford recently moved up to welterweight, which means that Lomachenko would have to do one better than Rigondeaux and jump three divisions to fight Crawford. Even for a talent as prodigious as Lomachenko, such a move would be, at least for the foreseeable future, extremely ill-advised. Boxing has had a fantastic 2017. It's possible that 2018 could be even better.
Entertainment
Although Old and Snake Eyes are both fresh offerings from major studios, moviegoers turned out in modest numbers on a weekend where there was the notable distraction of the Olympics as well as rising concerns about the delta variant.
Sports
The 38-year-old Mary Kom, who is a 2012 Olympic bronze-medallist and a multiple-time Asian champion, prevailed 4-1 against a rival who is 15 years her junior and a Pan American Games bronze-medallist.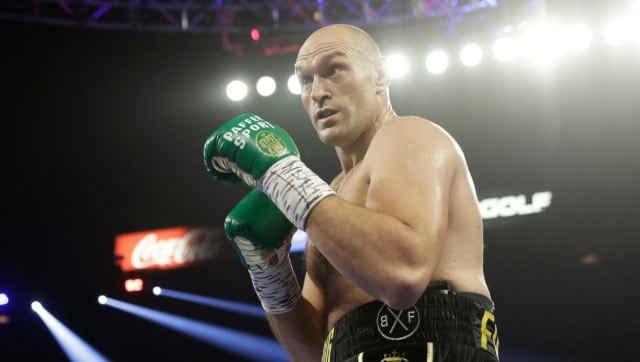 Sports
The bout for Fury's World Boxing Council crown will still be fought at T-Mobile Arena in Las Vegas.