VAR may have kinks that need to be ironed out, but the technology will prove to be useful in long run
VAR can serve as a useful tool to eliminate howlers. Once an obvious wrong is righted, the case for VAR will become stronger. The technology is waiting for its big moment.
Jamie VAR-dy does not know what VAR is. He does not even know what it stands for. Mauricio Pochettino feels that it kills emotion. Gianluigi Buffon thinks VAR is making the game inhuman. Crystal Palace chairman Steve Parish believes the Premier League will lose TV reviews due to the time-lag caused by video referrals. Fans are confused. Referees too.
The latest installment of the disenchantment with VAR played out this week when Italy were awarded a late penalty against England. Despite the referee coming to a right decision, very few people at the Wembley Stadium were left feeling contented. England manager Gareth Southgate made his position known. "I think the ruling is 'clear and obvious' and this is not. It's one you can debate all day. I don't think with incidents like that VAR will clear things up."
James Tarkowski's foul on Federico Chiesa, albeit debatable, was worthy of a penalty. More importantly, Southgate's use of the phrase "clear and obvious" smacks of ignorance as the updated VAR handbook does not even mention it once. Instead, only four "game-changing parts" are up for reviews under the system – goals, penalty decisions, red cards and cases of mistaken identity.
With VAR's use approved for the World Cup this summer, much needs to be done before it is better understood in the little time that is left. When the technology was introduced, the rule-making International Football Association Board (IFAB) sought to deliver "minimum interference, maximum benefit." The disruption, though, has been severe.
Trust FIFA to make an already vexed situation worse. On Thursday, it announced the list for match officials at the World Cup but only seven of the 12 countries using VAR in at least one of their major competitions had their representatives chosen. Even though the technology threatens to dominate discussion at the World Cup, a significant number of officials will use it for the first time in Russia.
Thankfully, the video assistants for the marquee tournament are more likely to have used VAR as those who have worked with the system are expected to have an advantage when the selection is made next month in Italy following a two-week seminar. However, even the officials who are well-versed with it may not be able to iron the teething issues out as quickly as it is desired.
While the time-lag in decision-making during the Bundesliga and Serie A matches, two of the leagues which have implemented VAR, has come down, there exists a fear that farcical scenes like the four-minute stoppage at a game in last year's Confederations Cup might be seen again. FIFA put the system on trial first at the 2016 Club World Cup in Japan and has since trialled it at the tournament's next edition in the UAE, the Confederations Cup and the Under-20 World Cup in South Korea last summer. It has not been able to win many people over.
Expectedly, though, the sentiment at FIFA is bullish. Quoting research by university KU Leuven, the governing body believes that reviews will arrive only once in every three games. Further research by the IFAB, covering 1000 matches, contends that refereeing decisions achieve an accuracy of 98.8 percent with VAR, up from the previous figure of 93. This result moved President Gianni Infantino and former VAR-sceptic to label the system as "almost perfect."
Boosted by the numbers, FIFA pushed ahead with offline and online testing of the technology to the point that its use has now been approved for the World Cup. The powers that be in Zurich have historically been very protective of its marquee tournament but the abandon with which VAR has been given the go-ahead makes you think otherwise.
One of the major apprehensions about the system is the absence of replays on the large-screen inside the stadium. Incidents are not replayed generally to avoid fan anger and distracting officials and players. However, in the case of VAR, replays might be necessary to counter the confusion which often spreads while a decision is being reviewed.
The latest FIFA handbook on VAR, though, holds a contrary position. "Very careful consideration should be given to whether, within existing competition protocols, replay footage is shown as this may cause negative reactions, security issues etc, especially where the incident/decision is not clear-cut. In principle, replays of incidents which are or have been reviewed should not be shown on screens in the stadium."
The principles of football, however, are likey to be overturned by VAR. Its effect on the fluid nature of proceedings is a serious concern. Furthermore, unlike the goal decision system, the VAR operates in a grey area. In spite of contact, a tackle might be deemed to be fair or a foul by the referee. Much about football is subjective, open to interpretation. The people behind VAR did take note of that, limiting its remit to only certain incidents, but even now there remains a potential for debatable decisions.
However, no technological artifice can be expected to assuage the concerns of the argumentative fan. There is also the chance that, with referees already getting most decisions correct, perhaps we will see minimal interference by VAR at the World Cup. Some of the fears which surround the system now have already played out in cricket (DRS) and tennis (Hawk-eye). If the experience with those technologies is transferable, then the danger may not be as great as it may seem now. As time passes, the kinks will be ironed out and VAR can provide the desired correctives.
Even now, it can serve as a useful tool to eliminate howlers. Thanks to VAR, we are unlikely to see a repeat of ghost goals like the one 'scored' by Frank Lampard for England against Germany at the 2010 World Cup. Once an obvious wrong like that is righted, the case for VAR will become stronger. The technology is waiting for its big moment. Perhaps, that will tip the scales for many. Hopefully, by then, Jamie VAR-dy would also have learnt what VAR stands for.
Find latest and upcoming tech gadgets online on Tech2 Gadgets. Get technology news, gadgets reviews & ratings. Popular gadgets including laptop, tablet and mobile specifications, features, prices, comparison.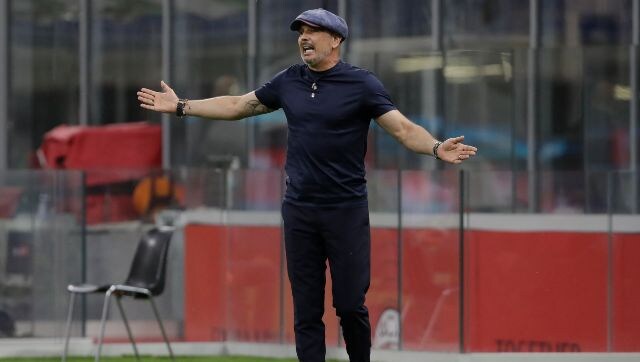 Sports
Sinisa Mihajlovic complained of 'frigid football' and said that matches had been worse than training sessions.
Sports
One of the compromises to bring football back from pandemic enforced break was empty stadiums. Premier League, Bundesliga, LaLiga and Serie A finished without fans in attendance. But did it alter the outcomes? We ran the numbers.
Sports
A Swiss special prosecutor opened a criminal case into Infantino's conduct on Thursday over his meetings with the country's attorney general who has been leading a sprawling investigation into football corruption.