US Open champ Stan Wawrinka doesn't care about Big Four; he is king of his own empire
A generation of fans, spoilt dirty by the talents of Federer, Rafael Nadal, Djokovic and Andy Murray now have some more wealth to deal with. Wawrinka may not care too much about the Big Four club, but there is no denying the fact that he has carved himself a new mountain from the very earth he inhabits.
Stanislas Wawrinka does not care about joining the Big Four club. Good for him, because he is the King of his own empire. Like a begonia, that prospers and blossoms in the shade, Wawrinka has risen like a phoenix after spending several years in the giant shadow of Roger Federer.
Over the past three years, Magnus Norman and Wawrinka have authored a makeover that is staggering to imagine and a treat to watch. In the final last night, just as he did last year in Paris, Wawrinka came back from a set down to trounce the best player in the world 6-7(1), 6-4, 7-5, 6-3.
Wawrinka lost nine of his first 13 finals, but since then the Swiss has won eleven straight including all three Grand Slam finals against the reigning World No 1. It is a truly remarkable story of grit and resolve, built upon the rubble of a decade of bruising defeats.
Ordinary mortals may have given up if they were suffering inside the skin of Wawrinka. But the World No 3 is made of metal and once he discovered the resolve and iron will that he possessed, he became the master of his own universe.
"You have to expect to suffer and you have to almost enjoy suffering," explained Wawrinka. "I was already feeling tired at the beginning of the match. I was feeling the cramps coming in the third set.
"In the fourth set I had some pain, but the most important was what I discussed with (Coach) Magnus Norman before the match," added the three time grand slam champion. "To keep fighting and try to win it."
It must have taken an enormous amount of self-belief to remain committed to the sport and himself, considering his role as the eternal number two behind Federer. The fact that he could survive the shadows for a decade before making a mark, is testimony to the mental fortitude of Wawrinka.
Wawrinka's rivalry with Djokovic goes a long way back. In fact, the Swiss won his first ever ATP World Tour title in July 2006, when the Serbian retired through fatigue. But when the two men arrived in the fourth round of the Australian Open in 2013, Wawrinka was smarting from ten successive losses to the marauding Djokovic.
Almost in an unexpected sort of fashion, Wawrinka waged an over five hour battle against Djokovic before surrendering 10-12 in the fifth set. It was a match that woke up the beast inside Wawrinka. Suddenly, he wondered really that perhaps he could compete against the best. It was an awakening that has altered the landscape of tennis.
Unlike Juan Martin Del Potro and Marin Cilic, who both tried to punctuate the run of the Big Four, but only succeeded once, Wawrinka has proven beyond doubt that he has the game and the guts to outlast the best men in tennis. In winning three different grand slam tournaments over three seasons, Wawrinka has underlined the fact that he has the versatility and staying power to sustain his success.
A deeper look at his performance against Djokovic, both in Paris and New York, holds up a mirror into the battle hardened soul of Wawrinka. The World No 3 showed great resolve, solid temperament and a nimble mind. His ability to think on his feet and course correct have been vital allies on his march to victory over an opponent that many consider the most complete player of this generation.
In the final, the Swiss struggled to impose himself on Djokovic, early in the match. He was playing far too deep in the first set. Instead of attacking the ball early, as is his wont, Wawrinka allowed himself into a defensive mindset and Djokovic took advantage to snatch the set away in a lopsided tiebreaker.
After winning just one in three baseline points in the first set, Wawrinka altered his position on court and the results were immediate. He won more than half the points in each of the next three sets, as he started to dictate play far more often than he did in the early stages of the match.
Even more interesting was how Wawrinka controlled the match with a variation of his approach in the fourth set. The Swiss outlasted Djokovic in the longer rallies, winning points that lasted over nine strokes by a 28-19 margin.
But as soon as he scented an opportunity at two sets to one over the Serbian, Wawrinka switched to finishing points early. It was a dose of genius, as he worked clearly to shut the door on Djokovic winning 30-20 on points that lasted less than nine strokes.
There was plenty of mental fortitude too that supplemented his agility in the mind. Wawrinka won five of seven points on the second serve, facing a break point. In the end he conceded just three of 17 break points to the top seed, who was increasingly frustrated deep into the match.
Trailing 1-3 and with Wawrinka nearly ready to serve, Djokovic resorted a bit of gamesmanship, when he called for a medical timeout without waiting for the changeover that should have followed the fifth game. Wawrinka retained his composure to ensure victory, but for a man who was shaking and crying just moments ahead of the final, it must have taken a steely resolve to withstand those antics.
Wawrinka was similarly resolute in the French Open final last year. The Swiss weathered a dire storm when he overturned 0-3 deficit in the fourth, besides surviving three break points from 0-40 down in another game to subdue Djokovic. Wawrinka won six of the last seven games in that match to earn his second grand slam title.
It is this ability to raise his game at just the right time that allowed Wawrinka to join a select club of players that won three different majors to begin their collection. That club includes Andre Agassi and Roger Federer, perhaps the kind of club the King might wish to join.
A generation of fans, spoilt dirty by the talents of Federer, Rafael Nadal, Djokovic and Andy Murray now have some more wealth to deal with. Wawrinka may not care too much about the Big Four club, but there is no denying the fact that he has carved himself a new mountain from the very earth he inhabits.
Find latest and upcoming tech gadgets online on Tech2 Gadgets. Get technology news, gadgets reviews & ratings. Popular gadgets including laptop, tablet and mobile specifications, features, prices, comparison.
Sports
The disqualification from US Open 2020 brought an end to Novak Djokovic's 29-match winning streak and bid for an 18th Grand Slam title.
Sports
Because of concerns amid the coronavirus pandemic, Nadal preferred not to travel to New York for the ongoing US Open. He last played in February, when he won a tournament in Acapulco.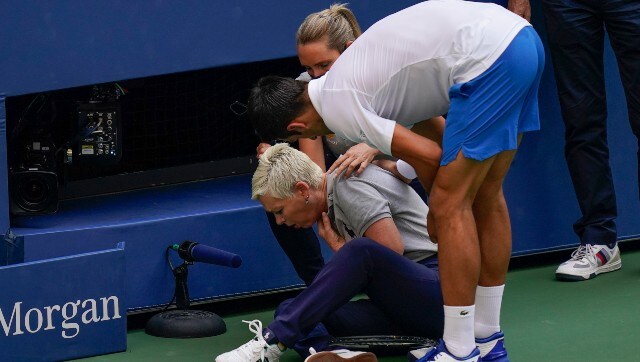 Sports
Novak Djokovic was tossed from US Open after accidentally hitting a tennis ball into the throat of a line official during his fourth round match with Spain's Pablo Carreno Busta.