US Open 2020: Novak Djokovic says it's important that all players are free to travel to New York for Grand Slam
World No 1 Novak Djokovic says he is excited by the prospect of playing at the US Open but says it would only be fair if every player eligible is able to compete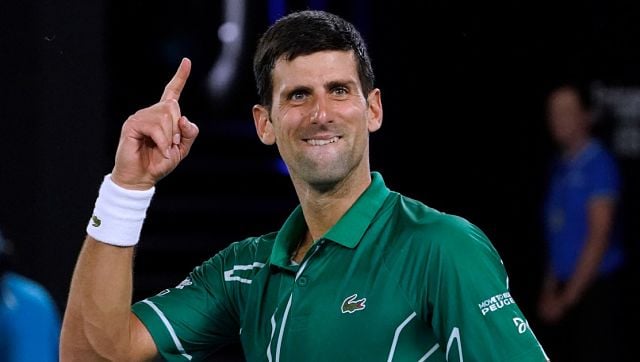 New York: World No 1 Novak Djokovic says he is excited by the prospect of playing at the US Open but says it would only be fair if every player eligible is able to compete.
The Unites States Tennis Association (USTA) announced this week that the US Open would go ahead at the end of August without fans and with strict health protocols in place.
However, with the COVID-19 pandemic still peaking in some regions of the world, Djokovic is concerned that many players will not be able to travel even if they wanted to.
"Hopefully every single player who is participating, chosen by ranking and who deserves their place at the US Open, will have an equal opportunity to travel there and compete as everybody else," Djokovic told Eurosport's Tennis Legends podcast.
"This is very important because this is the foundation of the ATP and the foundation of international tennis."
Several leading players have voiced their concerns about the US Open taking place, especially as the US has the most deaths from COVID-19 in the world.
Defending champion Rafael Nadal said he would be unlikely to travel there in the current circumstances while women's World No 2 Simona Halep has also indicated she will not go.
Earlier this month Djokovic said competing in New York would be impossible because of the "extreme" COVID-19 protocols in place for the tournament at Flushing Meadows.
However, the Serb says he is very glad it is going ahead and that the ATP Tour would resume in August after being suspended since March because of the pandemic.
"I'm extremely happy and excited to see that all the tournaments, especially Grand Slams, are organising their events," the 33-year-old 17-time Grand Slam champion said.
"I think that a lot of people were skeptical, especially for the U.S. events considering what the US went through as a country during this pandemic. So a lot of people, including myself, were quite skeptical on whether it would happen or not.
"Let's hope that in the next two months some of those restrictions will loosen up a bit and that we will have a great, great tournament."
World
For such people who have already received their primary vaccination course and one booster dose, there is no risk in having further jabs but the returns are slight, the WHO's vaccine experts said
World
The WHO rebuked Chinese officials for withholding scientific research that may reveal the origin of the coronavirus and also asked them about the reasons behind not revealing the data three years ago and why, after it was published online in January, it could not be found now.
Tennis
Spanish teenager Alcaraz cruised past Russian Daniil Medvedev in Sunday's final to retake top spot from Novak Djokovic who was missing Indian Wells due to being unvaccinated against Covid.