US Open 2017: Will Garbine Muguruza live up to favourite's tag and claim the throne of women's tennis?
While Pliskova, Halep, Svitolina and Venus are some of the top contenders, there is a certain ruthlessness about the Garbine Muguruza that separates her from the rest.
As tension continues to rise in Venezuela with the government and opposition accusing each other of trying to stage a coup, the Caracas-born Spaniard Garbine Muguruza is trying to stage a more bloodless one of her own.
Since she made it to the Wimbledon final in 2015, the 23-year-old Spaniard has been touted as the heir apparent to Serena Williams' throne.
But it is only after conquering Wimbledon and Cincinnati this year has she started to feel more comfortable on the royal seat.
At Flushing Meadows, Muguruza will hope to add a maiden US Open crown to her Grand Slam regalia.
With the ideal mix of hardened veterans and gifted youth, there are many intriguing matchups to look forward to in the women's singles event this year.
The very first round teases us with such mouth-watering clashes like Simona Halep vs Maria Sharapova, Petra Kvitova vs Jelena Jankovic and Ana Konjuh vs Ashleigh Barty.
So, glory! Hallelujah, fellow tennis fans!
While World No 1 (just barely) Karolina Pliskova, Halep, Elina Svitolina and home favourite Venus Williams could be considered some of the top contenders along with Muguruza, there is a certain ruthlessness about the 23-year-old Spaniard that separates her from the rest.
Garbi copying Queen 😂😍💕 pic.twitter.com/mCyCMdNKz0

— Pearl (@pearlescent48) 15 July 2017
Take this year's Wimbledon for example.
After powering past seventh seed Svetlana Kuznetsova in the quarter-final, Muguruza steamrolled Magdalena Rybarikova 6-1, 6-1 hitting 22 winners. She relentlessly pushed Rybarikova behind the baseline with the power, depth and new-found consistency of her returns, ending the Slovakian's fairytale run.
A clearly overwhelmed Rybarikova rightly admitted she "could do almost nothing."
"I have to say Garbine (Muguruza) played an amazing match — I mean, I've never seen her play that well," she said. "She was playing very fast and every stroke was so long."
Muguruza was just one-year old when Venus turned professional in 1994 and had grown up watching the American legend play. And here she was facing her role model, who was aiming to win her fifth title at the All England Club.
An incredible first set sees Venus rival Muguruza's aggressive baseline game earning two crucial set points. With Muguruza serving at 4-5, a rip-roaring 19-stroke rally ensues. Venus nets a forehand and Muguruza saves the first set point. The Spaniard saves the other with her giant first serve.
From there, she never looks back orchestrating a terrific obliteration of her awestruck opponent winning the next eight games and with it, the Venus Rosewater Dish. An ecstatic Muguruza couldn't believe she'd become a "part of history" and achieved something she "dreamed of as a little girl."
Roland Garros 2016 - d. Serena Williams#Wimbledon 2017 - d. Venus Williams Another little piece of history made by @GarbiMuguruza pic.twitter.com/edkcvFXgBn — Wimbledon (@Wimbledon) 15 July 2017

Yet, there remained doubts whether she could continue her imperious form from Wimbledon into subsequent tournaments.
Contrary to popular opinion, a maiden Grand Slam title may not always be the elixir of future tennis sovereignty.
Hey, just ask Serena.
After winning her first Grand Slam at New York in 1999, it took the American three years to win her second (French Open 2002). From there, she went on to win a whopping 23.
Muguruza began her life after Wimbledon at Stanford Classic where she lost to American Madison Keys in the semi-final.
"She's blowing hot and cold again," doubters said in hushed tones.
On her following trip to Toronto for the Canadian Open, she fell to eventual champion Svitolina in the quarter-finals.
And more "I told you so"s followed.
Before travelling to New York, Muguruza made one last stop. At Cininnati Masters.
After first avenging her Stanford loss to Madison Keys in the third round, she battled past two-time US Open finalist Svetlana Kuznetsova in the quarter-finals. The semi-final against Pliskova was a bit of a breeze despite having lost to the Czech in the previous six encounters.
In the final, it took the Wimbledon champion less than an hour to vanquish Halep 6-1, 6-0. Truth be told, it wasn't so much a demolition job as it was a humiliation.
Your 2017 Women's Champion, @GarbiMuguruza 👏#CincyTennis pic.twitter.com/e1qMoJ29o8

— W&S Open (@CincyTennis) 20 August 2017
Her incisive serve, her crushing baseline rallies, her blistering ground strokes and her on-court swank are what make Muguruza THE favourite for US Open 2017.
Yes, she has not made it past the second round in four attempts in New York. She herself admits she was overwhelmed by the noise and atmosphere in New York in the past but her more confident 2017 avatar vows to not let it get to her this time.
"I'm just going to go out there and be calm and play as freely as I can. Forget that the last few years it didn't go my way. Maybe this year, it is my year. Who knows?," says Muguruza.
The World No 3 begins her US Open campaign against American Varvara Lepchenko at Arthur Ashe Stadium on Monday. Lepchenko, who has been around the professional tennis circuit since 2001, reached the fourth round in the 2015 edition before losing to Victoria Azarenka. So, Muguruza will be heedful of the unseeded American.
Ready to drop an album, Garbi and @Pharrell? Fierce! (📷: @GarbiMuguruza)https://t.co/wL7D6IjfpD #USOpen pic.twitter.com/MQRq9Ng9JK — US Open Tennis (@usopen) 27 August 2017
The 23-year-old Spaniard's potential third-round opponents could be either Rybarikova or Kristyna Pliskova and she could face either Petra Kvitova or Carolina Garcia in the fourth.
If she gets through that set of hurdles, she could then face two-time US Open finalist Caroline Wozniacki or Venus in the quarter-final. From there…let's not get ahead of ourselves.
So, as we cool our heels for the final Grand Slam of the year, will we see the impetuousness of youth triumph over the shrewdness of veterans?
And more importantly, will we see the coronation of Garbine Muguruza as she successfully orchestrates her coup and ascends the throne of women's tennis?
Maybe. Maybe not. Who knows?
Sports
The Russian did not even need his 'A' game as he cruised to a 6-2 6-1 win in just 66 minutes against 160th ranked Nagal at court 1 of the Ariake Tennis Centre.
Sports
Sania and Raina were running away with the contest after bageling their opponents but in a dramatic turnaround, the Kichenok sisters came back from the dead to pull off a 0-6 7-6(0) 10-8 win at court 11 of Ariake Tennis Centre.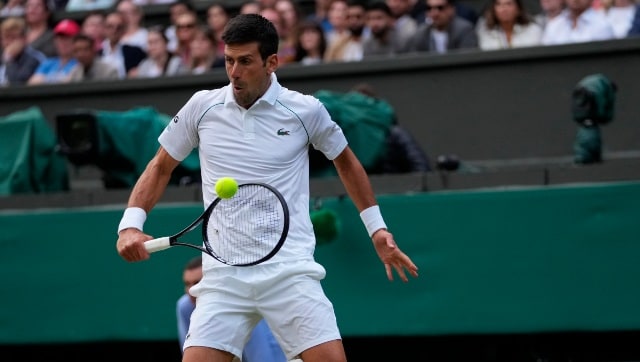 Sports
Djokovic stated he was not overjoyed with no fans being present inside the stadiums and the various limitations on movement but focused on winning a medal for his country.