US Open 2017: Tennis' 'NextGen' aims to make most of the opportunity as big stars miss Grand slam
Alexander Zverev,Dominic Thiem, Nick Kyrgios and Andrey Rublev will be the major contenders to break the hold of the 'Big four', when they take part in US Open 2017.
New York: At a towering 1.98m (6ft 6in), Alexander Zverev is closer to tennis's glass ceiling than most.
Now the beanpole German, the 20-year-old trailblazer of tennis's widely-touted 'NextGen', will attempt to smash through it at the US Open.
The signs, however, are not encouraging.
From Wimbledon in 2003, an incredible 52 of 57 Slams have been claimed by just five men — Roger Federer (19), Rafael Nadal (15), Novak Djokovic (12) and Andy Murray and Stan Wawrinka with three apiece.
Only Andy Roddick, Gaston Gaudio, Marat Safin, Juan Martin del Potro and Marin Cilic have broken the spell.
At a career-high of six, Zverev heads for the US Open having defeated Federer for the Montreal Masters title before a first-up letdown against Frances Tiafoe in Cincinnati.
He's getting used to such highs and immediate lows.
His impressive win over Djokovic in May's Rome Masters final had him installed as a dark horse for the French Open.
However, nine days later he slumped to a first round loss at a windswept Roland Garros to wily Spaniard Fernando Verdasco.
"I played absolute shit," was Zverev's brutal summary.
His best performance at a Slam is a fourth round run at Wimbledon last month, while his best showing so far at the US Open was a second round appearance in 2016.
Federer is a fan of Zverev but he was blunt in his assessment of the 20-somethings in general.
He advised them to serve-and-volley on the quicker courts, warning against being "sucked into attritional tennis".
'Not old enough to go out'
"The depth in the men's game is as great as it's ever been but you have to hit a lot of good shots to come through a Murray or a Djokovic," said Federer.
"Over five sets, it catches up with you and it's favourable for the top guys."
The rankings back up Federer's world view — of the current top 20, only five players are under 25.
Austria's Dominic Thiem, the 23-year-old world number eight, made the semi-finals at the 2016 and 2017 French Opens.
But on both occasions, he was dismantled in straight sets by Djokovic and Nadal respectively.
At the US Open, last-16 spots in 2014 and 2016 represent his best performance while his summer hard court season saw an opening loss in Montreal and a quarter-final exit to 35-year-old David Ferrer in Cincinnati.
As always, hype and hope will stalk Nick Kyrgios into New York despite his best at the tournament being third round runs in 2014 and 2016.
The 22-year-old crowd-puller, up at 18 in the world, saw off Nadal in Cincinnati on his way to a final loss to Grigor Dimitrov last weekend.
It was the Australian's second career win over Nadal, three years after his first on his way to the 2014 Wimbledon quarter-finals.
If his hip and attention span hold up, Kyrgios remains a dangerman.
Should the likes of Zverev, Thiem and Kyrgios fall, then there are signs of hope in the next 'NextGen'.
Andrey Rublev, a 19-year-old Russian, who lists boxing and thrash metal heavyweights Metallica amongst his passions, won his first title last month in Umag having come through qualifying.
Then there is 18-year-old Denis Shapovalov who stunned Nadal in Montreal on his way to the semi-finals.
When Shapovalov and his fellow pro and Canadian compatriot Felix Auger-Aliasimme, just 17, pondered post-Montreal partying, another seismic gulf between the tennis generations was exposed.
"He's still underage, so we can't go out!" explained Shapovalov.
"Just chill with Felix, watch some Fresh Prince of Bel Air. Can you believe it? He hasn't seen it."
Lightweights? When Federer celebrated his eighth Wimbledon, it was five the next morning when he stumbled out of a London bar.
Sports
Fifth-seeded Tsitsipas won 6-3, 6-3, 4-6, 4-6, 6-3 and will face either 13-time champion Rafael Nadal or World No 1 Novak Djokovic in the championship match.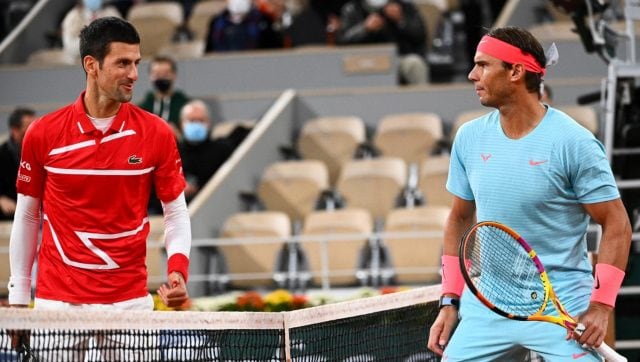 Sports
Nadal vs Djokovic is tennis's greatest modern rivalry between two men who have harvested 38 Grand Slam titles and 72 Masters between them.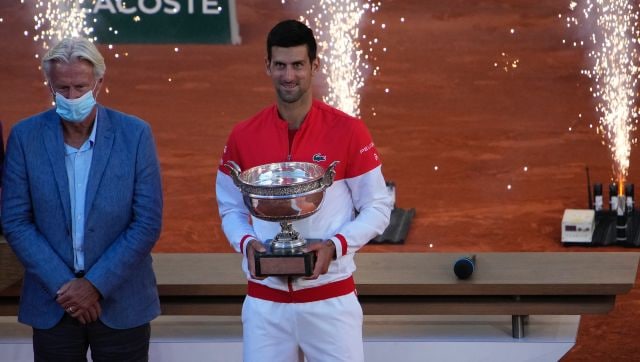 Sports
Some of the standout stats after Novak Djokovic won his second French Open title, 19th Grand Slam title at Roland Garros