US Open 2017: Marin Cilic looks to take positives from heart-breaking loss at Wimbledon final
Marin Cilic tried to find confidence from the heartbreak of an injury-hampered Wimbledon final loss in his return Monday at the US Open after an adductor muscle strain.
New York: Marin Cilic tried to find confidence from the heartbreak of an injury-hampered Wimbledon final loss in his return Monday at the US Open after an adductor muscle strain.
The thigh injury left him in tears on the court as he lost to Roger Federer on July in a bid for a second Grand Slam crown after his 2014 US Open triumph.
"I knew that, OK, I was not physically 100 percent in that final. That was just tough for me to handle, especially in that moment," Cilic said.
"But I took all positives out of it. Up to the end of Wimbledon, I had really consistent play, maybe the best ever in my career, so that's extremely positive for me. Now I'm looking to build on that."
In his first match since Wimbledon, the Croatian fifth seed outlasted 105th-ranked American Tennys Sandgren 6-4, 6-3, 3-6, 6-3 on Monday to reach the second round on the New York hardcourts.
"Reaching another Grand Slam final is big motivation for me," Cilic said.
"I'm looking forward to getting to my good form, keep it month after month. Hopefully next 12, 18 months I can be looking back with some great results as well."
After the long injury layoff, Cilic hopes to quickly play his way into shape as the Flushing Meadows fortnight unfolds.
"Everything feels OK physically. I'm very happy with that. That's the number one thing," he said.
"On the court I'm just lacking a little bit of that consistency point after point, to be continuing with my aggression. After those first two sets, which were quite good considering I haven't played, just dropped little bit with my game.
"I was actually feeling that could be also quite good for me to get in some rallies, battle it out, just mentally wise to get myself in a good position. Not the best as I would want, but still in a good way."
Cilic inherited the draw spot belonging to Britain's Andy Murray when the second seed withdrew Saturday due to a left hip injury, meaning a new path to the final and a switch in first-match foe from Frenchman Gilles Simon on short notice.
"It didn't bother me much in my preparation," Cilic said. "Basically still my biggest focus is on myself, to get my game on a good level.
"It's a great opportunity. That bottom part of the draw is a little bit more open there. Still focusing on myself to get to the good form and try to pass first couple rounds. Then I think my tennis is going to get better."
With defending champion Stan Wawrinka and Novak Djokovic joining Murray out of the event, and stars Rafael Nadal and Roger Federer in the other half of the draw, the chances for Cilic improve to reach another Slam final.
The only higher-ranked rival on his side of the draw is German 20-year-old fourth seed Alexander Zverev, who has never gone past the fourth round in a Slam.
"I had to take a long break without tennis, without running, so just pushed me back a bit," Cilic said. "The opportunities are there. It's just whether to be ready or not."
Sports
Medvedev will play Sunday's final at Arthur Ashe Stadium against the winner of a later semi-final between top-ranked Djokovic and Tokyo Olympic champion Alexander Zverev.
Sports
Here are all the details about the US Open 2021 men's singles semi-finals.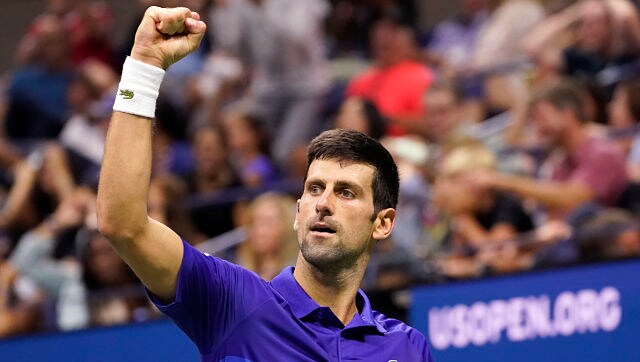 Sports
World number one Djokovic rallied past 99th-ranked Brooksby 1-6, 6-3, 6-2, 6-2 to book a quarter-final encounter with Italian sixth seed Matteo Berrettini in a rematch of July's Wimbledon final.