US Open 2017: Andy Murray withdraws from final Grand Slam of year due to injury hip injury
World number two Andy Murray withdrew from the US Open on Saturday, saying a nagging left hip injury had left him unable to compete in the year's final Grand Slam tournament.
New York: World number two Andy Murray withdrew from the US Open on Saturday, saying a nagging left hip injury had left him unable to compete in the year's final Grand Slam tournament.
Britain's Murray, a three-time Grand Slam champion whose first major title came in 2012 on the New York hardcourts, was uncertain about his status for the remainder of the season.
"I want to be back on court as soon as I can," Murray said. "If it means I can play before the end of the year, then that's what I would love to do. I miss competing.
"But I'll need to make the correct decision and really think it through these next couple of days with my team and then make that decision."
The 30-year-old Scotsman has not played since a five-set Wimbledon quarter-final loss to American Sam Querrey last month.
Murray suffered the injury in a five-set French Open semi-final loss to Swiss Stan Wawrinka in June.
"Did pretty much everything that I could to get myself ready here and took a number of weeks off after Wimbledon," Murray said.
"I spoke to a lot of hip specialists. Tried resting, rehabbing, to try and get myself ready here. Was actually practicing OK the last few days, but it's too sore for me to win the tournament and ultimately that's what I was here to try and do.
"Unfortunately, I won't be playing here this year."
Murray becomes the fifth top-10 player to withdraw from the tournament due to injury, joining Wawrinka, Serbia's 12-time major champion Novak Djokovic, Japan's former runner-up Kei Nishikori and Canadian Milos Raonic in recovery mode.
'I kind of ran out of time'
From the end of Wimbledon, Murray knew he was in a race against time to return to top form in time for the US Open, specialists saying he was not risking greater damage by trying to recover in time.
"I certainly wouldn't have been hurting myself more by trying to play," Murray said. "It was more a question of whether it would settle down in time. I kind of ran out of time. Maybe if I'd been able to take a little bit more time off.
"I've never had to take any time off because of my hip before, so we were hoping that by taking a few weeks off and resting and rehabbing and really reducing the load that I was putting through it, that I would be OK by the time US Open came around.
"But unfortunately that has not been the case."
After consulting the experts, Murray must now plan his next recovery steps but without the worry of a Grand Slam to factor into his decision until next January's Australian Open.
"I spoke to a number of specialists about it to get the best advice possible," Murray said. "When you speak to a lot, there is different views and opinions on what the best thing to do is moving forward, and that's a decision I'll need to take now."
Knowing that he could play later this year is not the same as knowing whether or not he should, a question made harder for Murray be positive signs during his workouts for the US Open.
"If I get myself fit and healthy, there is no reason why I can't," Murray said. "I've been practicing here and competitive in practice when I'm not moving close to how I can when I'm healthy."
Cilic, Querrey moved by WD
Because Monday's order of play has not been released, second seed Murray's withdrawal muddles several parts of the US Open draw.
It will send Croatian fifth seed Marin Cilic, the 2014 US Open champion, into Murray's vacant spot in the draw and a first-round match against American Tennys Sandgren.
That's the same quarter of the draw that includes French eighth seed Jo-Wilfried Tsonga.
Querrey, seeded 17th for the US Open, moves from his spot into the draw into the place vacated by Cilic, thus putting him against France's Gilles Simon in the first round in the same quarter of the draw as German fourth seed Alexander Zverev.
German Philipp Kohlschreiber moves into Querrey's spot and will open against American Tim Smyczek.
And Kohlschreiber's spot in the draw will be filled by Slovakian qualifying lucky loser Lukas Lacko.
Sports
A big bunch of tennis players are giving the Tokyo Olympics a miss due to injuries, scheduling concerns, pandemic, absence of fans and strict COVID-19 rules.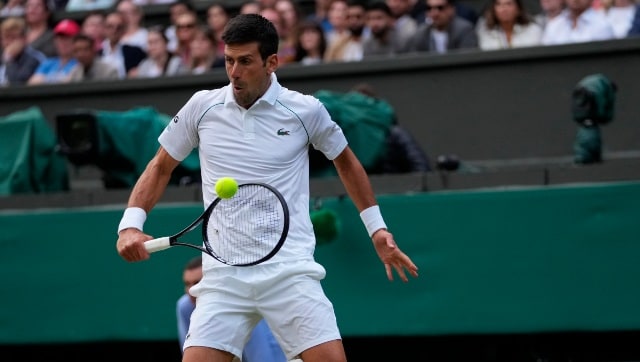 Sports
Djokovic stated he was not overjoyed with no fans being present inside the stadiums and the various limitations on movement but focused on winning a medal for his country.
Sports
Roger Federer has announced that he's withdrawing from Tokyo Olympics 2020 due to an injury he sustained during the grass court season.