US Open 2016: Rafael Nadal insists he has a 'couple of good years left' after shock defeat
Nadal vowed to fight on and revive his faltering career following a shock fourth round loss to Lucas Pouille at the US Open, condemning him to his worst Grand Slam since 2004
Rafael Nadal vowed to fight on and revive his faltering career following a shock fourth round loss to Lucas Pouille at the US Open, condemning him to his worst Grand Slam season since 2004.
The 30-year-old Spaniard, winner of 14 majors including two in New York, suffered a 6-1, 2-6, 6-4, 3-6, 7-6 (8/6) defeat to world number 25 Pouille in a four-hour epic. The result means that 2016 will be the first year since 2004 that Nadal has not made a quarter-final of a Slam. A first round exit in Australia was followed by an enforced withdrawal from the French Open third round due to a wrist injury, the same injury that sidelined him from Wimbledon.
"If I am hundred percent healthy, I have the energy to keep going. I believe that I can have a couple of more good years," said Nadal, whose most recent Grand Slam title came with his ninth French Open in 2014. His best runs since have been two quarter-final spots at the 2015 Australian and French Opens.
"I fought to the end today, but I needed something that was not there. I will keep working to try and find it. I will keep working hard and I am motivated to do that," Nadal added.
The Spaniard had cruised into the fourth round at Flushing Meadows, dropping only 20 games. On Sunday, in front of a mesmerised Arthur Ashe Stadium, he led with a break in the decider before he was forced to save three match points in the tie-breaker. A sloppy short forehand volley handed Pouille a fourth match point, which he accepted with glee.
But the Spanish star insists that he will fully recover from the injury which sidelined him from Roland Garros until the Olympics in Rio where he was a beaten semi-finalist.
But there still remain questions over his legendary staying power. At the Australian Open in January, he lost in five sets to compatriot Fernando Verdasco, while in New York 12 months ago, he lost in five again, this time to Fabio Fognini from two sets up. At Wimbledon last year, he fell to Germany's Dustin Brown who was outside the top 100 at the time.
"I have the motivation to keep working. It will take a long time, a lot of hours, a lot of spirit of sacrifice to be back where I was before the injury this year," said the world number five. "It was tough and now I need to come back there. I am closer than last year to be where I want to be. I will try and qualify for the World Tour Finals. That will be a good effort if I make that happen after two and a half months without competition."
With long-time rival Roger Federer also missing from the US Open to mend a knee injury, Sunday's defeat for Nadal only adds fuel to the suspicion that their golden era is over. For Nadal, the sense of what may have been is even more acute. In his career, a succession of injuries, usually involving either his knees or wrists, has seen him miss nine Grand Slam events.
"I lost an opportunity to have a very good event here. I am sad for that," added Nadal. "But you can write the way that you want. I know what's going on."
Find latest and upcoming tech gadgets online on Tech2 Gadgets. Get technology news, gadgets reviews & ratings. Popular gadgets including laptop, tablet and mobile specifications, features, prices, comparison.
Sports
Murray was also awarded a wild card into the US Open, after his struggles with pelvic and shin injuries dropped his ranking to 129th. He went two rounds in New York, and improved his ranking to 110th.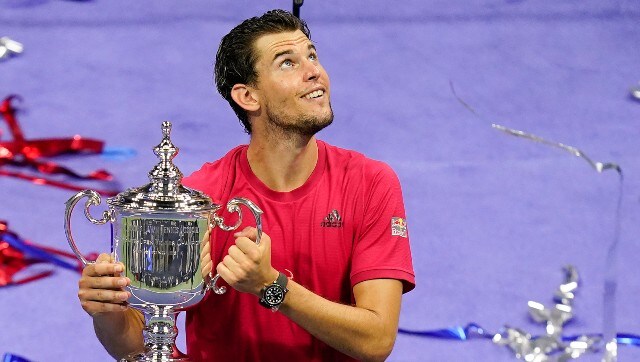 Sports
The title marks Thiem's maiden Grand Slam trophy after three previous defeats in finals of tennis majors.
Sports
Australia's Barty, a day after withdrawing from her French Open title defence because of Covid-19 concerns and a lack of preparation, said it was "really tough" to be without her coach Craig Tyzzer.