US Open 2016: Novak Djokovic, Andy Murray, Serena Williams among big names to watch out for
The US Open 2016, beginning Monday, is likely to be the most unpredictable Grand Slam this year. For once, Novak Djokovic won't enter a tournament as the outright favourite, nor will be coming off a Slam victory; on the women's side, Serena Williams isn't the defending champion either.
The US Open's top seeds in both singles brackets are coming off injuries, and neither has played since an early loss at the Olympics. For Serena, it's a sore right shoulder that started bothering her almost immediately after her Wimbledon victory. For Djokovic, it's a sore left wrist that he revealed he hurt in Rio a few days before his first-round Olympic loss to Juan Martin del Potro, a player who knows plenty about how that injury hinders a two-handed backhand.
However, even with the less than ideal preparation, one cannot not count the top seeds among the prospects. Both will be raring to go, with a record to create and a point or two to prove. But this also means that the field has opened up for several contenders — all with the potential and past history to win a major title. Here's a look at the big names to watch out for at US Open 2016:
Men's Draw
Novak Djokovic
World ranking: 1
Age: 29
Career Grand Slam titles: 12 — Australian Open: 2008, 2011, 2012, 2013, 2015, 2016; French Open: 2016; Wimbledon: 2011, 2014, 2015; US Open: 2011, 2015
In June this year, Djokovic completed a career Grand Slam, and the even more special 'Novak Slam', as he held all four majors together. A few weeks later, he slumped to a shock third-round loss at Wimbledon. He then went on to win a record 30th Masters title in Toronto, but suffered a tearful, first-round exit at the Olympics, which preceded a withdrawal from Cincinnati to rest a wrist injury. The last two months have been topsy-turvy for the defending champ, and he will be focusing all his energy to ensure that he is back to his title-winning ways.
Andy Murray
World ranking: 2
Age: 29
Career Grand Slam titles: 3 — Wimbledon: 2013, 2016; US Open: 2012
In many ways, Andy Murray is actually the favorite for the US Open. He is coming off historic wins at Wimbledon and Olympics, he has reached the finals of the other three majors in 2016 (losing the first two to Djokovic) and was on a 22-match winning streak before losing to Marin Clic in the Cincinnati final. He is the fittest of the top seeds at present, and has hit a purple patch that can see him win his fourth Slam and second title at Flushing Meadows.
Rafael Nadal
World ranking: 5
Age: 30
Career Grand Slam titles: 14 — Australian Open 2009; French Open 2005, 2006, 2007, 2008, 2010, 2011, 2012, 2013, 2014; Wimbledon 2008, 2010; US Open 2010, 2013
Nadal has had a see-saw season in 2016, interspersed with victories and withdrawals, much like a large part of his career. A wrist injury forced Nadal out of the French Open, but he played at the Olympics, winning the gold in doubles and reaching the bronze medal play-off in singles. While he may not be at his best and not as much a threat as he once was, he has just the right amount of resilience to pull off another redemption trick.
Juan Martin del Potro
World ranking: 142
Age: 27
Career Grand Slam titles: 1 — US Open 2009
Juan Martin del Potro's tennis career is one for the movies. When, as a young and upcoming player, he beat Roger Federer in the 2009 US Open final, he was heralded as the sport's new star. But that prediction soon faded, as did his career, with three wrist surgeries which pushed him to the brink of retirement. But in the last two months, he has shown more of his famed resurgence, first downing Stan Wawrinka at Wimbledon and then overcoming Djokovic and Nadal on his way to the Olympics final, where he lost a four-hour marathon to Murray. He is unseeded at Flushing Meadows, but the big serving Argentine has the game, and the experience, to do a Rio encore.
Stan Wawrinka
World ranking: 3
Age: 31
Career Grand Slam titles: 2 — Australian Open 2014; French Open 2015
Stan Wawrinka, despite his talent and two Grand Slam trophies, is difficult to back as a favourite because of his inconsistent play. He has won three titles this season, but still hasn't made much of an impact at the Slams. At the French Open, where he was the defending champion, he lost to Andy Murray in the semis and was ousted by Del Potro in the second round of Wimbledon. He then missed out on the Olympics as he was not completely fit, and was also out early of Cincinnati. However, the third seed is a contender at Flushing Meadows due to his history of winning big matches at crunch moments.
The other possible prospects at US Open will be Wimbledon 2016 runner-up Milos Raonic, former US Open champ Marin Cilic, and the player he beat for his maiden major, Kei Nishikori.
Women's Draw
Serena Williams
World ranking: 1
Age: 34
Career Grand Slam titles: 22 — Australian Open: 2003, 2005, 2007, 2009, 2010, 2015; French Open: 2002, 2013, 2015; Wimbledon: 2002, 2003, 2009, 2010, 2012, 2015, 2016; US Open: 1999, 2002, 2008, 2012, 2013, 2014
The US Open traditionally holds a lot of significance for home favourite Serena, but it is even more so this year. Last year, she was on the verge of holding all four Slams, but suffered a shock semi-final loss to Roberta Vinci in the semis. This year, she is poised to equal Steffi Graf's record of 186 straight weeks as World No 1, and she can even go one better than Graf if she wins a record 23rd Slam. However, Serena is not at her fittest and is coming into the last Slam of the year after an early defeat at the Olympics, partly caused by a right shoulder problem, which also forced a withdrawal from Cincinnati last week. The competition will be tougher than last season, with each Slam being won by a different player this year. But if she can recover physically and put in a show like she did at Wimbledon, she will be on course for her seventh US Open title.
Angelique Kerber
World ranking: 2
Age: 28
Career Grand Slam titles: 1 — Australian Open: 2016
Kerber would have succeeded Serena as world number one had she won the Cincinnati title, but came up short against Karolina Pliskova. She has been widely tipped to be the next number one ever since she beat Williams to claim her maiden Grand Slam title at the Australian Open. However, she couldn't go past Serena at Wimbledon, also missing out on an Olympics gold when she was shocked by Puerto Rico's Monica Puig in the final in Rio. In New York, she will be hoping to put that all behind her and repeat her performance from the season's first slam.
Garbine Muguruza
World ranking: 3
Age: 22
Career Grand Slam titles: 1 — French Open: 2016
Muguruza claimed her maiden Grand Slam at the French Open this year, beating Serena in the final. However, the Spaniard has since struggled to maintain her consistency. She lost in the second round at Wimbledon, and third round at the Olympics. A semi-final run in Cincinnati may mean that she has settled onto the hard court and can pull up her game at the US Open. At 22, she is 12 years younger than Serena, and boasts of a powerful game, which gives her a good chance in New York.
Venus Williams
World ranking: 6
Age: 36
Career Grand Slam titles: 7 — Wimbledon: 2000, 2001, 2005, 2007, 2008; US Open: 2000, 2001
Venus Williams is another great story of resilience in tennis. Despite a number of injuries and setbacks, a healthy and motivated Venus Williams is a threat to most of her rivals. She was a semi-finalist at Wimbledon and runner-up at Stanford. She has an experience of almost 20 years at Flushing Meadows, first playing in 1997, when she went all the way to the final, eventually losing to Martina Hingis. She reached the quarter-finals last year, but was beaten beaten by sister Serena. The sixth seed has enough potential, albeit not the physical capability, to go far at the US Open this year.
Agnieszka Radwanska
World ranking: 4
Age: 27
Career Grand Slam titles: none
Radwansaka has never won a Grand Slam, but has won fifteen singles titles on hard courts. The fourth seed will be hoping to open her major account at US Open. The 27-year-old is coming from a dominating week where she won the Connecticut Open, without dropping a set during the tournament, for her 19th WTA championship. If she can continue that vein of form, which saw her overcome Petra Kvitova, she stands a chance of claiming her first Slam title, joining the likes of Kerber and Muguruza this year.
(With inputs from agencies)
Sports
Djokovic is one of many players who have refused to share their vaccination status, casting doubt over whether he will defend his title at Melbourne Park in January.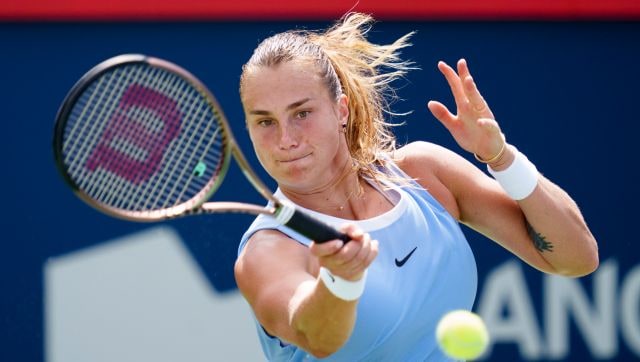 Sports
Sabalenka was playing in her first tournament since reaching the semi-finals of the US Open last month. She then missed the tournament in Indian Wells, California, after a positive test for the coronavirus.
Sports
Victoria state premier Dan Andrews said he expected no exceptions from Australia's Covid-19 vaccine rules for players competing in January's Grand Slam.