US Open 2016: From Sania Mirza to ATP, here are top 10 Twitter accounts to follow for tennis fans
The US Open is here, and the tennis action in New York seems to be the perfect cure for the hangover many sports fans may be facing after the Rio 2016 Olympics.
The US Open is here, and the tennis action in New York seems to be the perfect cure for the hangover many sports fans may be facing after the Rio 2016 Olympics.
But with the last Grand Slam of the year, the world of tennis is going through an autumn period as well. Last year's finalist Roger Federer is not there at Flushing Meadows this year. Rafael Nadal is making a comeback after another spate of injuries.
World No 1 Djokovic, who reached the fourth round, is hoping that he defends his title. But after a shock third-round exit to Sam Querry at Wimbledon and his capitulation at the hands of Juan Martin Del Potro in the Olympics, its evident that the young sharks in the tennis world can smell blood.
The likes of Dominic Thiem and Nick Kyrgios must be sensing their opportunity to rise up the rankings and challenge for the US Open.
In the women's division, Serena Williams remains as strong as ever, but is coming from an injury as well. The remarkable return of Madison Keys and the shock second round loss suffered by French Open champion Garbine Muguruza means that the stage might just be set for a certain Angelique Kerber to take the US Open crown and make the World No 1 rank her own. But to beat Serena Williams in her own backyard will be easier said than done.
With the action heating up at Flushing Meadows, it is vital to know all about what is happening right that very moment, and there are very little mediums better than Twitter to keep up with all the tennis updates.
Firstpost, in association with Twitter India, has come up with the ten must-follow Twitter accounts to follow during the US Open 2016. Here is the list of those ten Twitter accounts. For more, #USOpen is the official hashtag on Twitter.
US Open Tennis
We miss you too Roger! New York will still be here next year for you... #usopen https://t.co/b2dBh29urN

— US Open Tennis (@usopen) September 3, 2016
The go-to Twitter account for all the real-time updates for US Open as they tweet immediate clips, hot shots, interesting video, stats and so on.
ATP World Tour
What does @Leander love most about NYC? Watch to find out! #usopen #ATP https://t.co/3eFD8GPKfx

— ATP World Tour (@ATPWorldTour) September 2, 2016
The ATP does a commendable job using its access to produce valuable and exclusive content on its Twitter account to keep you in the loop.
Sania Mirza
I am in #NYC #lastslamoftheyear https://t.co/osIjTPkht5

— Sania Mirza (@MirzaSania) August 28, 2016
The second most followed woman tennis player in the world, Sania Mirza is a must follow. The Dreamer, Believer, Doer even at all costs (as per her bio) keeps her fans updated on Twitter through pictures, videos, shares and all the news about US Open.
Leander Paes
Fantastic new Grand Stand Court @usopen Great job @katadams68 & @usta Look forward to playing on this awesome court pic.twitter.com/PzDrLjZSZL

— Leander Paes (@Leander) August 25, 2016
One of India's longest standing tennis players, Leander Paes provides plenty of updates on his Twitter account and his social media is a backdrop to the lifestyle of a tennis player.
Rohan Bopanna
Good win in the mixed with my partner. Playing on the new Grandstand was fun. @GabyDabrowski @usopen . pic.twitter.com/o60zYNu3Ss

— Rohan Bopanna (@rohanbopanna) September 3, 2016
An active Twitter user, Rohan Bopanna mostly participates in doubles tournaments and is currently in the mixed doubles event along with Gaby Dabrowski at the US Open.
Andy Roddick
There will definitely be more @periscopeco during the U.S. Open! Pumped to get back on https://t.co/JdQh4HIOf2

— andyroddick (@andyroddick) August 25, 2016
Sharp. Witty. Honest. Andy Roddick's Tweets are as good as his press conferences used to be.
He will also be doing a series of live videos on Periscope through Twitter during the US Open.
Greg Sharko
A look at longest career match winning streaks of Big Four: #Djokovic, #Federer, #Nadal, #Murray. pic.twitter.com/Ayj9ImBVIi

— Greg Sharko (@SharkoTennis) August 19, 2016
Greg Sharko is one of the best tennis statisticians around and is an absolute yes when it comes to clicking on that follow button. He is especially fun for the serious tennis fans who devour the little details that happen during a match.
WTA
The race for World No.1 is down to Serena, Angie and Aga--> https://t.co/vdXdjnxZor pic.twitter.com/ZnqR6DM0gm

— WTA (@WTA) September 3, 2016
A good one-stop account to keep tabs on the WTA and other major Tennis tournaments
Australian Open
#USOpen Day 5 wrap: #Kerber and #Nadal cruise, but #Djokovic has had a strange week at the 'office': https://t.co/2jQxYP6Gqn

— Australian Open (@AustralianOpen) September 3, 2016
A fan friendly Grand Slam Twitter account. Personality driven with key highlights, photos and video tweets.
ATP media info
.@RafaelNadal stops by the @ESPNTennis set after his win over #Kuznetsov. #usopen pic.twitter.com/hdaWJY5Rr4

— ATP Media Info (@ATPMediaInfo) September 3, 2016
Highlights, stats and schedules. The ATP media info account is the one-stop shop to all tennis related matter and is available 24/7.
Jimmy
Tension between Djokovic and Murray fans already...

— jimmy soixante-dix (@hotdog6969) September 2, 2016
Has an intricate knowledge of the tennis world, with both opinion related and factual tweets. Also has very useful information on player quotes, draw information and player withdrawals/injuries.
The Changeover
Live…Analysis? Novak Djokovic vs Jerzy Janowicz at the 2016 US Open https://t.co/sl5htbYQDE

— The Changeover (@The_Changeover) August 30, 2016
Everyone involved with the blog deserves a follow. Plus it's a great source for tennis gifs.
Carl Bialik
Chance of QFs
56% Serena-Halep
28% Venus-Aga
69% Murray-Nishikori
64% Nadal-Monfils
24% Wawrinka-del Potrohttps://t.co/eMh40Y5sCG

— Carl Bialik (@CarlBialik) September 3, 2016
The tennis Statistician who tweets sharp insights about the sport.
Stay tuned on Firstpost, follow @FirstpostSports on Twitter for all the action.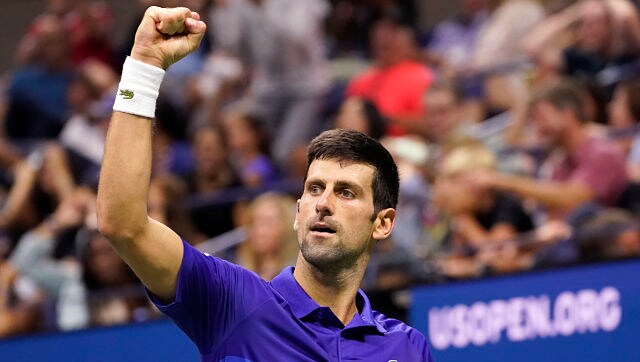 Sports
Djokovic seeks his 21st career Slam trophy, which would give him the men's record total he currently shares with Rafael Nadal and Roger Federer.
Sports
The 14th seed Indo-Croatian pair won 6-3, 4-6, 6-4 over their unseeded rivals in one hour and 56 minutes on Saturday night.
Sports
Garbine Muguruza did not like how her topsy-turvy fourth-round match at the US Open against Barbora Krejcikova ended. And that was not just because Muguruza lost.