United States GP talking points: Lewis Hamilton's perfect start, McLaren-Honda rumours, Ferrari's struggles
At his 'second' home race, the United States Grand Prix, Lewis Hamilton launched a fightback with an eye on his fourth World Championship. He clinched pole position, his 58th in Formula 1, on Saturday, but crucially, he managed a rare feat on Sunday — a perfect start to his race!
It does seem strange that one of the sport's most talented drivers is unable to master his starts, which has cost him victories and valuable points in his championship fight with Nico Rosberg this year. Up until the United States Grand Prix, out of seven starts from the grid, Hamilton managed to keep the lead only twice. However, this isn't a problem plaguing just Hamilton, it has much to do with Mercedes' clutch and this means that Rosberg could fall prey to a lousy start as well. Yes, a clutch could very well end up deciding this year's Drivers' Championship.
For the remaining races of the 2016 Formula 1 Season, Hamilton's target is simple — victory. On Sunday, it was mission accomplished at the 2016 United States Grand Prix. Once Hamilton led off the line, not many were expecting him to be beaten during the course of the race and that's exactly how it turned out to be. Keeping the Drivers' Championship in mind, Hamilton needed to win to keep his hopes alive. And he ended up doing just that; he narrowed his deficit between rival and teammate Rosberg to 26 points.
In fact, from Rosberg's point of view, if winning the race wasn't possible, finishing second behind Hamilton wouldn't be too bad either. A second-place finish would mean that he ends up losing 7 points to his title rival. Rosberg knows that there will be days such as the Sunday in Texas when Hamilton is unbeatable and on such days, damage limitation wouldn't a bad plan given the points' cushion he currently enjoys in the Drivers' Championship. However, as Rosberg himself admitted, he's taking each race as it comes and focusing on maximizing his performance rather than thinking of the Drivers' Championship. To be fair, this approach seems to be working for him.
But the United States Grand Prix didn't turn out to be a straightforward race for Rosberg. He lost his second place at the start to Red Bull Racing's Daniel Ricciardo and it was combination of a brave tyre strategy (soft-medium-medium) from Mercedes and a lucky 'free' pit stop under the Virtual Safety Car (VSC) period that helped him finish ahead of the Australian. Ricciardo, who claimed his seventh podium finish of the season in Texas, must be applauded for his performances on and off the track. He made a different tyre strategy (super soft-sort-medium) work and almost ended up beating a Mercedes car. According to Red Bull Racing, had there been no VSC, Ricciardo would've finished five seconds ahead of Rosberg in second place. Despite his apparent loss in the race, Ricciardo's post-race podium interview in the Texan accent was as entertaining, even if his repeated 'shoe-y' moments might not be so.
Max Verstappen's race ended prematurely after a gearbox failure hampered his progress — this was after he lost close to 10 seconds in the pit-lane for a pit stop that his team didn't call him for. The pre-race drivers' briefing saw FIA introduce a rule to block movement under-braking, a style the young Dutchman has famously used since his arrival in Formula 1. Strangely for Red Bull Racing, it was Verstappen's parking on the circuit that brought out the VSC, which saw Rosberg jump Ricciardo in the race standings.
The United States Grand Prix could be classified as a yawn-fest and this was despite genuine efforts from the top teams to run different strategies to get their drivers ahead. The most entertaining part of the race was the close quarter battle between Carlos Sainz Jr and his childhood idol, Fernando Alonso. Unfortunately, it was DRS that decided the eventual winner of this battle (Alonso). After an embarrassing race in Japan a fortnight ago, Alonso managed to fight his McLaren to a 5th place finish, his best of the season. The retirements of Nico Hulkenberg and Verstappen helped his climb up the ladder, as did the Daniil Kvyat-Sergio Perez opening lap incident that saw the Mexican spin and re-join lower in the order.
McLaren-Honda would have celebrated yet another double-points finish (Jenson Button finish 9th), but the weekend was clouded with rumours of the possible retirement of their owner and chairman, Ron Dennis. Dennis has led the team to multiple World Championships and helped set up their road car division apart from the technology business. McLaren-Honda have struggled to strike form for multiple seasons — will a change in leadership help them resurrect? Ross Brawn and McLaren discard Martin Whitmarsh are being discussed as potential replacements. It seems that 2017 will see changes across many departments for most teams — drivers, cars and even management. By the way, the struggling Ferrari team (Kimi Raikkonen, DNF; Sebastian Vettel, 5th) are eyeing McLaren's current racing director (also a former team principal at Lotus F1 Team) for their stables.
Finally, despite woeful races for both teams, Force India managed to stay ahead of Williams in 4th place in the Constructors' Championship despite losing two points. Hulkenberg and Valtteri Bottas had an incident on the first corner of the opening lap and this compromised both their races as Felipe Massa finished 7th — a place ahead of Perez. For 2017, both teams will have at least one new driver each as Hulkenberg signed up with Renault after much speculation. While Bottas seems likely to renew with Williams, it seems that Mercedes backed drivers Pascal Wehrlein and Esteban Ocon are expected to fill up the vacancies at both teams.
The United States Grand Prix boasted of a near 2,70,000 fans in attendance over the three days and this included number of celebrities like Venus Williams, Lindsey Vonn, Gordan Ramsay, Gerard Butler among others (most were in support of Lewis Hamilton). Given the new ownership of the sport (Liberty Media), this Grand Prix could actually be called the home race of Formula 1 too. But the new chairman of the sport, Chase Carey, was missing in the Paddock. Did Bernie Ecclestone not approve his pass?
Lastly, a round of cheers for the Haas F1 Team, owned by American Gene Haas as they managed to score a point at their home race after Romain Grosjean finished 10th. As we head to Mexico this weekend, it will be interesting to see if Rosberg is able to raise his game further and take the battle to Hamilton or if he will settle for yet another second place while letting Hamilton take the risks and go all out in attack mode. Either way, the most cheered driver in Mexico will be Sergio Perez.
Sports
Arch-rivals in football and cricket will be in action on Sunday while Formula One enthusiasts will once again get to witness the ongoing rivalry between Lewis Hamilton and Max Verstappen.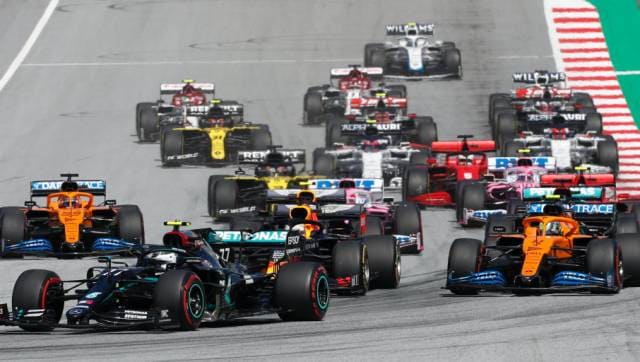 Sports
The Gulf Arab country has been the target of protests by several national football teams over its treatment of foreign workers, as part of a wave of social activism by athletes.
Sports
Hamilton trails the effervescent Dutch driver by 12 points after finishing second to Verstappen in the United States Grand Prix on Sunday.