Ultimate Table Tennis (UTT) 2017, day 8, highlights: RP-SG Mavericks edge Dabang Smashers 14-13
LIVE NEWS and UPDATES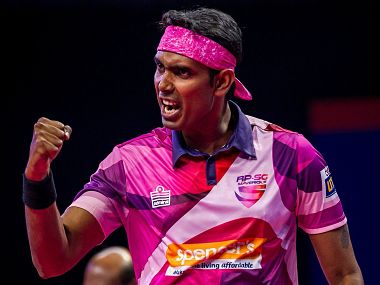 22:55 (IST)

Bilenko comes from behind and takes the game 11-10. What a way to end an exciting day! The tie ends Maverics 14-13 Smashers.

22:53 (IST)

Bilenko fighting back hard and has cut the lead down to just one point.

22:52 (IST)

What an outstanding rally, Polcanova, in the end, has the better of Bilenko's lobs!

22:51 (IST)

Polcanova leads 7-4 in the third game.

22:46 (IST)

Bilenko makes it 1-1 with a 11-7 win in the second game. A crucial point earned even though the tie is lost!

22:45 (IST)

Belinko fighting back in the second game and has a 9-6 lead.

22:40 (IST)

Polcanova takes the first game against Bilenko and RP-SG clinch the tie having reached 14 points!

22:37 (IST)

Polcanova has started off well with a 5-2 lead in the first game.

22:32 (IST)

Right! We are into the final match of the day - Sofia Polcanova vs Tetyana Bilenko

22:30 (IST)

Fegerl finally shows up as he wins the golden point to pull a point back and make it 1-2!

22:29 (IST)

10-10 and we are into the golden point.

22:29 (IST)

Freitas has come back from behind t achieve a match point!

22:28 (IST)

Freitas with a bit of fortune makes it 9-9!

22:26 (IST)

A cracking forehand rally, all cross-table and then Freitas hits one down the line, out of reach of Fegerl. He leads 5-3!

22:25 (IST)

It's all too easy for Freitas as he takes the second game 11-5 to make it 2-0 against Fegerl. Freitas has taken blistering starts and Fegerl is playing the catching up game all time. He needs to go all out right from the word go!

22:21 (IST)

Freitas again has taken a decent lead in the second game, just like the first and is 8-2 up!

22:19 (IST)

Freitas retains his composure to take the first game 11-5 against Fegerl.

22:18 (IST)

Two backhand flicks from Fegerl are out of Freitas' reach Fegerl fighting back. He is making good use of the angles now.

22:17 (IST)

The backhand and forehand working in good co-ordination for Freitas. He has taken a 7 point lead at 8-2!

22:16 (IST)

Freitas with his strong forehand smashes and flicks leads 5-1 in the first game.

22:16 (IST)

Freitas would be looking to make sure Maverics won't run away with the tie as he takes on Fegerl in the 8th match of the tie!

22:11 (IST)

Winter sweeps it 3-0 as she takes the 3rd game 11-6 against Madhurika Patkar! Winter keeps her impressive record of not losing a game against India women!

22:09 (IST)

Winter not letting Patkar settle down. She has taken a 8-3 lead. Those powerful forehands have troubled Patkar.

22:06 (IST)

Winter with her dominant forehand takes the second game 11-9! She leads 2-0 against Patkar.

22:02 (IST)

Winter is leading 5-4 in the second game. A reminder, Winter hasn't lost a game against an Indian opponent in this UTT!

21:59 (IST)

Sabine Winter with a couple of inside out forehands clinches the game 11-9 against Madhurika Patkar!

21:58 (IST)

Patkar fighting back after being 1-5 down. She is just one point behind at 5-6!

21:57 (IST)

A couple of thumping forehands gives Winter a 2 point lead at 8-6!

21:56 (IST)

Madhurika Patkar vs Sabine Winter underway!

21:49 (IST)

Freitas takes a crucial point for Smashers as he beats Sharath 11-5 win in the 3rd game! Sharath celebrates with the crowd having taken the match 2-1!

21:48 (IST)

Freitas fighting back in the third game. He's countering well with his forehand smashes and has 6 game points now!

21:44 (IST)

Sharath makes it 2-0 with a 11-9 win over Freitas! Excellent play from the veteran!

21:43 (IST)

What a thumping rally! Sharath with his clever placement wins the point and has a match point too!

21:42 (IST)

Freitas fighting back with four points in a row. Draws level at 9-9!

21:41 (IST)

A cracking topspin right down the line from Sharath Kamal makes it 6-2 in the second game!

21:37 (IST)

Sharath Kamal pumps his fist in the air to clinch the first game 11-8 against Freitas!

21:36 (IST)

Sharath Kamal absolutely dominating in the first game. He has taken a 9-2 lead!

21:33 (IST)

There goes that inside out forehand from Sharath to give him a 3-2 lead over Freitas in the first game!

21:30 (IST)

21:29 (IST)

Next up is Sharath Kamal vs Marcos Freitas!

21:28 (IST)

What a backhand winner from Winter from way away from the table. What ground coverage to pull one back and make it 2-1!

21:25 (IST)

A smashing inside out forehand from Kim Song I makes it 9-9!

21:25 (IST)

Nothing separating the two in the third game, it's 8-8!
Day 7 Report: Falcons TTC registered an emphatic 22-5 victory over a hapless Oilmax-Stag Yoddhas on day seven of Ultimate Table Tennis (UTT) at the Nehru indoor stadium.
Indian paddler Sanil Shetty starred with two wins including one against world No.29 Quadri Aruna.
It was a one-way traffic right from the word 'go' as Shetty got Falcons off to a superb start by putting it across the Nigerian by three games to nil.
He won 11-6, 11-10, 11-9 as Quadri succumbed to some impressive stroke-making by his rival.
Shetty, the world No. 201 stunned Quadri with a range of attacking shots to which his opponent simply had no answers.
It was Shetty's second win over a foreign player in the tournament having beaten Portugal's Tiago Apolonia earlier.
After the dream start for Falcons, Wu Yang proved too good for India's Manika Batra, winning 11-5, 11-10, 11-8.
Shetty followed up his singles heroics by partnering Lee Ho Ching for a 3-0 (11-5, 11-7, 11-8) win over Abhishek Yadav and Doo Hoi Kem in the mixed doubles, which meant Falcons had taken a commanding 9-0 lead.
In the fourth rubber, Swedish veteran Par Gerell bounced back after losing the opening game to get the better of Tomislav Pucar 9-11, 11-5, 11-9 to extend Falcons' lead to 11 -1.
Ching won her second match of the night, by hammering Polina Mihailova 11-3, 11-6, 11-4 to dash the Yoddhas' hopes.
There seemed to be no respite for the Yoddhas with Gerell returning for his second win of the night, this time over India's Abhishek Yadav. He reeled off three games in a row (11-6, 11-7, 11-7).
Having won just one game till that stage, Mihailova restored some pride for Yoddhas by beating Suthirtha Mukherjee 3-0 (11-10, 11-7, 11-7) but Falcons closed out the match in quick time by winning the next two rubbers.
The eight match was won by Briton Liam Pitchford against Quadri (11-9, 7-11, 11-9) while Wu Yang finished with a flourish by trouncing Doo Hoi Kem 11-8, 11-4, 11-2.
The big win took Falcons TTC to the top of the standings with 50 points, having opened up a massive 18-point advantage over their nearest rival, Yoddhas, who had an eminently forgettable night.
With inputs from PTI
Your guide to the latest cricket World Cup stories, analysis, reports, opinions, live updates and scores on https://www.firstpost.com/firstcricket/series/icc-cricket-world-cup-2019.html. Follow us on Twitter and Instagram or like our Facebook page for updates throughout the ongoing event in England and Wales.
Updated Date: Jul 20, 2017 23:16:11 IST