Ultimate Table Tennis (UTT) 2017, highlights: Maharashtra United thump RP-SG Mavericks 16-11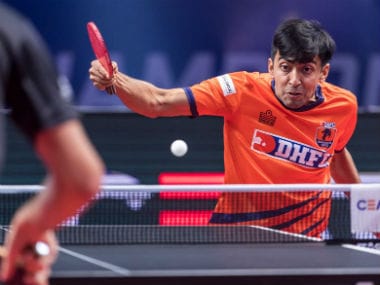 22:44 (IST)

That's it from us! Hope you enjoyed the coverage. See you tomorrow, good night and take care.

22:35 (IST)

Maharashtra United win the tie 16-11 against RP-SG Maverics!

22:34 (IST)

Polcanova clinches a valuable point for RP-SG as she bounces back to take the third game 11-6.

22:33 (IST)

Another strong comeback from Polcanova. She has four game points after being 4-6 down!

22:31 (IST)

Yu has taken a 6-4 lead in the third game.

22:29 (IST)

We are into the final game of the day!

22:29 (IST)

Fu Yu takes the 2nd game 11-7 to make it 1-1 against Polcaonva. For a moment, it seemed as if she would fritter away the 5-0 advantage but then she got back into the groove and clinched one more point for Maharashtra United.

22:27 (IST)

After many cross court backhands in a backhand to forehand rally, Fu Yu hits one down the line to surprise Polcanova!

22:26 (IST)

What a comeback from Polcanova, she is leading 7-6 after being 5-0 down!

22:25 (IST)

Wu Yu hitting back hard and firing on all cylinders with a 5-0 lead in the second game.

22:24 (IST)

Polcanova takes the first game 11-9 against Fu Yu and a crucial point for RP-SG keeping one eye on the tournament standings.

22:21 (IST)

A thumping backhand on the body of Yu on the receive gives Polcanova 9-7 lead.

22:20 (IST)

Not much separating the two women here it's 7-7 in the first game.

22:18 (IST)

A crushing forehand top spin from Polcanova gives her a 2-1 lead in the first game!

22:15 (IST)

We have the final match of the night as Sofia Polcanova locks horns with Fu Yu!

22:14 (IST)

Wong Chung Ting takes the match 2-1 with a 11-9 win in the third game against Apolonia. He's back to his best after being beaten 2-1 by SHarath Kamal earlier in the day.

22:11 (IST)

Wong Chung Ting with a beautiful backhand smash down the line to make it 5-5!

22:11 (IST)

Some blistering rallies in the third game and Apolinia has taken a 5-3 lead.

22:07 (IST)

Apolonia makes it 1-1 with a 11-6 win in the 2nd game against Wong Chung Ting!

22:05 (IST)

Apolonia playing the lob game and Wong misses his forehand smash. Sometimes it's pretty difficult for penholders to hit those smashes against the high lobs.

22:03 (IST)

Wong Chung Ting takes the first game 11-8 against Apolonia. He wins the tie for Maharashtra United!

22:02 (IST)

Apolonia fighting back to cut the lead down to just one. It's 7-6 in favour of Wong Chung Ting!

22:00 (IST)

Wong has started off well, unlike his match against Sharath Kamal, and has taken a 7-1 lead.

21:59 (IST)

Tiago Apolonia vs Wong Chung Ting is underway!

21:56 (IST)

Winter sweeps it 3-0 against Krittwika Roy, she takes the 3rd game 11-4 to keep RP-SG Maverics in the tie.

21:54 (IST)

Winter has started off in blistering fashion in the second game. A thumping forehand makes it 5-0!

21:51 (IST)

A crushing forehand from Winter gives her 11-7 win over Roy in the 1st game.

21:50 (IST)

Finally we have a decent rally in the game, Roy errs on her back hand and Winter has now won his 100th point in the UTT!

21:49 (IST)

Not many long rallies in the second game. Winter leads 5-4. Roy won three points in a row from being 5-1 down.

21:47 (IST)

Winter, however, keeps her calm and takes the first game 11-8 against Krittwika Roy.

21:46 (IST)

Roy hits a backhand ace to save a game point!

21:45 (IST)

Match 7 of the tie, it's Krittwika Roy vs Sabine Winter

21:40 (IST)

Maharashtra United need just one point to win the tie as they lead 13-5.

21:38 (IST)

Wong Chung Ting pulls one back as he wins the 3rd game 11-8! Sharath wins the match 2-1.

21:37 (IST)

Sharath down but not out. He's cut the lead down to two points at 7-9!

21:35 (IST)

Wong Chung Ting hitting back hard now. He's got into the groove pretty late and is now making Sharath play on his backhand. A clever change of strategy.

21:34 (IST)

Sharath Kamal roars in delight as he makes it 2-0 against Wong Chung Ting! He was dominant with his forehand and got his backhands right too, generally his weakness! Decibel levels have gone high as the crowd is changing 'Sharath....Sharath'

21:32 (IST)

Five game points for Sharath now!

21:31 (IST)

A cracking forehand on the receive puts Sharath 9-5 ahead!

21:30 (IST)

Wong Chun Ting finally off the mark as Sharath misses his inside out forehand.
Day 5 report: Hong Kong's Doo Hoi Kem beat Petrissa Solja by three games to nil to help Oilmax-Stag Yoddhas register a 15-12 win against Shaze Challengers on day five of Ultimate Table Tennis (UTT), the country's first-ever professional table tennis league, at the Nehru stadium in Chennai on Tuesday.
After today's match, Falcons TTC continue to lead the points table with 28, followed by Challengers and Yoddhas with 26 apiece.
The encounter was evenly poised after five rubbers with Yoddhas ahead 8-7. However, the next four matches saw mixed fortunes for the teams. Andrej Gacina appeared to have given Challengers the upperhand by trouncing India's Jubin Kumar 3-0 (11-5, 11-8, 11-2) but Polina Mihailova hit back with a 3-0 win of her own against Indian paddler Mouma Das as Yoddhas nosed ahead 11-10.
With the last two matches to be played, it looked like anyone's tie to win. Tomislav Pucar, who came in as a replacement for the Yoddhas's top player Panagiotis Gionis, started well by taking the first game 11-9 against Li Ping.
The lanky Croatian, however, couldn't sustain the momentum and lost the next two games to lose 11-9, 6-11, 9-11, allowing Challengers to draw level at 12-all.
Doo Hoi Kem denied Solja in the final match, winning two close games in a shutout, to secure a much-needed victory for Yoddhas.
Earlier, India's Soumyajit Ghosh stunned world No 29 Aruna Quadri to give Challengers a flying start before Yoddhas bounced back to lead 8-7.
Ghosh put Challengers ahead with a stunning 2-1 victory over his Nigerian rival in the opening match of the day. The Indian, ranked no 85, cruised to a 11-2 win in the opening game before Quadri staged a strong comeback to win the second at 11-9.
The Nigerian jumped to a 7-2 lead in the third before the Indian rallied brilliantly to turn the contest on its head, taking the lead at 8-7 before winning the game at 11-8.
China-born German world No 9 Han Ying extended Challengers' lead to 4-2 with a 2-1 win over Manika Batra of Yoddhas in the women's singles.
Batra pulled off a surprise win in the opening game 11-8, before experienced Ying regained control to take the next at 11-5 and was pushed to the limit before holding on to win the third game on the golden point (11-10).
In a reversal of fortunes, Yoddhas' mixed doubles pair of Abhishek Yadav and Doo Hoi Kem outclassed Challengers' team of Ghosh and Petrissa Solja (Germany) 3-0 (11-10. 11-9, 11-6) to help their side edge ahead on points at 5-4.
Yoddhas' Quadri rallied from a game down to win his second match of the day, against Croatia's Andrej Gacina 2-1 (10-11, 11-6, 11-3) to put his team ahead 7-5 after four matches.
In the fifth rubber, Polina Mihailova faltered against Han Ying, losing 1-2 (8-11, 11-10, 8-11) as Challengers reduced the margin to 7-8.
Earlier, Greek paddler Gionis, ranked 19 in the world, was ruled out of the remainder of the league due to an inflammation in heel.
With PTI inputs.
Updated Date: Jul 19, 2017 18:34 PM