Ultimate Table Tennis (UTT) 2017, highlights day 2: Shaze Challengers win 15-12 against Dabang Smashers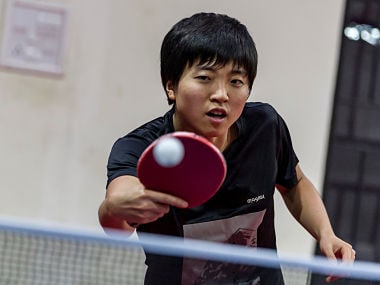 23:22 (IST)

Anthony Amalraj is named Best Indian Player of the tie!

23:16 (IST)

Shaze Challengers win the tie 15-12 against Dabang Smashers!

23:11 (IST)

That's it! Solja wins the golden point to win the game 11-10. She wins the match 2-1.

23:11 (IST)

A couple of brilliant rallies. Bilenko even pulled out a no-look backhand chop against a powerful forehand! It's going down the wire at 10-10! The golden point will decide the winner!

23:10 (IST)

Solja fighting it out in the middle. A cracking forehand and she cuts the lead down to just one. It's 8-7!

23:08 (IST)

After coaxing Solja into a chop rally, Bilenko suddenly pulls out a rasping forehand to make it 5-2!

23:05 (IST)

Shaze challengers have won the tie 14-12 but there is everything to play for as the total points will count at the end!

23:04 (IST)

Final game of the night coming up!

23:03 (IST)

Belinko fights back in style with a 11-6 win over Solja in the 2nd game!

23:03 (IST)

Bilenko has five game points now! It's 10-5!

23:02 (IST)

A crushing backhand from Bilenko makes it 8-4 for her!

23:02 (IST)

Bilenko's patient game is working well so far!

23:01 (IST)

Bilenko has hit back hard with a 5-0 lead in the second game!

23:00 (IST)

Solja wins 11-5 in the first game against Bilenko. A thoroughly dominating peformance in that game with the forehand taking centerstage!

22:57 (IST)

Solja has five game points now!

22:57 (IST)

Solja with a couple of commanding forehands makes it 8-5 in the first game.

22:56 (IST)

Solja slowly getting into the groove she's drawn level 4-4!

22:54 (IST)

Bilenko has taken a 3-0 lead in the first game. Solja seems a bit rusty to start off!

22:53 (IST)

Next up - Bilenko Tetyana vs Petrissa Solja

22:50 (IST)

What a comeback from Freitas. After losing the first game, he wins the next 2. Dabang Smashers fighting back, trail but just 2 points at 11-13.

22:49 (IST)

A backhand error from Li Ping gives Freitas the game point!

22:49 (IST)

Li Ping pulls back three points to make it 5-8.

22:47 (IST)

Freitas bossing the forehands now. Finding pretty good angles to make it 7-2 in the third game.

22:47 (IST)

Freitas has taken a 5-2 lead over Li Ping in the third and final game!

22:44 (IST)

Freitas takes the second game 11-6 to make it 1-1 against Li Ping!

22:44 (IST)

A crucial moment in the match, Ping's backhand on the serve goes wide. And then a service error gives Freitas four game points!

22:42 (IST)

Another cracking backhand and Li Ping has fought back to get the lead down to just one. It's 6-7!

22:41 (IST)

A smacking backhand off Freitas serve makes it 6-2 for Li Ping!

22:40 (IST)

Freitas has started off well with a 4-0 lead in the second game!

22:38 (IST)

Li Ping takes the first game 11-7 against Freitas!

22:37 (IST)

Freitas hanging on saves two game points.

22:37 (IST)

Ping has 5 game points now!

22:36 (IST)

Ping has taken a 4-point lead. Freitas with too many backhand errors!

22:34 (IST)

Both the players hitting some strong forehand winners. It's 3-3 at the moment!

22:32 (IST)

Match 8 - Marcos Freitas vs Li - Ping coming up!

22:32 (IST)

Song I sweeps 3-0 against Mouma Das as she takes the 3rd game 11-6!

22:28 (IST)

Another forehand error from Mouma Das opens up a five-pint lead for Song I! It's 9-4.

22:26 (IST)

Song I has taken a 5-2 lead in the third game!

22:25 (IST)

Mouma Das is pretty authoratitive with her forehand when she gets them right. She generates a lot of power in it but she doesn't have the consistency which is hurting her.

22:23 (IST)

Song I takes the second game 11-8 against Mouma Das. She leads 2-0 in the match!

22:22 (IST)

Mouma hts long on Song I's serve. The North Koren has a game point!

22:21 (IST)

Mouma hanging in there at 5-9!

22:20 (IST)

Song I playing the patient game. She defends a couple of thumping forehands from Mouma who finally commits a mistake on the third one.

22:20 (IST)

Song I has taken a 4-1 lead in the 2nd game!

22:17 (IST)

A meek backhand push into the net from Mouma gives Song I 11-8 win in the first game.
Preview: Dabang Smashers will take on Shazè Challengers in the second match at the Ultimate Table Tennis that began on 13 July at the Nehru Stadium in Chennai.
The match to get underway on Friday will witness local stars Sathiyan Gnanasekaran and Anthony Amalraj. The duo use shake-hand grip and have an attacking style of play. Sathiyan, at 24, has tasted success in the World Tour Belgium Open last year. At the age of 31, Anthony's experience will prove vital for the team. The right-hander was part of the doubles team that led the country to a Silver medal in the 2014 Commonwealth Games.
Madhurika Patkar and Mousumi Paul are the two female Indian recruits in the Dabang Smashers camp. Madhurika has been one of the stalwarts of table tennis in the country and has to her credit a Silver medal at 2010 Commonwealth Games. She also won the National Championships this year. Mousumi Paul has also represented India with distinction having bagged the Bronze medal in the Commonwealth Championships' team event.
Their foreign slots will be held by women's World No 19 Kim Song I who is an Olympic Bronze medallist along with 33-year-old Bilenko Tetyana who has won Bronze in the 2015 European games. Ukraine's Kou Lei and Portuguese Marcos Freitas complete the men's set. Lei's brightest performance so far came in the 2015 European Games where he claimed the Bronze medal while Freitas brings with him bags of experience having participated in three Olympics – Beijing, London, Rio.
"With players bringing quality and experience to the table in equal measure, I think we have great potential in getting off to a good start and keeping up the momentum. Shazè Challengers too has a good team and it will come down to the team that copes pressure best,"  said Dabang Smashers Coach N Ravichandran, who was part of the National side in the Commonwealth TT Championships. He will be joined by Serbian-born Ilija Lupulesku as the  foreign coach.
Meanwhile, Shazè Challengers camp features Han Ying and Petrissa Solja, who are believed to be one of the strongest pairing in the UTT. In Ying, the Challengers can boast of the highest ranked female player in the league. Ying along with Solja, represent Germany at the international level and while Ying prefers a more defensive approach, Solja is famed for the attacking flair she brings to the table. Andrej Gacina and Li Ping complete the formidable squad.
Their Indian contingent features rising star Manav Thakkar along with Soumyajit Ghosh. While Manav at 17 is one of the youngest male Indian star in the competition, 24-year-old Soumyajit has already participated in two Olympics, London in 2012 and Rio in 2016.
In the Indian women's category, the Challengers have another 17-year-old in Moumita Dutta who displays an aggressive style of play. The right-hander also has 3 Gold medals in the Iran Open under her belt. Complimenting Moumita Dutta's prodigious talent will be veteran Mouma Das. "Our team has bonded very well over these past few days and understand each other's style of play which I think is quite crucial. Dabang Smashers are a good opponent, with a good mix of players," stated team Coach A Muralidhara.
Updated Date: Jul 15, 2017 19:24 PM