Ultimate Table Tennis 2018: Simon Gauzy, Chih Yuan Chuang, Bernadette Szocs top draws in second edition
'We are very excited to sign up Simon Gauzy. Some of the best players in the world will be seen in action during the tournament,' Vita Dani, chairperson of 11Sports, said.
Mumbai: France's top player Simon Gauzy, the World No 8, Chinese Taipei's Chih Yuan Chuang and ITTF Europe's Top 16 women's winner Bernadette Szocs are the top draws in the second edition of CEAT Ultimate Table Tennis (UTT) league starting on 14 June.
The Indian pool, comprising a total of the 28 best players in the country, will be led by World No 49 Sathiyan Gnanasekaran, winner of the ITTF Challenger Spanish Open, and 8-time national champion Sharath Kamal, the organisers of the league, 11Sports, announced on Thursday.
"We are very excited to sign up Simon Gauzy. Some of the best players in the world will be seen in action during the tournament," Vita Dani, chairperson of 11Sports, said.
Gauzy has been in tremendous form all through the season gone by, finishing second at the ITTF World Tour's Australia Open and picked up a bronze medal at the ITTF Europe's Top 16 event. He even beat current World No 1 Timo Boll on his way to the medal to underline his rising stature in the sport.
Chinese Taipei's ace paddler Chih Yuan Chuang, the Grand Tour Champion in 2002, is a legend back home and is credited with the rise of TT in the Taiwanese region.
Apart from Bernadette Szocs of Romania, UTT also features teen sensation Adriana Diaz, a 17-year-old girl from Puerto Rico who is already making waves with her wins on the TT circuit.
Other notable names include World No 11 Doo Hoi Kem from Hong Kong and 2017 ITTF India Open winner Sakura Mori from Japan.
Stars making a return for the second edition of the event include Aruna Quadri, Joao Monteiro, Kou Lei, Liam Pitchford, Tiago Apolonia, Doo Hoi Kem, Lee Ho Ching, Sabine Winter and Sofia Polcanova.
In addition to the star power of Sathiyan and Sharath Kamal, Indian fans will hope that Sanil Shetty, Soumyajit Ghosh, Anthony Amalraj and Harmeet Desai will continue with their giant-killing ways like they did last year.
World No 2 junior paddler (U-18), Manav Thakkar, will also be back for his second season. He's in good form, having won the Slovenia Junior and Cadet Open, as well as the India Junior and Cadet Open 2017 in the U-18 category.
Manika Batra, Madhurika Patkar and national champion Sutirtha Mukherjee will lead the list of 14 women from the country.
They will be joined by Arjuna Awardee Mouma Das, who created history along with Manika Batra in Germany by becoming the first Indian pair to reach the quarter-finals of the World Table Tennis Championships.
The young and talented bunch of paddlers like Archana Kamath, Sreeja Akula, Moumita Dutta, Ahyika Mukherjee, Prapti Sen and Selena Selvakumar will be seen playing alongside and against some of the best paddlers in the world.
The UTT comprises six franchisees with eight players — four men and four women an equal mix of overseas and Indian players, apart from a foreign and an Indian coach, in each team.
Sports
From fitness to power, table tennis star G Sathiyan is sweating it out on various fronts to be a better version of himself.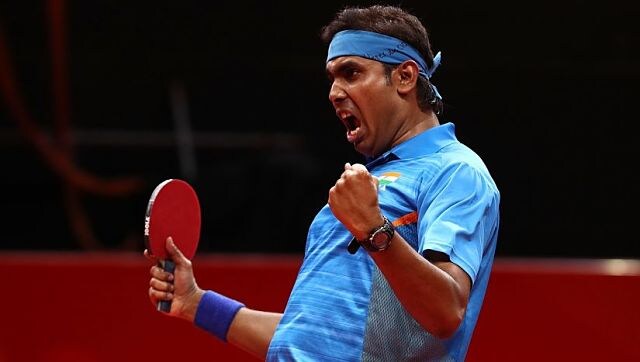 Sports
Sharath Kamal and Sreeja Akula were on Monday named in the 16-member probables list for the Birmingham Commonwealth Games, scheduled to be held in July-August.