Ultimate Table Tennis 2017: Sanil Shetty's effective forehand topspin helps Falcons TTC thump Yoddhas
Falcons TTC put one foot in the last-four playoffs stage as they steamrolled Oilmax-Stag Yoddhas by a score of 22-5 in a rare one-sided affair in the Ultimate Table Tennis League.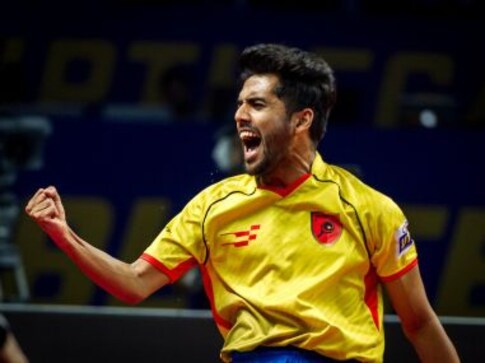 Falcons TTC put one foot in the last-four playoffs stage as they steamrolled Oilmax-Stag Yoddhas by a score of 22-5 in a rare one-sided affair in the first edition of the Ultimate Table Tennis League held in India. The Falcons won eight out of their nine matches, which were played on the day with six of them being won by an emphatic 3-0 scoreline.
Sanil Shetty was the first to stamp his class on the tie. Sanil has blown hot and cold against foreign players so far — first overthrowing World No 31 Tiago Apolonia but then getting beaten fair and square by the 14th-ranked Marcos Freitas. On Wednesday, though, he was on a roll. Pitted against Aruna Quadri of the Yoddhas, Sanil produced a resounding victory over his inconsistent opponent.
Sanil's gameplans have been pretty straight forward so far — get into good positions to play a forehand topspin, which more often than not wins him the point. To be able to attack in such a way, Sanil has to ensure that either the opponent gives him a long ball first or his attack is a weak one on which Sanil can counter-attack with force.
Against Quadri of Nigeria, Sanil quite often played soft touch shots on his forehand and mixed it up with a couple of banana flicks. The quality of his touch shots was impeccable as Quadri either had to give him a long push or ended up attacking weakly with his forehand. On both these returns, Sanil was able to demonstrate the speed and accuracy of his forehand topspins.
In hindsight, Quadri could have experimented with returning these balls short again so that Sanil had to play the touch shot again. This could have paved the way for a slightly higher ball, which could have been a better ball to attack on for Quadri.
Manika Batra of the Yoddhas had so far managed to score a point against her foreign counterparts but Wednesday was different as she came close but could not win a single game against Wu Yang. She had her chance in the second game where she had two game points at 10-8 but Wang crawled back to win on the golden point. Had she won the second game Matra would have become the first person to win a game against Yang in this tournament.
Batra has so far in the tournament created a lot of problem for the foreign defense players using her long-pimpled rubber to good effect. The same was the case on Wednesday as she troubled the Chinese Yang using her long-pimpled rubber to create attacking opportunities from the forehand, but poker-faced Yang showed her mental abilities yet again.
Yang came back later to thrash Doo Hoi Kem of Yoddhas in the last match of the tie. Kem, who had produced a match-winning performance against the Challengers two days ago, had no answers to Yang's defense. Kem looked absolutely clueless about the spin that Yang imparted on the ball as she dumped numerous backspin balls in the net and hit the loose balls long and high.
It must have been heartwarming for the Falcons to see the way in which Sutirtha Mukherjee fought against the chopper Polina Mikhailova. Sutirtha displayed great patience and her selection for hitting the balls was very good.
At times, she plainly returned all the chops that Polina produced with simple pushes to extend the rally. So much so that sometimes Polina seemed the more aggressive of the two. But this tactic worked well for Sutirtha as she has a very good blocking game, which she used whenever Polina attacked. The first two games were very close as Sutirtha came from three game points down in the first only to lose the game on golden point to an excellent backhand attacking stroke by Polina.
Sutirtha came back strongly in the second game as she briefly held a lead at 7-5 but lost the game at 9. This was the only match that the Yoddhas won in the entire tie.
Liam Pitchford and Quadri played out a very offensive match and it seemed like Quadri was going to get the better of Pitchford. But the Yoddhas were having such a bad day that, leading 9-5 in the decider set, Quadri lost six straight points to hand the match to Pithford. This was the best match of the tie with excellent offensive rallies on display. It was mainly Quadri's forehand powerful strokes versus the agile backhand of Pitchford. Pitchford on many occasions let Quadri attack from his backhand side and then placed good blocks on the forehand side of Quadri.
The Falcons captain Par Gerell also came to the party as he beat the young Indian Abhishek Yadav with a score of 3-0 and came from behind to beat Pucar by 2-1.
With two matches to go for the Yoddhas, it seems as if they will be heading out of the UTT unless they deliver quite a wondrous performance in both their remaining matches. All their players need to forget about this tie and come back stronger in the remaining matches.