Ultimate Table Tennis 2017: Manika Batra's fine show helps Oilmax-Stag Yoddhas's defeat RP-SG Mavericks
In general, Sabina Winter's power game was futile against a clever Manika Batra as Oilmax-Stag Yoddhas beat RP-SG Mavericks
Placed last in the League table, the Oilmax-Stag Yoddhas were under pressure to win against the RP-SG Mavericks in the eleventh match of the Ultimate Table Tennis league in Delhi. A loss would have surely meant that the Yoddhas would find it very difficult to qualify for the semi-final stage. Faced with such a task, the Yoddhas found inspiration in Manika Batra, Doo Hoi Kem and Aruna Quadri as they went on to win the tie 16-11.
Playing in her hometown, Manika Batra put in a fine show as her family and friends egged her on from the stands. Her first match was a mixed doubles showdown against the Mavericks pair of Sharath Kamal and Sofia Polcanova. She along with partner Aruna Quadri of Nigeria coordinated very well as a pair as they won 2-1. Quadri used his forehand attack to devastating effect whereas Batra intelligently used her long pimpled rubber to vary the length and pace of the balls. Quadri was ruthless as she twisted and turned to hit forehand winners from every part of the table.
Batra's second game was even more impressive as she beat World Rank 45 Sabina Winter of the Mavericks. Buoyed by the success of Madhurika Patkar on the previous day, she looked to have gained the belief required to beat a foreign women's player. She faced an uphill task though as Sabina Winter had not lost a single game to an Indian player so far in the competition.
Batra has long-pimpled rubber on her backhand side which is used for controlling the opponents' spin and speed while on the forehand side she has the inverted pimpled (plain) rubber . In the initial stages of the match, Winter struggled a bit to hit on long balls from the long-pimpled rubber of the Indian. As she got accustomed to the spin, Batra started twiddling her racket (twiddling is when you rotate the racket in your hands so that your forehand rubber is now on the backhand side and vice versa). By doing this Batra was either able to do an aggressive block by her plain rubber or add effect to the ball using her long-pimpled rubbers. This led to a lot of problems for Winter especially as the Indian surprised her with the speed of her backhand blocks by the plain rubber.
Batra won the first game on Golden point. In the second game, her strategy was even better as she started giving short balls on Winter's forehand using her long-pimpled rubber. The beauty of these short balls was that they were delivered using a very deceptively long push action. This troubled Winter a great deal as she wasn't quick enough to come ahead with her feet to end up either hitting the ball out or giving an easy return.
This tactic combined with her long pushes from the pimpled rubber on the backhand side proved very effective. If it wasn't for the unforced errors that Batra committed she would have ran away with game 2 as well. But as it was, Winter leveled the score at 1-1. In the final game however, her execution was brilliant. She used the same two strategies over and over again and also exploited Winter's weak footwork while moving to her forehand from the backhand area to take a comfortable lead. Batra also threw in the occasional long serve after which she attacked by twiddling her racket. The Indian won the third game comfortably.
Winter should have attacked more centrally or even tried to attack on Batra's forehand. She also did not try to open the rally with a backhand topspin, something she needs to explore more. In general, her power game was futile against a clever opponent.
Winter had to endure another loss against Polina Mikhailova to end a miserable day for her.
Doo Hoi Kem of Hong Kong produced a picture perfect performance wining all her 6 games. She was up against the 17-year-old Archana Kamath from India and although the first game was a close one she went on to win the match comfortably with a score of 3-0. Her next opponent was Sofia Polcanova and Kem achieved a similar scoreline of 3-0.
For the Mavericks Sharath Kamal won against youngster Pucar although he rued the chance of winning all games, losing the last one to make it 2-1.
There was a some good news for the Mavericks with Apolonio striking top form to win all 6 points as he beat both India's Jubin Kumar and Tomislav Pucar by a score of 3-0. The foreign men's players have been a problem for the Mavericks so far in the tournament and Apolonio finally seems to have hit top form in the closing stages of the league matches
The victory for the Yoddhas means that they along-with the Mavericks are now tied with 48 points at the third place. It is going to be an uphill task for both the teams as the teams below them –Shaze Challengers and Maharashtra United having played a tie less and are on 43 and 42 points respectively. The Yoddhas will play their last league game against the Dabang Smashers while the Mavericks will be up against the Shaze Challengers. Both teams need to win by big margins to keep their hopes of qualification alive. Each point by every player is going to be vital from this point on.
Sports
From fitness to power, table tennis star G Sathiyan is sweating it out on various fronts to be a better version of himself.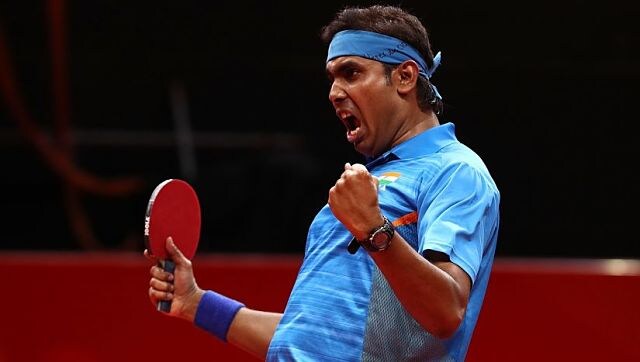 Sports
Sharath Kamal and Sreeja Akula were on Monday named in the 16-member probables list for the Birmingham Commonwealth Games, scheduled to be held in July-August.
Sports
While Sharath and Sathiyan are the only two male players in the top-100, there are three more apart from Manika in the women's list.