Ultimate Table Tennis 2017: Falcons TTC justify their top dog status with effortless win over Maharashtra United
The Falcons TTC justified their numero uno status in the Ultimate Table Tennis League as they ruthlessly thrashed Maharashtra United to storm into the final.
The Falcons TTC justified their numero uno status in the Ultimate Table Tennis League as they ruthlessly thrashed Maharashtra United to storm into the final. The first semi-finals of the UTT concluded with the Falcons beating United by a convincing scoreline of 14-5 at Mumbai's  NSCI. The two teams had met just 48 hours ago in the last match of their league campaigns in which the Falcons had beaten United by a resounding 17-10. Everyone had pitched in with a good performance for the Falcons on that day with only their star player — Wu Yang — struggling to get past Liu Jia.
In the semi-final, the rules were changed slightly with the tie supposed to end whenever a team gets to 14 points. Keeping this in mind, the teams made changes in their line-up having learn their lessons from the previous meeting. For United, Wong Chun Ting — the World No 8 — was back to playing both his matches in place of Joao Monteiro.
Monteiro had suffered a thumping defeat at the hands of India's Sanil Shetty in the previous tie and the change seemed to bode well for United as Wong started off very well against Sanil. Wong displayed some breathtaking strokeplay and this was by far his best performance in the entire tournament.
It was incredible to see him counter-attack Sanil's forehand topspin — which is among one of the most powerful. He also played a very good touch game keeping the ball short on the table and using his backhand flick to good effect. His placement was immaculate as he targeted the extreme backhand corner of Sanil on a number of occasions to get Sanil away from his favored forehand topspin. Sanil — the crowd favorite from Mumbai — fought brilliantly as he won the second game as Wong mistimed his shots on a couple of occasions. Wong won the third game with relative ease as he helped United go one up.
The other change for United was with Pooja Sahasrabuddhe starting in place of Krittwika Roy. But this move did not pay them any dividends as Pooja too suffered at the hands of Wu Yang, losing out 3-0.
The next match was the mixed doubles in which the United pair of Harmeet Desai and Fu Yu beat Sanil Shetty and Lee Ho Ching. The new pair of Harmeet and Fu Yu enabled them to play Liu Jia for 2 singles matches. Fu Yu had struggled in recent times and also lost her match against Falcon's Sutirtha in their previous rubber. The move certainly paid off for United as they won the mixed doubles 2-1 leading to an overall score of 4-5.
It was from here on that the Falcons seized total control of the tie. In a tie in which it was expected that United's Wong Chun Ting would finally come off age in this league, it was rather the Englishman Liam Pitchford, who stole the limelight. Pitchford justified the team's decision to play as the lead foreign player ahead of captain Par Gerell by beating Wong Chun Ting in three games with the help of some lovely backhand flicks and backhand topspin shots.
Wong Chun Ting should have been more active with his strategy as he stuck to playing on the centre forehand of Pitchford. The Englishman was ready for those areas as he received using his stronger backhand. Wong also messed up his timing with the balls not hitting the sweet part of his racket and leading to a lot of errors. Pitchford won the first game on the Golden Point rule while Wong won the second to tie the scores. But in the third, it was one-way traffic as Pitchford won an easy game. Pitchford then came back to beat India's Harmeet Desai 3-0 to bag a total score of 5-1 for the day.
Wu Yang then showed the world that her loss to Liu Jia the previous day was just an aberration as she swept aside Liu's challenge 3-0. Although it must be said that Liu Jia played exceptionally well, Wu Yang displayed true class. Wu Yang — who has a defensive style of play — came out with a strategy which involved a lot more aggressive strokes to assist her defensive game.
She was always on the lookout for a loose ball to attack and on occasions even initiated the attack with a forehand topspin. She also used her sidespin chops pretty well coupled with her spin variations. This took Liu by surprise as she had expected a very defensive game by Wu. There were times when Wu Yang counter attacked Liu's topspins against her customary chop returns. Her world class nature was truly on display in the tie.
With the score at 13-5, Liu came out again to face India's Sutirtha Mukherjee. Liu had to win all the games to keep United in the tie and looked to be playing under tremendous pressure. She was leading throughout the first game and was up 10-8 when Sutirtha came back to finish the game and tie on Golden Point.
Sports
Falcons TTC put in a high-flying performance in their last league tie against the DHFL Maharashra United team, winning by a huge margin of 17-10.
Sports
Catch all the live scores and updates from the Day 2 of Ultimate Table Tennis, as DHFL Maharashtra United vs Oilmax-Stag Yoddhas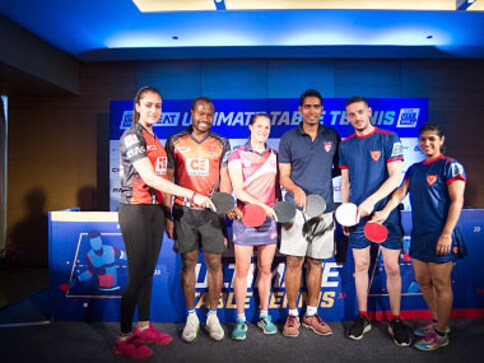 Sports
Here's your ultimate guide to the Ultimate Table Tennis League, which begins from Thursday. From fixtures, to key players, we decode it for you: