UFC: Khabib Nurmagomedov threatens to leave if teammate Zubaira Tukhugov is fired for striking Conor McGregor
Undefeated Khabib Nurmagomedov has threated to walk away from UFC if teammate Zubaira Tukhugov is released, after his teammate assaulted Conor McGregor in the aftermath of their fight in UFC 229.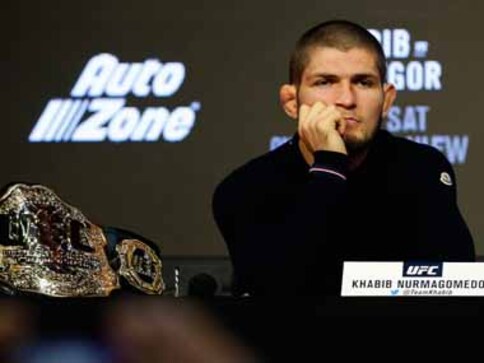 Los Angeles: Unbeaten Khabib Nurmagomedov threatened to leave the UFC on Thursday if the MMA promoters fire teammate Zubaira Tukhugov for striking Conor McGregor in a post-fight melee Saturday.
Nurmagomedov, a 30-year-old Russian, kept his UFC lightweight crown with a fourth-round submission victory over Ireland's McGregor in Las Vegas, improving to 27-0 in his professional career and 11-0 in UFC bouts.
After the victory, Nurmagomedov climbed out of the Octagon and went into the crowd to attack a member of McGregor's entourage who had been heckling him throughout the fight.
Tukhugov, who is from Chechnya, was seen in a brief exchange with McGregor during the post-fight brawl. McGregor was confronted by three members of Nurmagomedov's team in the melee but later said he would not press charges. Tukhugov had been scheduled to fight a teammate of McGregor, Artem Lobov, later this month but that bout has been canceled.
Nurmagomedov told the UFC in no uncertain terms that any move to cut ties with Tukhugov would see him follow his teammate away from the UFC. "If you decide to fire him, you should know that you'll lose me too," Nurmagomedov posted on Instagram and Twitter.
"We never give up on our brothers in Russia and I will go to the end for my Brother. If you still decide to fire him, don't forget to send me my broken contract, otherwise I'll break it myself. You canceled Zubaira's fight and you want to dismiss him just because he hit Conor. But don't forget that it was Conor who had hit my another Brother FIRST, just check the video," said
The Nevada Athletic Commission (NAC) is withholding Nurmagomedov's $2 million prize money while it investigates the post-fight brawl. "You can keep my money that you are withholding," Nurmagomedov said, adding, "you are pretty busy with that, I hope it won't get stuck in your throat. We have defended our honor and this is the most important thing. We intend to go to the end."
Nurmagomedov could face a fine and suspension from the NAC for his actions after the fight, although UFC president Dana White said he would not be stripped of his title for the post-fight fiasco.
McGregor tossed a steel dolly through a window on Nurmagomedov's bus in April in New York, a provocation the Russian noted in his message. "I would like to address @ufc. Why didn't you fire anyone when their team attacked the bus and injured a couple of people? They could have killed someone there," he said.
I would like to address @ufc

Why didn't you fire anyone when their team attacked the bus and injured a couple of people? They could have killed someone there, why no one says anything… https://t.co/ufn0yhaEG5

— khabib nurmagomedov (@TeamKhabib) October 11, 2018
"Why no one says anything about insulting my homeland, religion, nation, family? Why do you have to punish my team, when both teams fought. If you say that I started it, then I do not agree, I finished what he had started. In any case, punish me, @zubairatukhugov has nothing to do with that. If you think that I'll keep silent then you are mistaken," he added.
Sports
The 32-year-old McGregor had been an overwhelming favourite to register a winning return after a year away from the octagon.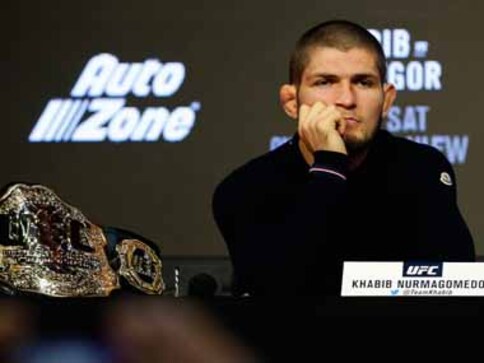 Sports
Khabib Nurmagomedov and Conor McGregor have received extended bans as they wait for an investigation into the post-fight brawl to come up with a verdict, with prize money being withheld from the Russian.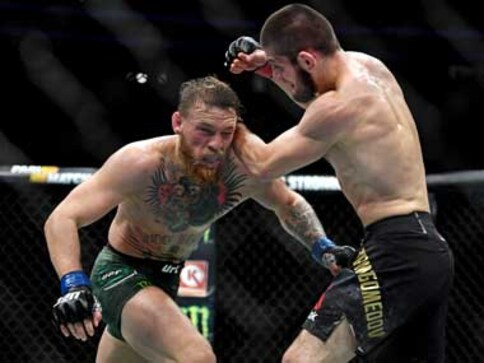 Sports
"McGregor couldn't reach a deal with the UFC and it's so they feel they've lost him and they could lose money. I don't think he's finished," Nurmagomedov said.