UEFA Nations League: Germany boss Joachim Loew 'pleased' with team's performance despite defeat against France
A defiant Joachim Loew praised Germany's display in Tuesday's 2-1 UEFA Nations League defeat by world champions France as he lamented 'a totally unjust penalty' awarded to the hosts.
Paris: A defiant Joachim Loew praised Germany's display in Tuesday's 2-1 UEFA Nations League defeat by world champions France as he lamented "a totally unjust penalty" awarded to the hosts.
Antoine Griezmann hit a pair of second-half goals, including the winner from the spot, as France recovered from falling behind to a Toni Kroos penalty to inflict a sixth defeat on Germany in their past 10 matches.
The result eliminated Germany from Nations League title contention, and left them needing to beat the Netherlands in their final group match on November 19 if they are to avoid relegation from the top tier.
However, Loew insisted he was "very pleased" with the performance as Germany were much improved compared to the team that lost 3-0 against the Netherlands in Amsterdam.
"I'm disappointed with the result, although though I must say the defeat is different to Saturday's," said Loew.
"Not because of the result but because of the performance. I'm very pleased with the performance.
"I think we were on an even level with what is probably the best team in the world.
"But France has a lot of individual quality, and if you're not careful you'll get punished straight away."
A first defeat to the neighbouring Dutch in 16 years prompted Loew to make five changes for the trip to Paris, as he injected additional pace into the attack with the inclusions of Leroy Sane and Serge Gnabry.
The Germans deservedly led through a Kroos penalty after a sliding Presnel Kimpembe handled a Sane cross, but Loew's youthful frontline was unable to capitalise on further opportunities.
"The negative point is the converting of our chances. We were unable to put the ball in the goal," said Loew.
"I think we deserved to win because we were the best team but that's not how things work.
"We lacked a bit of intelligence and sangfroid. If we'd been able to score a second we could have played in a calmer manner and won the match."
Griezmann equalised with a magnificent glancing header from a Lucas Hernandez cross on the hour, and the Atletico Madrid striker won the game for France with a penalty 10 minutes from time.
'Something to build on'
Loew was particularly unhappy with referee Milorad Mazic's decision to award France a spot-kick after Blaise Matuidi went to ground after a tangle with Mats Hummels.
"The penalty was totally unjust," said Loew. "I've watched it back on the replay. Mats didn't touch Matuidi. He stepped on Mats' foot and then slipped."
That grievance aside, Loew singled out the positive contributions of Bayern Munich winger Gnabry, who made his first Germany appearance since November 2016, as well as Paris Saint-Germain defender Thilo Kehrer.
"It was a really good display from the young players," said Loew. "Gnabry played well and Kehrer too, it was first time he has started.
"It was a very, very good performance and something to build on for the future."
Didier Deschamps' France can clinch top spot in the group with a draw in their final game away to the Netherlands in Rotterdam next month.
"It's a good thing in terms of our aim of finishing top of the group but we were up against a very good German side today," said Deschamps.
"Hugo (Lloris) ensured it was only 1-0 to them at the break and that we were still in it."
Griezmann admitted Germany's revamped set-up had knocked France off track initially, but he said a series of "calm" exchanges at half-time allowed them to regain their rhythm.
"We played poorly in the first half. I think we were disrupted by them playing three at the back, so we had to calmly speak a bit in the dressing and change two or three things tactically," Griezmann told French television.
"It was better afterwards. It's more than tactical, we weren't making the effort for one another.
"We became world champions by working for each other and that's the only way you will win matches."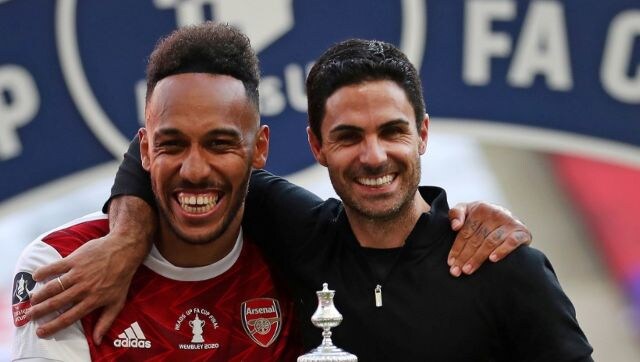 Sports
Arteta knows how crucial his star is to Arsenal's hopes of challenging for a place in the Champions League.
Sports
Conte has to find a way to get the best out of Tottenham's record signing, who has become a target for frustrated fans since his £55 million ($74 million) signing from Lyon in 2019.
Sports
Griezmann has been handed a two-game ban by UEFA, the first of which was served in the return match against Liverpool, which Atleti lost 2-0, a fortnight ago.