UEFA Nations League: France, Netherlands vie for last semi-final berth after Portugal, England and Switzerland seal spots
Portugal, England and Switzerland will be joined in the Final Four by either France or the Netherlands. The Dutch will advance if they get at least a draw on Monday in Germany.
England surged into the UEFA Nations League finals tournament on Sunday, and Belgium threw away a place after a stunning 5-2 loss at Switzerland.
On a day of come-from-behind wins and twisting fortunes for the World Cup's beaten semi-finalists, England edged Croatia 2-1 to avenge defeat when the teams met in Russia in July.
England had to beat Croatia to advance over group leader Spain and trailed late, before Jesse Lingard leveled in the 78th and captain Harry Kane got the decisive goal in the 85th.
Belgium, which finished third in the World Cup in Russia, seemed certain to join England and host Portugal in the inaugural Final Four of world football's newest tournament in June 2019.
The top-ranked team still needs a trophy to back up its status and eased into a quick 2-0 lead against Switzerland.
Needing to score at least four to advance, the Swiss got three by halftime and added two more later to shock the Belgians.
The group was settled on a head-to-head tiebreaker with both teams on nine points. Switzerland's three-goal margin outweighed Belgium's 2-1 win in Brussels last month.
Portugal, England and Switzerland will be joined in the Final Four by either France or the Netherlands. The Dutch will advance if they get at least a draw on Monday in Germany.
Sunday's dramatic games between top 10-ranked teams added to the strong impression made by the first Nations League.
UEFA created the competition — amid some scepticism given the busy calendar — to replace mostly meaningless and unpopular international friendly games.
It gives unheralded national teams in the lower tiers a route to qualify for the European Championship through a subsequent playoff round.
At the top, the best national teams get guaranteed games against each other and fight for a trophy in the odd-numbered years between World Cups and Euros.
The Nations League Final Four draw takes place 3 December in Dublin.
Here's a brief summary of how things stand in the League A groups of the Nations League:
In Group A1, it's either France or Netherlands who will qualify to the final four. France are on top of their group with seven points, but they have played all their matches. Their last game was against Netherlands on Friday, which they lost 0-2. Netherlands will play Germany and even a draw can take them to top of the group, ensuring their qualification to the last four. Germany could muster up only one point from three matches and they are relegated to League B.
All three teams have played their matches Group A2 with Switzerland securing their spot in the semi-final after an inspiring 5-2 win over Belgium on Sunday. Iceland did not win even one game so they have been relegated to League B. Switzerland and Belgium have both ended the group stage with nine points, but the Swiss make the cut on the basis of a better goal difference.
Portugal have qualified from Group A3 to the semi-final after their goalless draw against Italy. They still have to play a match against Poland, who are relegated after securing just one point from three matches.
England started a tough three-team Group A4 with a home loss against Spain, and trailed again at Wembley Stadium on Sunday when Andrej Kramaric scored in the 57th. That result would have been enough for Croatia to advance, despite its opening 6-0 rout by Spain in September.
Things changed rapidly as England scored twice late on to win the group with seven points and Croatia are relegated to the second tier, with four points from four matches.
With inputs from AP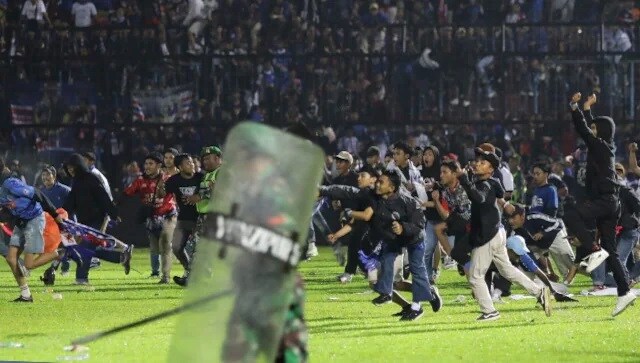 Football
Last year's crush in the city of Malang killed 135 people — including more than 40 children — after a 3-2 defeat for Arema FC by their fierce East Javan rivals Persebaya Surabaya.
Football
The remaining 70 percent is reserved for Pele's children, including an unrecognized daughter that he may have.
Football
The football stadium crush in October at a venue in the East Java city of Malang killed 135 people.