Udanta Singh, the latest footballer from Manipur's conveyor belt, starting to fulfill his promise
One of the country's brightest prospects, Udanta Singh has a chance to prove his worth in the upcoming AFC Asian Cup qualifier under manager Stephen Constantine.
They say every day a star is born in the 'jewelled land' of India or in the 'land of football' Manipur. Along with its natural beauty, the place has an unwavering love for football and Udanta Singh perfectly embodies that.
The uneven streets of Moirang in the Bishnupur district of Manipur were Udanta's home — where he first kicked the ball. No referees, no rules, no time limit. That sounds a bit old school but it is strictly for people with a deep-rooted love for the game. Rushed to the Tata Football Academy (TFA) away from home in Jamshedpur by his uncle and former India midfielder Samson Singh, Udanta had set his sights on the bigger stage, knowing he had to continue the trend.
"I played on the streets when I was around seven-eight years old. Then I joined my local club where I did not play much. But, I progressed to the football development program with All-India Manipur Football Association (AMFA). I joined every football development program. I did not play much in Manipur but when I was 13-14, I went to the trials at the TFA. After that, I joined TFA and made my life over there," Udanta tells Firstpost. 
After spending four fruitful years in Jamshedpur — winning the Under-19 League with TFA in 2014 — Udanta did more than just dreaming of making it big. His youth coaches shaped him in a way that he could play anywhere in the opposition half. In fact, he had a gut feeling that he was blessed with the ability to make it.
Now, the dream chaser has yet another chance to make Samson's effort worthwhile. Last week, when India head coach Stephen Constantine released his 24-man squad for an international friendly on 22 March against Cambodia and the 2019 AFC Asian Cup Qualifier against Myanmar, it was confirmed that the 20-year-old will share the dressing room once again with the likes of Sunil Chhetri, Robin Singh and Eugeneson Lyngdoh. On Wednesday, the attacker made a second half appearance in the 3-2 win over Cambodia.
It won't be the first time that Udanta has played on the big stage. In 2016, the 20-year-old tasted international football in a qualifying match for 2018 World Cup against Iran which ended in a 4-0 loss. But what's worth noticing was that Constantine did not hesitate in giving Udanta an opportunity against a side ranked much higher than India. That was clearly an indication of the manager's faith in the winger's attacking prowess.
Although, this time around, the right-winger is optimistic about India's chances of qualifying for the Asian Cup.
"If we (India) have good teamwork, hardwork and the mentality, yes, I think we will progress," he says.
Udanta may be a newbie on the international front but he is far more admired for his unique attacking prowess when he wears the blue T-shirt for defending Hero I-League champions Bengaluru FC (BFC).
"First of all, I'm very lucky to be a part of the Bengaluru FC family. When I was in the TFA, we played friendly matches against BFC. I gave my best every time and that's when Ashley Westwood wanted me to sign for BFC," said the 20-year-old.
He soon had a developmental training stint with English League Two side Oxford United, where he exceeded expectations and was handed his debut within a month's time against Benfica B. The stint was a great learning curve as head coach Michael Appleton was impressed with the youngster abilities.
"At the end of the day if they feel they've got people like Udanta and there's an opportunity for them to come over and showcase their talents it's an opportunity for them to maybe get in the English game," an impressed Appleton was quoted saying in the Oxfordmail.
Udanta himself was more than satisfied with his performance and notably, he learned to be more competitive. "I improved a lot. In terms of football, mentality and this season, I have started every game. After the training stint, I saw many improvements."
Barely a year afterwards, he won the Young Player of the Year trophy at the Football Players Association of India (FPAI) awards — where his fellow professionals voted for him.
Since the age of 18, the attacker has been highly spoken of by former Blues coach Westwood who saw great potential in him from the very first training session.
"Udanta is probably one of our quickest players. It's just a case of now helping him make that transition from youth football to the men's world. He needs games to understand what it means to give the ball away and to get pushed off the ball and what it means to take people on. He's only going to get stronger and stronger for the future. It's just a case of managing him and guiding him through and giving him the information that he needs," ex-BFC manager Westwood was quoted saying by Goal.com  after losing 3-1 to Persipura Jayapura in the AFC Cup.
Even though BFC suffered a heartbreak in the AFC Cup final last year, losing 1-0 to Al-Quwa Al-Jawiya, Udanta feels BFC's journey is an example for other Indian clubs against other Asian giants.
"Hopefully, yes. It will be good for India if other teams come. Any club from India progressing will be good for the club and country," says Udanta.
The Manipur-born winger's efforts caught the eye of Indian Super League's (ISL) Mumbai City FC, who managed to rope in the services of the youngster in 2016 but couldn't provide opportunities.

"I didn't get many chances in ISL as more foreigners play. ISL is a big tournament. Legendary players from around the world come and help Indian players. It's good for the development of Indian players. Most of the starting eleven are fielded with foreigners so you get to learn a lot."
Meanwhile, BFC has seen a major dip in form in the ongoing I-League season. Having won just one out of their last eight league games, the JSW-owned outfit were pushed down to 5th in the table. Udanta, however, believes there a few knots to untie before they get back to where they belong.
"When we play every game, we dominate. We create so much but unfortunately miss those chances. Also, finishing is the biggest problem of all and then we have a bit of misunderstanding on the pitch. We concede scrappy goals," said Udanta who has featured in every game for the Blues.
Despite having an average season for BFC, Udanta takes cues from India's most decorated player.
"Of course, (my role model is) Sunil bhai (brother). The way he plays and encourages others and (shoulders his) responsibilities," he smiled. "I would love to captain my club and India but it's too early to think about that.
"Off the pitch, I link up with CK Vineeth and Sunil bhai and on the field, I choose to maintain good understanding with my midfielders and defenders," said Udanta.
With the Fifa U-17 World Cup around the corner, Udanta feels 'hosting the event will be a big, big thing for Indian football'. Speaking of big things, one hopes that Udanta can make the leap from being the next big thing
Sports
Stewart is freshly arriving from a Rangers squad that finished 2020-21 season unbeaten on its way to the Scottish top division title.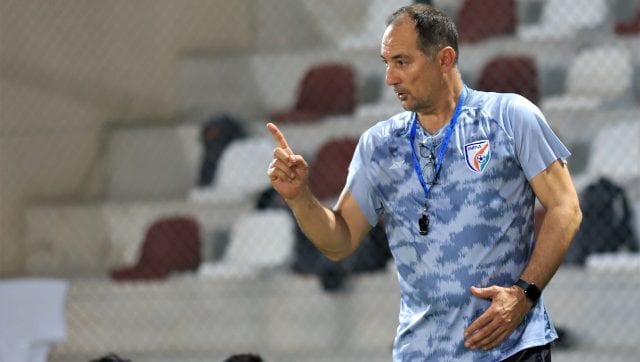 Sports
Bangladesh, Nepal, Sri Lanka and hosts Maldives are the other teams in the championship. Each team plays each other once with the top two teams qualifying for the final.
Sports
With close to two decades of coaching experience, Garcia has worked with the likes of Vicente del Bosque at Real Madrid between 1993-94 and Rafa Benitez in Real Madrid and Real Valladolid between 1994-1996 as both football conditioning and assistant coach.