U-19 World Cup final India vs West Indies as it happened: Carty, Paul help West Indies clinch first ever U-19 World Cup title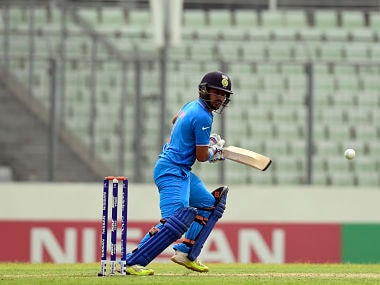 16:22 (IST)

Best cricket news in years.... West Indies Under 19 are World champions ...

— Michael Vaughan (@MichaelVaughan) February 14, 2016

16:14 (IST)

Will review u-19 World Cup and preview final India-Sri Lanka T20 match today on Periscope @firstpost 5.30 pm. Do join in

— Cricketwallah (@cricketwallah) February 14, 2016

16:13 (IST)

Bangladesh's Mehedi Hasan is named the Man of the series.

16:10 (IST)

Keacy Carty is named the Man of the Match.

16:04 (IST)

What a team! These guys showed the depth and balance of their side. Stuck together in tough times and now can celebrate this moment.#champs

— Jason Holder (@Jaseholder98) February 14, 2016

15:57 (IST)

Under 19 World Champions:

1988: Aus
1998: Eng
2000: Ind
2002: Aus
2004: Pak
2006: Pak
2008: Ind
2010: Aus
2012: Ind
2014: SA
2016: WI

— Broken Cricket (@BrokenCricket) February 14, 2016

15:56 (IST)

That's it! West Indies win the U-19 World Cup. And it's that man Keemo Paul who hits the iwnning runs. They are going berserk in celebrations. Brilliant stuff. What an innigns from Carty and Paul. Carty remained not out on 52 while Paul remained unbeaten on 40. This is their first ever U-19 World Cup title. Avesh Khan is in tears in the middle.

15:54 (IST)

The scores are level...... Carty takes a single to short third man. The West Indies dugout is full of energy.

15:53 (IST)

Paul takes a single to short third man. 2 needed off 5 now.

15:51 (IST)

West Indies need 3 off the last over. What a stor this would be if West Indies clinch it.

15:50 (IST)

Dropped! Avesh drops Paul at deep cover. A tough chance though. 8 needed off 11. FIFTY for Carty. He's played really sensibly so far. His first 50 in U-19 cricket & what a time to score it.

15:47 (IST)

West Indies need 9 from 12 balls. Carty is on 49, Paul on 35. Lomror will continue.

15:38 (IST)

After 46 overs, West Indies 128/5 (Carty 46*, Paul 30*)

Carty and Paul taking some calculated risks but this is clever batting. Paul lifts one over covers for a couple and then Carty pulls one over mid-wicket for another couple. Lomror bowls a tight over in between for just one run. Clever singles off the next over from Avesh makes it runs from that over. WI need just 18 from 24 now.

15:30 (IST)

Admirable from these young West Indians, Paul and Carty. This is their biggest stage so far and they are looking good.

— Harsha Bhogle (@bhogleharsha) February 14, 2016

15:25 (IST)

After 43 overs, West Indies 115/5 (Carty 38*, Paul 25*)

Paul releases the pressure as he smashes one straight back over Dagar's head but then Pant gives Carty a lifeline as he drops one behind the stumps with Carty getting an outside edge on his cut. Lomror then bowls a tight over to concede just a run. 31 needed off 42 now. India need a wicket desperately now.

15:20 (IST)

Left arm spinner Mayank Dagar outstanding. Brought India back into the match. Could still go either way. What a great match!

— Cricketwallah (@cricketwallah) February 14, 2016

15:15 (IST)

After 40 overs, West Indies 102/5 ( Carty 35, Paul 15)

Ishan brings the two pacers - Avesh and khaleel back into the attack. But Carty and Paul are playing sensibly. Paul has hit some sweetly off the middle but straight to the fielders. Dagar is still bowling pretty well. He's bowled 9 overs and has figures of 3/18. He bowled a maiden - the 44th over. Khaleel follows up with another maiden. 44 needed from 60 balls.

14:57 (IST)

India battling admirably to defend a paltry 146, but ground fielding and catching could have been better #Under19WorldCup

— Cricketwallah (@cricketwallah) February 14, 2016

14:56 (IST)

After 35 overs, West Indies 97/5 (Carty 34, Paul 11)

India have maintained the pressure but they need another wicket. They nearly got one but Sarfaraz dropped it at first slip to give Paul a reprieve off Dagar. Apart from that drop, Paul has looked solid since he's come on to bat. He flicked one nonchalantly through mid-wicket for a boundary and then drive one through covers for a couple.. Carty, meanwhile, has been batting sensibly taking singles. Ishan brought Avesh back into the attack and he managed to beat Paul a couple of times. Dagar has bowled really well and bowled slower through the air which has brought him good success so far.

14:43 (IST)

What a spell from Mayank Dagar👏Love the way he is fighting the ball & forcing the batsmen to play big shots👌👌Keep it up👍 @BCCI #Under19cwc

— VVS Laxman (@VVSLaxman281) February 14, 2016

14:39 (IST)

If the West Indies lads could stop hitting the ball in the air straight to fielders I would be very grateful.

— Peter Miller (@TheCricketGeek) February 14, 2016

14:39 (IST)

After 30 overs, West Indies 80/5 (Carty 28, Paul 1)

Poor, poor cricket from West Indies. They have lost two wickets in quick succession and are on the back foot. Springer had got a lifeline earlier when Pant had dropped him behind the stumps trying to drive. Springer then, for some unfathomable reasons, looked to go big but ended up mistiming it to long off. Goolie then hit one straight back to Dagar. Both Sundar and Dagar, who has taken 3 wickets, have bowled really well. 10/2 in the last 5 overs.

14:36 (IST)

OUT! Really poor cricket from West Indies. JU Goolie c & b Dagar 3 (9b 0x4 0x6)

Dagar gets his third wicket. It's full outside off, Goolie gets forward and drives it hard but uppishly, Dagar takes a brilliant catch on the followthrough.

Paul is the new batsman.

14:29 (IST)

OUT! Double breakthrough for India as dangerman Springer plays a rash slog and skies it to long off. Dagar with two wickets in his first three overs. India can sense a way back in to the match.

14:27 (IST)

This #U19WCFinal is fairly open now. Question from here is who handles pressure better.

— Harsha Bhogle (@bhogleharsha) February 14, 2016

14:20 (IST)

After 25 overs, West Indies 70/2 (Carty 23, Springer 4) - Target 146

Lomror and Washington continue bowling in tandem. Lomror is a bit unlucky in the 21st over as an inside edge off Carty runs to fine leg for a couple. Sundar goes for three singles (again) in the 22nd over.

Dagar then comes on to replace Lomror and strikes straightaway in his first over. Hetmyer, off the last ball of the 23rd, skips down the track and hits it straight to Jaffer at long on. Just two run from that over. The hero of the semi-finals Springer is the new man in. Long spell for Washington but he responds with a beautiful maiden over in the 24th. Obe ball to Carty was a beaut - drifting and keeping its line to beat him outside off. Dagar's 2nd goes for 3 runs.

12 runs in the last 5 overs, but more importantly for India, the Caribbean captain is back in the pavilion.

14:14 (IST)

OUT! Breakthrough for India as skipper Hetmyer loses focus and skies one to long on. Dagar with the wicket in his first over. West Indies 67 for 3 after 23 overs.

14:10 (IST)

23 years later, can India's colts take inspiration from that great day in 1983 at Lord's? Looking incredibly difficult...

Can India U19 restrict West Indies U19 to less than 145
The senior West Indies side in #CWC 1983 were restricted to 140 #U19CWC final 2016

— Mohandas Menon (@mohanstatsman) February 14, 2016

14:04 (IST)

After 20 overs, West Indies 58/2 (Hetmyer 19, Carty 17) - Target 146

Washington starts after drinks and continues to keep things tight, but he's not threatening to take wickets - not much bite on offer. Mahipal Lomror into the attack for the first time as India go for spin in tandem. Lomror's first over was a good one, as he got a couple to skid and stay low, almost getting Hetmyer. Sundar from the other end concedes three in his fifth over.

Running between the wickets has been good from the West Indies so far, calling loudly, putting the fielders under pressure. Ishan, notably, has been a little iffy on the field.

13:51 (IST)

Drinks: After 17 overs, West Indies 50/2 (Hetmyer 16, Carty 12)

Washington Sundar continues to keep a tight line going for just 2 runs in the 16th over. Batham releases the pressure in the next over as a short ball outside off is crashed to point for four by Carty. Bowled a good bouncer in that over.

At drinks, West Indies are on course to upset the favourites. India badly need some wickets

13:40 (IST)

After 15 overs, West Indies 41/2 (Hetmyer 9, Carty 7)

Washington Sundar the off spinner and Batham are bowling in tandem now. Things have calmed down. But India have done well to maintain the stranglehold on the WI batsmen. Sundar got a hint of turn. Carty then finally releases some pressure as he cracks one through point for a boundary. Hetmyer looked a bit impatient as he missed out on a couple of pulls. 13/0 in the last five overs.

13:20 (IST)

After 10 overs, West Indies 29/2 (Hetmyer 9, Carty 0)

Just when it seemed Imlach and Hetmyr were getting into the groove, Khaleel struck an important blow to remove Imlach. Imlach was slowly getting into the groove but also playing some risky shots. He drove one uppishly through covers off Khaleel for a four and then went for a full blooded pull but got a top edge to fine leg for one bounce four. Hetmyer then smashes one through cover-point off Khaleel for another boundary. But the left-arm seamer bounced back to remove Imlach. Hetmyer tried to hit a couple hard but didn't manage to fine the gaps and was a tad frustrated. Carty is still to get off the mark having played 8 balls.

13:15 (IST)

Come on young brigade let's win it #U19WCFinal#TeamIndia

— Vinay Kumar R (@Vinay_Kumar_R) February 14, 2016

13:12 (IST)

OUT! Khaleel strikes! Just what India wanted. T Imlach c Lomror b Ahmed 15 (20b 2x4 0x6)

A good length delivery outside off, it jumps off the surface a bit. Imlach looks to drive on the up but ends up spooning it to short cover where Lomror takes a good diving catch.

Carty is the new man in.

12:59 (IST)

After 5 overs, West Indies 12/1 (Imlach 6, Hetmyer 1)

Avesh and Khallil have started off well. Avesh beat Pope's outside edge a couple of times in the first over. Pope also went for a wild swing across the line. But Avesh finally had his man as he removed Pope, caught at third man, in the next over. Khaleel has bowled good lines, specifically in the corridor of uncertainty while Avesh has ramped up decent pace. India need another wicket quickly.

12:50 (IST)

OUT! Avesh strikes early. India get huge wicket in form of Pope. G Pope c Ahmed b Avesh Khan 3 (13b 0x4 0x6)

Avesh had troubled Pope earlier in the first over. This time Pope goes for a wild swing across the line but gets an outside edge straight to third man. Poor shot. But that's how he plays.

Hetmyer is the new batsman.

12:43 (IST)

The WI U-19 fast bowlers have asserted they supremacy against India U-19 today in the final. Is it the beginning of a revival? Hope so..

— wv raman (@wvraman) February 14, 2016

12:36 (IST)

Back after the break. India need to strike early. Imlach & Pope are openers. Avesh Khan will start off.

12:10 (IST)

This has been quite a turnaround for the West Indies U19 from that last over against Zimbabwe to stay alive. #CWCU19

— Harsha Bhogle (@bhogleharsha) February 14, 2016

12:10 (IST)

India all out for 145. Joseph, John end with 3 wickets each. Sarfaraz the lone fighter for India with 51.

The last Indian pair - Batham and Paul somehow survived and added 22 runs. There were numerous pokes and misses and Batham got lucky with one as he gets an outside edge wide of the diving keeper for a boundary. Ahmed then got a lifeline as Paul dropped a simple return catch in the 44th over. Batham then broke the shackles as he flicked one over wide long on for four and then trickles one to fine leg for consecutive fours. Paul then had the last wicket as he had Batham caught behind for 21.

11:52 (IST)

Remember 2006 U-19 Final? Pakistan made 109 and India still lost by 38 runs.

— Mayank Jhaveri (@freehit_mj) February 14, 2016

11:50 (IST)

After 40 overs, India 123/9 (Batham 4, Ahmed 0)

Another five over period where I have to type that India have lost a wicket. But this time they have lost three wickets and are in deep, deep trouble as their set batsman Sarfaraz departed. He got to his fifty but then Dagar departed, caught at point. Sarfaraz then tried to up the ante but was trapped LBW and then Avesh flicked one straight to mid-wicket. West Indies pacers have been exceptional today. 9/3 in the last five overs.

11:49 (IST)

OUT! Another one bites the dust! Avesh Khan c John b Paul 1 (7b 0x4 0x6)

Paul gets the wicket as Avesh flicks it straight to mid-wicket. India 9 down now.

Khaleel Ahmed is the last man in.

11:44 (IST)

OUT! Huge blow for India as Sarfaraz departs! S Khan lbw b John 51 (145m 89b 5x4 1x6)

Length delivery on middle, Sarfaraz stays in his crease and looks to heave across the line. He misses it completely and is trapped in front. Disappointment on Dravid's face as Sarfaraz trudges back. A fine knock under pressure nonetheless. India reeling at 120/8.

Avesh Khan is the new batsman.

11:33 (IST)

OUT! Another batsman throws it away! Dagar departs. MJ Dagar c Carty b John 8 (28m 20b 1x4 0x6)

Just when it seemed everything was going well for India, another batsman departs. It's a touch wide from John, Dagar stays in his crease and cuts it uppishly but straight to Carty at backward point who takes a good low catch. Sarfaraz is playing well so they need to be sensible and give him the strike rather than going after the leather.

Rahul Batham is the new batsman.
Preview: A seemingly invincible India are primed to win an unprecedented fourth ICC U-19 Cricket World Cup when they take on a wily West Indies in the final here on Saturday.
India breezed into their fifth final under the precious guidance of coach Rahul Dravid, steamrolling their opponents in the three league games as well as in the knock-outs.
If they win on Sunday, India will surpass Australia for the most number of titles in the U-19 showpiece event introduced way back in 1988. The sub-continent team last lifted the trophy in 2012 after winning it in 2008 and 2000.
The Indians seem unstoppable but they can't afford to take it easy against the West Indians, who have upped their game as the tournament progressed. The boys from Caribbean finished second in their group before earning plaudits with a spirited showing against Pakistan and Bangladesh in the quarters and semifinals respectively.
India will once again bank on their dangerous opening duo of Rishabh Pant and captain Ishan Kishan to give them a flying start.
Kishan, who has only one fifty to his name in five innings, would love to be amongst the runs in the big final.
Another IPL recruit, Pant, too, would be itching to rise to the occasion after getting out cheaply against Sri Lanka in the semifinals.
Anmolpreet Singh would be high on confidence after making a crucial 72 against Sri Lanka and so would be power hitter Sarfaraz Khan, who is India's leading run-getter in the competition with 304 runs at an average of 76, including four fifties in five games.
Pacer Avesh Khan, with 11 scalps, has taken the most number of wickets for the team while left-arm spinner Mayank Dagar, too, has impressed with eight wickets from four matches at an average of 12.
The West Indies know they have their task cut out ahead of their second tournament final, having finished runners-up to Pakistan in 2004.
The Indian bowlers will have to find a way to stop Shamar Springer, who has been the most impressive West Indies batsman with 282 runs at 70.50. The all-rounder came up with handy knocks of 37 and 62 not out to take his team home in the knock-outs. Their standout bowler has been pacer Alzarri Joseph, who has taken 10 wickets at an average of 14.
pti
Firstpost is now on WhatsApp. For the latest analysis, commentary and news updates, sign up for our WhatsApp services. Just go to Firstpost.com/Whatsapp and hit the Subscribe button.
Updated Date: Feb 14, 2016 16:26:33 IST