U-17 World Cup: Fifa urges India to promote tournament 6-8 months in advance
Fifa has advised India to build up the U-17 world cup gradually and in phases starting six to eight months before the showpiece tournament.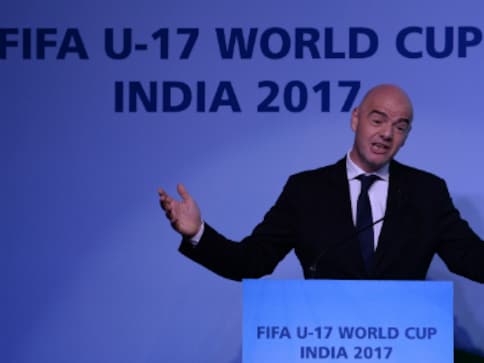 Kolkata: Underscoring the need for a comprehensive promotional campaign to ensure the success of next year's U-17 World Cup, football's global governing body Fifa has advised India to build up the event gradually and in phases starting six to eight months before the showpiece tourney begins in October 2017.
In an exclusive chat with IANS, Shaji Prabhakaran, Fifa's regional development officer for South and Central Asia, said: "There is still time. But marketing the World Cup and promoting it should start six-eight months before the event. There has to be a comprehensive promotion."
Prabhakaran said the build-up should be in phases initially with the intensity going up as the youth extravaganza appoaches.
"It should be in phases to start off with. There are discussions going on in full flow. We need to make sure fans are created. Promotion should be done in such a manner that it remains on the minds of the people, yet does not fizzle out by the time the World Cup is played. This is why it should start in phases and go up every week."
Ticketing and promotion should go hand in hand, according to Prabhakaran.
"Promotion of the World Cup should start with ticketing. Then there will be the mascot launch. Already there has been the logo launch. So these things will spur interest among people.
"But they need to know all these and that is where proper promotion of the event not only in six venues but across the country is important. And if it is done along with ticketing, it will help people buy tickets based on promotion," he said.
Prabhakaran was part of the 13-member Fifa delegation which inspected and ratified all six venues -- New Delhi, Navi Mumbai, Guwahati, Kolkata, Kochi and Goa -- earlier this week.
Along with the venues, four training pitches in each of them were also cleared.
Tournament director Javier Ceppi has said the go-ahead given to the venues doesn't constitute a 'blank cheque' and the people in charge of the stadiums and other stakeholders cannot stretch their legs as yet.
Asked whether there was a possibility of any of the six venues being dropped when Fifa carries out another inspection in February-March next year, Prabhakaran said: "I don't think so. There is no alternative and it will take another six months to okay a different venue apart from these allotted six. Fifa will send one-two persons the next time and it will just be a formality then.
"Had that been the case, there should have been eight venues kept in hand, including two as standbyes. Had there been any anomaly, there would be an escape route. But we have six venues and time is now less."
Prabhakaran was in Chile during the entire course of the last U-17 World Cup in 2015. Nigeria won the title beating Mali 0-2. Though refusing to compare the two, Prabhakaran said India are in good stead and that many aspects are positive.
"There are many aspects which are positive. From the first inspection which happened in 2014 till the fourth one, I have seen a sea change in the infrastructure. The state governments have been very supportive," he said.
"There are a few things which need to be done on the training pitches, but there is ample time to do that. I cannot compare with Chile but from what I have seen there, and what is being done in India, we are on track."
Sports
Liverpool will face the winner of the second semi-final between Real Madrid and Manchester City, who meet at the Santiago Bernabeu with City leading 4-3 from the first leg.
Sports
Liverpool regained control of the tie in the second half at La Ceramica where goals from Fabinho, Luis Diaz and Sadio Mane gave them a 3-2 win on the night and a 5-2 aggregate victory.
Sports
A World Cup legal dispute flared Thursday with Chile challenging Ecuador's place at the finals tournament over an alleged ineligible player.