U-17 Fifa World Cup 2017: New Delhi missing out on marquee fixtures a result of its apathetic mindset
Will this humiliation jolt the government into any sort of long-term action? Unlikely, partially because the magnitude of a Fifa World Cup and its global reach will be lost on these officials.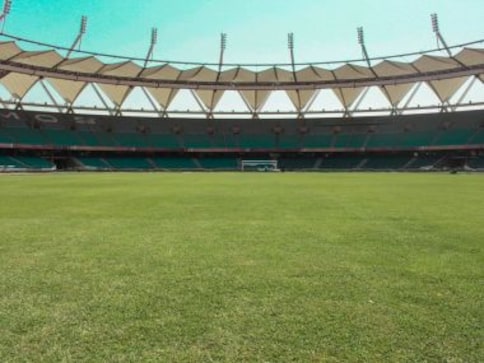 You'll be hard-pressed to find anyone shedding a tear over New Delhi missing out on hosting a marquee Fifa World Cup fixture. Not even in the capital itself. A few head shakes? Probably. A few rueful smiles? Maybe. But no anger or mourning. There's just sound agreement that a city largely indifferent to both living conditions and sport deserved little more.
On Monday, a Fifa delegation to India announced that the final of the 2017 Fifa Under-17 World Cup will be held at the Salt Lake Stadium in Kolkata. The two semi-finals will be played in Mumbai and Guwahati, while Kochi and Goa will feature extensively up until the quarter-finals.
Delhi, meanwhile, was restricted to only two Round of 16 fixtures aside from six group matches. This was due to the capital's hazardous air pollution levels, which after Diwali spike to "extremely, extremely unhealthy" heights according to tournament director Javier Ceppi.
The last World Cup game in Delhi will be played on 16 October, three days before the Hindu festival which nowadays is more of an ear-splitting, cough-inducing nuisance than the 'festival of lights' it ought to be.
During its seven-day visit to inspect all the six venues, the Fifa delegation spoke highly of Kolkata, saying that the Salt Lake Stadium was "fulfilling all the high standards". It lauded the government of Assam for "taking leadership" in Guwahati. It praised Mumbai, citing DY Patil Stadium as the "benchmark" for other venues. And the Goans, it said, were doing a "fantastic job" even if low turnout would be an issue.
Which brings us to Delhi and Kochi, the two problem areas.
Kochi officials were hammered for the unfinished parts of the Jawaharlal Nehru International Stadium along with their inability to reach a resolution to temporarily shut down stores operating inside stadium premises. Unlike Delhi, this drew a wave of angry sentiment — with Kochi's passionate football fan base up in arms. At least these are problems which can — and probably will — be resolved by October.
Delhi, on the other hand, encountered an unsolvable issue that will persist in the longer run. Which is embarrassing for a city that is home to the parliament, the Prime Minister and, from a sporting point of view, hosts several of India's most iconic sporting venues — and by extension most of its biggest sporting events. Even headquarters of the All India Football Federation (AIFF), football's governing body in India, is in Delhi.
Will this humiliation jolt the central and state governments, who are forever at loggerheads with each other thereby stunting work, into any sort of long-term action? Unlikely, partially because the magnitude of a Fifa World Cup, albeit an under-17 one, and its global reach will be lost on these officials.
This verdict of global football's governing body will jeopardize future sports events in the capital. It takes one such stance to set a precedence for every future event organiser to factor in the city's air quality before considering Delhi as a host. In November last year, two Ranji Trophy matches in Delhi were cancelled due to dense smog, which couldn't have gone unnoticed in Fifa circles.
Air quality in Delhi, though, is a year-round concern and not only a seasonal issue. It is never within safe levels. If anything, you could say that the capital is fortunate to be allotted any matches at all in the U-17 World Cup and rather lucky that the entire tournament isn't scheduled post Diwali. Health of players is at risk regardless of the dates on which these matches will be played — and this is something the teams which are assigned Delhi games will certainly look at in depth.
Yet, for a health hazard affecting 25 million of the city's inhabitants, there is precious little being done by the government. The self-inflicted nature of this problem draws no sympathy from the other parts of the country.
Chief minister Arvind Kejriwal, the leader of Delhi's ruling Aam Aadmi Party (AAP), had dubbed the city a "gas chamber" last year. He had declared "emergency" in the winter season — when the PM-10 concentrations reached over 17 times the threshold in many parts of the cities—and shut down schools for children's safety along with nearby coal-fired power stations. Citizens were also advised to stay at home.
Earlier in the year, a two-week odd-even car scheme on Delhi roads proved to be a promotional gimmick that eased traffic congestion for a while but served no real purpose to tackle pollution in the long term.
As people, Indians have a tendency to react only when the situation escalates to a point of emergency. It's the same with air pollution in Delhi and especially so since it isn't visibly harming you; only gradually eating into your systems. It took the Supreme Court's intervention, slamming the central government for "just sitting there and waiting for people to die", to push authorities into even devising a long-term plan to tackle pollution in the city. What comes of it remains to be seen — though don't keep your hopes high.
Forget pollution, though, Delhi's apathy towards sport alone calls for little sympathy when it comes to missing out on sports events. It has been India's hub of sport for decades yet has managed to fend off the growth of a sports culture — making it hard to generate interest for any sporting event in the city.
In the last decade or so, the capital has hosted countless sporting events of both global and national stature. No other Indian city or state has come even close.
Yet, while places such as Kolkata (which you associate with football and cricket), Goa (football), Mumbai (cricket), Manipur (football and boxing), Mizoram (football), Punjab (hockey) and Haryana (wrestling and boxing) have certain identities to be proud of, which translate into at least a semblance of a sports culture, Delhi has none.
Missing out on marquee events was inevitable. Expect it to happen more in the future, especially when Delhi's absence isn't really a major loss to any sporting event. Only a poor reflection on India's apathetic capital.
Akarsh Sharma is a Delhi-based sports traveller and writer who contributes to various publications. He occasionally tweets @Akarsh_Official.
also read
Football
Former Netherlands goalkeeper Edwin van der Sar announced Tuesday he was quitting as Ajax chief executive, after 'an incredibly tough period' of more than a decade at the helm of the Amsterdam powerhouse.
Sports
Pep Guardiola has revealed Kevin De Bruyne, Jack Grealish and Ruben Dias face a fight to be fit for treble-chasing Manchester City's FA Cup final clash with Manchester United on Saturday.
Football
Ronaldo arrived in Riyadh in January after being released from his contract by English Premier League powerhouse Manchester United and had to settle for second place in the 16-team Saudi Arabian league.