As the year 2016 enters March, cricket madness is upon us. Cricket fans are in for a pulsating and prolonged season of T20 action that started with the Asia Cup on 24 February. The continental event in Bangladesh will be followed by the biggest prize of in the shortest format, the ICC World T20. With India hosting the event for the first time ever, excitement is bound to reach fever pitch. And don't forget, even before the World T20 mayhem subsides, the Indian Premier League will kick off.
For the World T20, MS Dhoni's side will enter the competition as undeniable favourites for the title. Along with the teams' preparations for the marquee event, fans and experts have already started the conversation on Twitter -- the Twitterati, so to speak, is all geared up. Apart from watching the matches in the stadium and on your Television sets, Twitter is perhaps the best seat to view the conversations around this big event and engage with fellow fans.
Firstpost, in association with Twitter India, has come up with the Best Twitter XI - a team of Twitter handles that you should follow to keep yourself up to date with everything surrounding the game - statistics, insights, vine videos, .gifs, Periscope broadcasts and much more.
"These eleven accounts use Twitter as their first and most authentic communications tool to connect with cricket fans. They make the most of the platform by Tweeting often, and in the moment. From humour to trivia, breaking news to analysis, there's a lot to savour in this selection for both casual and serious fans," said Aneesh Madani, Head of Sports Partnerships at Twitter India.
Throughout the world's biggest T20 cricket tournament, Twitter will carry the roar of the crowd and give fans the chance to get closer to ICC #WT20 action more than ever before. Over the period, Twitter has evolved into a medium where 140 characters of text fit-in seamlessly with photos, GIFs, six-second looping Vine videos, 30-second Twitter videos and live video broadcast through Periscope.
Here is a team of eleven interesting Twitter accounts to follow as the cricket seasons clicks into top gear.
Harsha Bhogle
To see Mohd Amir and @imVkohli play at that level was uplifting.Many great contests ahead.....

— Harsha Bhogle (@bhogleharsha) February 27, 2016
He has more than three million followers on Twitter. That's the largest following for a sports commentator across all of Europe and Asian countries. Bhogle achieved what he has predominantly using text as a medium of communication. He is, arguably, the voice of cricket in India.
Mohandas Menon
Parthiv Patel since Jan 2016
in T20s and ListA
35
59
70
52
4
51*
42
8
16
119 (List A)
T20s 337 + ListA 119
Total 456 in 10 inns (ave 50.66)

— Mohandas Menon (@mohanstatsman) February 22, 2016
This man spends close to seventeen hours a day scanning every sports report in the world and then feeding it into his spreadsheet to come up with the most mind-boggling statistics you could think of. An absolute must-follow.
Sanjay Manjrekar
Superb comment by Virat in post match ceremony, on his trust in seam bowlers. "A bowler is as good as the captain thinks of him".

— Sanjay Manjrekar (@sanjaymanjrekar) December 7, 2015
Sanjay Manjrekar played 37 Tests and 74 ODIs for India, before establishing himself as one of the most respected voices in the commentary box. He tweets @sanjaymanjrekar where he shares his views and opinions along with some interesting insights.
OptaJim
610 - Only 2 batsmen (Williamson & Kohli) have scored more T20I runs since 2014 than Rohit Sharma (610). Upturn. pic.twitter.com/mITjtXp9qc

— OptaJim (@OptaJim) February 24, 2016
Football fans must now be well aware of Opta accounts, their trademark way of tweeting statistics. OptaJim, the cricket version of OptaJoe, Provides realtime insights and analysis for all the cricket matches, in classic Opta style.
Aakash Chopra
It rained a little while back...still fairly cloudy in Dhaka. But thankfully it's dry at the moment. #AsiaCup #FingersCrossed

— Aakash Chopra (@cricketaakash) February 24, 2016
Aakash Chopra, the former India opener, is the author of three books, the latest of which is The Insider: Decoding the craft of cricket. @cricketaakash is part of the commentary team who live-Tweets from the game itself sharing his views and opinion about the situation on the game.
Ayaz Memon
Brendon McCullum smashes Aussie bowlers for 145 off 79 deliveries. And he is retiring after this Test. Insane. Somebody stop him!

— Cricketwallah (@cricketwallah) February 20, 2016
Firstpost's in-house expert, Ayaz Memon is one of the most-recognisable faces in the Indian cricketing circles. @Cricketwallah lawyer by qualification, journalist by profession. writes on cricket and is the ideal account to follow, to stay updated on the game. Like most of you would probably know, he connects with cricket fans post-match, as part of Firstpost's Game plan, to answer their queries and share match stats and highlight big moments.
Trendulkar
IPL Auction summary: Lovely Professional University MBA grads. are grabbing better placement offers than IIM Ahmedabad graduates.

— Trendulkar (@Trendulkar) February 6, 2016
Sachin Tendulkar's fans worship him so deeply that an airline which asks for his name earns tremendous flak on Twitter. But Apoorv Sood shows his fondness for the cricketer by tweeting from his parody account, @trendulkar.
Altcricket
People waving McCullum off like he's moving into an old folks' home. He's playing for Gujarat Lions next month, you'll see him again.

— Alt Cricket (@AltCricket) February 22, 2016
Doesn't matter which teams are playing, this is the guy who live-Tweets regardless of where it is played in the world. He tweets all the key moments of the matches which a cricket fan must know to stay updated.
Peter Miller
FUN FACT - No where in the Laws of Cricket or it's preamble on "Spirit" is there any mention of Mankads being wrong #funfact

— Peter Miller (@TheCricketGeek) February 20, 2016
A regular Firstpost contributor, nothing describes Peter Miller better than his Twitter handle -- he is an out and out cricket geek. Author of Second XI: Cricket in its Outposts, @TheCricketGeek is another undiscovered Twitter account to follow for real-time insights, to get news updates on the go.
Rajneesh Gupta
Who doesn't love numbers and statistics in sports. Rajneesh Gupta, is Firstpost's own Mohandas Menon - a regular contributor of comprehensive of cricket statistics.
Virat at his best...it's for some reason that @imVkohli is the ONLY batsman to average 40+ in all 3 formats - Tests, ODIs & T20Is!#IndvsPak

— Rajneesh Gupta (@rgcricket) February 27, 2016
Bharath Seervi
Kohli's average:

Tests: 2nd inns: 72.16, 4th inns: 60.81

ODIs: 2nd inns: 61.22

T20Is: 2nd inns: 73.44#IndvsPak #AsiaCupT20

— Bharath Seervi (@SeerviBharath) February 27, 2016
More cricket statistics -- because we just can't get enough of them. ESPNCricinfo's Bharath Seervi is one of the up and coming stats guys and was even awarded the Best Cricket Statistician for the year 2014-15.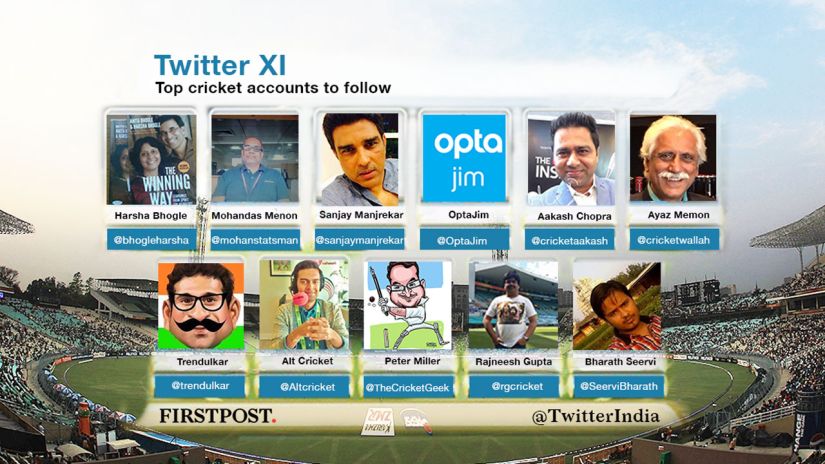 The first five editions of the tournament witnessed India (2007), Pakistan (2009), England (2010), West Indies (2012) and Sri Lanka (2014) to lift the coveted trophy. Will one of them be the first team to win the ICC World T20 twice or will we get to see a new winner?
Stay tuned on Firstpost, follow @FirstpostSports on Twitter. Keep Tweeting.
Firstpost is now on WhatsApp. For the latest analysis, commentary and news updates, sign up for our WhatsApp services. Just go to Firstpost.com/Whatsapp and hit the Subscribe button.
Updated Date: Feb 29, 2016 22:22:50 IST