Transfer deadline day debate: Closing the summer window before season begins makes little sense
As things stands, it would be smarter to go with the known devil than opting for an unknown one, and despite the ruckus it causes the transfer window is better the way it is, at least till a better, universal plan is developed.
Editor's note: The debate over when the summer transfer window should shut has become a feature of football discussions this season. A variety of managers and players have opined that the window should shut before the new football season begins, while another set has made the argument that the present structure should not be tampered with. The following article offers the view that the transfer window should shut on the final day of August as it always has done. To read the opposing viewpoint, click here.
The 31st day of August!
There's little significance attached to this date if you aren't an admirer of the beautiful game, but if you are, then this day is usually one hell of a ride. It's a day of broken hearts, ecstatic souls, sleepless nights (for people living in certain parts of the world), private jets, helicopters, taxis, faulty fax machines and what not.
On most occasions a football isn't even kicked on this day, but it gives you every bit of the emotional roller-coaster one experiences during a match or perhaps during an entire weekend packed with football action
The transfer deadline day is one of its kind. It gets football fans of various clubs from various leagues excited all at once.
However, the day could just lose its sheen if the Premier League — considered to be among the top two leagues in the world and also often the biggest spenders on deadline days — decide to prepone the closure of the summer transfer window for its clubs.
Many clubs from England have mulled over this idea and a vote is set to take place at the next Premier League shareholders meeting on 7 September on this issue, with the EFL too considering bringing the matter for discussion next month.
Throwing their weight behind the idea are Manchester City manager Pep Guardiola, Liverpool boss Jurgen Klopp and Swansea gaffer Paul Clement who are leading the voices requesting a change.
"An earlier transfer deadline day would have helped us this year. In general, it makes sense that when the season starts that the planning is over," Klopp said.
Clement added: "A better situation would be if the transfer window closed before the start of the season.
"I don't really understand why it goes to the end of August. I know there's talks about that changing in future. That's my opinion that it should do."
Incidentally, going into the transfer deadline day of the 2017 summer transfer window, each of these managers are in the market for players likely to start for their respective sides, if the speculated deals go through.
Apart from holding onto Philippe Coutinho, Liverpool are closing in on the signing of Alex Oxlade-Chamberlain from Arsenal, and could still make a late move to acquire Virgil van Djik from Southampton. Swansea are looking to bring in Wilfred Bony from Manchester City, while Pep Guardiola is keen on adding Alexis Sanchez to his array of attacking midfielders and forwards.
So will preponing the transfer window help? Will it help these managers to avoid the additional headache?
One can't help but feel, the outcry from these managers to shut the window earlier is impulsive. It's a byproduct of the situation that they find themselves in. With Liverpool struggling to keep hold off Coutinho and Swansea losing Gylfi Siggurdson last week, the transfer window has given them a headache at a point of time when they would be more keen to focus on preparing the team, improving on-field performances and zeroing on the best possible combination for the rest of the season
But finishing the transfer window before the season begins won't help in doing away with this problem. It will just come at an earlier stage which is equally crucial to the team's season. If the preponement happens, the deadline day or the more crunch part of the window will take place either during pre-season or just before the season begins. With teams now travelling all over the world during for their tours, it will only add to the mess especially considering the tantrums players throw these days to secure a move.
If making late, last gasp additions to a team makes things difficult, having a disrupted pre-season can have even more long-lasting effects on a team's season.
For a manager who's just coming into a new club, this will be a nightmare situation as he will have very little time to assess the players that he's got and then act in the market. It could only lead to more panic buys and thus more money being wasted.
Secondly, simply moving the cut-off point for transfers for Premier League clubs won't help. In fact, it will leave them at a clear disadvantage as clubs from other leagues like La Liga, Ligue 1 etc. would still be able to sign players from the Premier League.
So for instance, if Jurgen Klopp is irritated by Barcelona's attempts to lure Coutinho away, he will have to cope with anxiety of not being able to sign a replacement if the transfer deadline is preponed.
In this case, there will need to be a common deadline for all the domestic leagues of countries that fall under UEFA. Considering the fact that every league starts on different dates - Ligue 1 began a week before Premier League, La Liga began a week later, it will be nearly impossible to have a common deadline across Europe, keeping all logistics in mind.
So Premier League clubs' plan to end the transfer market before the season begins would only leave them at a disadvantage.
It is also easier to feel how the preponement of window's deadline before the start of the campaign could be beneficial for all parties involved this season,  considering that there wasn't any major international event taking place in the gap between the two seasons, apart from the Confederations Cup.
While the Confed Cup has just eight teams, the FIFA World Cup and the Euros or Copa Americas will have more teams. Almost all of the top players will be involved in these competitions. With the transfer window closing earlier, the transfer sagas are likelier to emerge when these competitions are ongoing, and could have an affect on national team's performances. With the window lasting a month less, it will be hard for players to keep themselves completely away their situations at their respective clubs even when these international events are ongoing.
A possible tug-of-war between the club and national team could make things a lot more complicated for manager at both levels, with the national team manager having to deal with an issue completely unrelated to him.
World Cups and continental championships are showpiece events and are played once every four years. It won't be ideal if they get overshadowed by transfer sagas.
Early closure of the window will prevent managers from signing players if they find a weakness in certain area of their team. There is no reason why that shouldn't be allowed as it will only help improve teams.
Chelsea signed David Luiz and Marcos Alonso on deadline day last year, and those two arrivals were key in their march to the title. Gareth Bale moved to Real Madrid on final day of the window in 2013 and was on guard to head home the goal that gave the lead in the Champions League final against neighbours Atletico. Mesut Ozil, Per Mertesacker were signed by Arsenal in the final hours of transfer windows, so was Anthony Martial and Dimitar Berbatov by Manchester United. Who can forget West Ham United's timely signings of Carlos Tevez and Javier Mascherano with the former netting a crucial goal on the final day of the season to help his side stay up.
Wayne Rooney signed on deadline day and became a legend at Manchester United, Claude Makalele signed for Chelsea and had made the defensive midfield role his own. till date it's called the Makalele position. To quantify, Premier League clubs make 24 percent of their signings after 15 August, which is usually the time when the league kicks off. Twelve percent of all Premier League signings happen on deadline day.
So many a times it comes as a saviour for managers. With their jobs almost always on the line, having the transfer window close a month into the season could just help a manager or two save their jobs.
"You can look at it either way really — whether it's glass half-full or empty," Derby County's manager Gary Rowett told The Guardian recently. "It would make life a lot easier if the transfer window finished the day before the season starts but I think there's an advantage in that, if you're three or four games in and you feel like you're missing something, you've still got an opportunity to strengthen."
Moreover, a preponement of the window could have legal implication as well. "There are problems down the line, I don't think the way they are looking at it would be smooth. It would be fraught with problems and potentially legal challenges." Chris Farnell, the lead lawyer on the sale of Swansea City last year told BBC Sport. 
There is no arguing the fact that the summer transfer window running into the season causes distractions, but ending it a month earlier could come with its own and perhaps greater set of problems. The authorities will have to work their wits to find the best possible way, but shifting the deadline of the transfer window before the season starts would be a decision taken in an impulse.
As things stands, it would be smarter to go with the known devil than opting for an unknown one, and despite the ruckus it causes the transfer window is better the way it is, at least till a better, universal plan is developed.
To read the opposing viewpoint titled 'Potential move to shorten summer window will be beneficial in long run', click here.
Sports
A wholesale review of the way English football is run that was ordered after the European Super League debacle will consider creating a new regulator and changing the "fit and proper person test" for owners.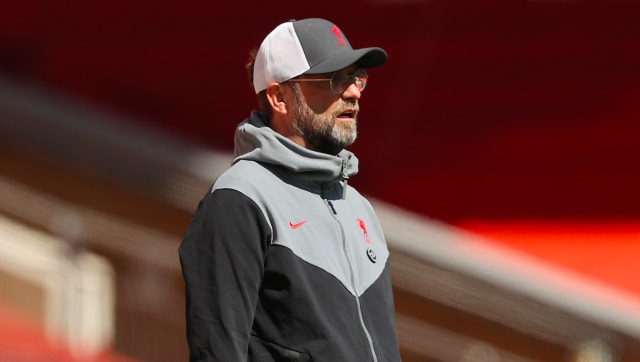 Sports
Mohamed Salah had opened the scoring after just three minutes, but Liverpool wasted a host of chances to extend their lead against Steve Bruce's men, and paid in stoppage time.
Sports
Pep Guardiola's side sit 13 points clear at the top and will be crowned champions if second-placed Manchester United lose against Liverpool on Sunday.