Transfer deadline day: From TV deals to political statements, reasons for stunning spending spree
A record-breaking transfer window this season has seen the likes of Paris Saint-Germain, Manchester City and Barcelona spend hundreds of millions of euros so far on new players.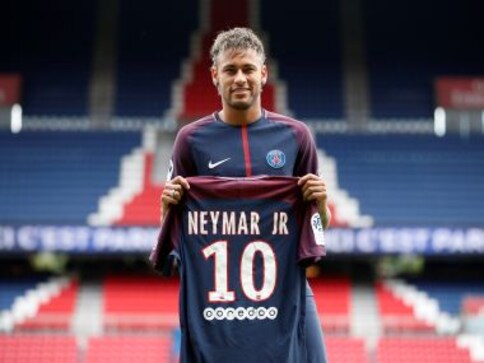 Paris: A record-breaking transfer window has seen the likes of Paris Saint-Germain, Manchester City and Barcelona spend hundreds of millions of euros so far on new players.
With all the major European leagues except Spain closing for business on Thursday, here's a look at how, and why, clubs are splashing such large amounts of cash.
Foreign investment
The close season's two biggest spenders so far have been Manchester City, taken over by Abu Dhabi's Sheikh Mansour in 2008, and Paris Saint-Germain, who have been the beneficiaries of Qatar's billions, fronted by Nasser Al-Khelaifi, since 2011.
The exact worth of these two men is hard to calculate, as they come from wealthy royal families and are in essence representatives of their oil- and gas-rich countries.
But both have piled money into their respective clubs.
City have been one of Europe's biggest spenders since stunning the Premier League with a 42-million-euro signing of Robinho on transfer deadline day in 2008, while PSG rocked the entire football world by paying a world record of € 222 million ($264 million) to sign Neymar from Barcelona this Summer
.
The money does not just come from the Middle East though — Russian oligarch Roman Abramovich started the new breed of billionaire foreign owners when he bought Chelsea in 2003.
The Chinese are starting to take a slice of European football too. Businessman Li Yonghong took out a 300-million-euro loan to buy AC
Milan, but was still able to spend € 40 million on signing defender Leonardo Bonucci from Juventus in July.
Political statements
The most stunning move of the close season came when PSG paid Neymar's release clause to prise the Brazilian playmaker away from Barcelona.
The move came after the start of a diplomatic crisis in June that saw countries including Saudi Arabia, the United Arab Emirates, Bahrain and Egypt cut off diplomatic relations with Qatar and impose trade and travel bans.
For Qatari Al-Khelaifi to spend € 222 million on Neymar, plus a possible 180mn on Monaco youngster Kylian Mbappe, sent a "strong signal to the world of sport" and is a "challenge" to the UAE and Saudi Arabia, according to political analyst Andreas Krieg of King's College London.
TV billions
The Premier League is football's bastion when it comes to producing eye-popping figures, and its £5.14-billion (€ 5.59 billion) TV rights deal has given English top-flight clubs extremely deep pockets.
The last deal was agreed in 2015, and saw Sky pay £4.2bn for five of seven TV packages, with BT Sports buying the other two.
That groundbreaking agreement was worth 71 percent more than the previous rights deal in 2012.
BT announced after the auction in 2015 that it would be paying £7.6 million for each live game.
TV rights for Spain's La Liga went for a comparatively small three-year deal worth € 2.65 billion, while rights for France's Ligue 1 are worth € 748.5 million a year.
The bumper deal for the Premier League has had two clear effects -- clubs in other European leagues now know that they can hold out for much larger transfer fees when English sides bid for their players, while moves between Premier League teams are becoming more and more expensive.
Sponsorship soaring
It is not just TV rights pumping money into football clubs, but sponsorship deals.
Car manufacturer Chevrolet pay € 67 million annually to have their logo given pride of place on Manchester United's shirt, while Nike will pay Barcelona at least € 150 million a year for the privilege of making their jerseys.
Earlier this month, Bayern Munich announced that they had agreed a deal for Qatar's Hamad International Airport to become their first-ever 'sleeve sponsor'.
Deals of that nature hasten the globalisation of football and indirectly push up transfer fees.
Marketing gold
Football players are becoming bigger stars than they were in the 20th century, partly because of the impact of the internet and social media on the accessibility of the big leagues around the world.
PSG president Al-Khelaifi claimed after signing Neymar that the Brazilian superstar would be worth € 450 million "soon".
Fans flocked to the PSG superstore on the Champs-Elysees in Paris the day after his signing to buy shirts with Neymar's name on the back for up to € 160 each.
Big clubs get bigger
Despite a new, more collective La Liga rights deal, Real Madrid and Barcelona still receive between € 140 million to 150 million a year each.
The clubs that finish higher understandably win more prize money, meaning rich owners will pile cash into football's giants, safe in the knowledge that plenty of it will be repaid.
Footballers union FIFPro claimed the current window showed how the sport has become "the domain of a select group of rich, mostly European-based clubs".
But the fact is, Europe's giants will continue to pour money into signing new players, as long as there are clear benefits.
Even when forgetting sponsorship deals and domestic TV rights, there is plenty of cash to be made, as shown by the fact UEFA paid more than € 1.34 billion in prize money for the 2015-2016 Champions League.
Sports
LaLiga have suffered losses for the first time since 2012 but the league expects to recover completely in the next two seasons.
Sports
Europe's most dramatic title race will finally reach its climax on Sunday when AC Milan face Sassuolo ready to end an 11-year Scudetto drought and announce their return to the top table.
Sports
Liverpool, Man City are now level on points at the top, but City stay top on goal difference and have a game in hand away to Wolves.