Tour de France: From veteran Richie Porte to driven Mikel Landa, riders who can stun Chris Froome in 2018
After Chris Froome's shaky victory this time around, Firstpost looks at five riders who have the potential to end the Sky rider's juggernaut next year.
The Tour de France is one of the most prestigious cycling races in the world. It attracts the best riders, the best equipment manufacturers and the biggest teams in the world of road cycling. So considering the race pedigree, Team Sky and their leader Christopher Froome's dominance has been a bit of a surprise. For some, it even made the race less exciting. The way Sky have killed off the opposition's will with relentless pace setting, coupled with Froome's searing pace in the time trials, one could argue that the event would be enriched by stronger competition to the British ensemble.
Currently Froome is the only rider with four Tour wins to his name as, in the past, all riders reaching this milestone have gone on to claim their fifth title. Presently all indications hint at Froome notching up his fifth victory in 2018. However, the Tour is anything but predictable. A lot can happen in the coming 12 months, an injury or a drop in form can spoil Froome's 2018 party, but more importantly, the competition might rise up to the challenge they have failed at since 2015. Also, considering that the 54-second winning margin was the lowest of Froome's four victories and that he did not win a stage this year, the competitors have reasons to be hopeful. Firstpost looks at five riders who have the potential to end the Sky juggernaut next year.
Tom Dumoulin (Team Skyweb): Dumoulin may not have appeared at this year's Tour, but that was part of a well-thought-out plan. The young Dutch rider had targeted the Giro d'Italia this year and won the race in impressive fashion, ahead of experienced pros like Nairo Quintana and Vincenzo Nibali. Froome has not ridden the Giro since 2011 to keep his legs fresh for France, and now having won in Italy, Dumoulin might skip it next year to topple the Sky rider.
The Dutch rider is accomplished in time trials; a three-time national champion, silver medallist at the Rio Olympics and winner of the speciality in this year's Giro. As most of Froome's rivals have struggled in the time trials, this is a major asset in Dumoulin's arsenal. By winning the Giro overall — which traditionally has more challenging climbs that the Tour — he has also proved that he can keep pace in the mountains with the best.
Dumoulin is committed to Team Skyweb till 2020 and that is an important factor to consider. The Dutch team were a revelation in this year's race, winning four stages and two jerseys (green and polka dot). More importantly, Skyweb had the intent to attack and a well-thought-out team plan, which can give Sky a run for their money next year. At 26 years, Dumoulin has age on his side and is our top pick to topple Froome next year.
Richie Porte (BMC Racing Team): Porte has been a Tour hopeful since he left Team Sky to take over the leadership at BMC in 2016. However, the Australian could only finish fifth last year and crashed on Stage 9 while in a promising position this time around. While Porte has always been plagued with bad luck — some may say poor race management — his credentials can never be discounted. A strong time-trialist, Porte was one of the pillars of Team Sky who propelled Froome to victory in 2013 and 2015.
The Australian knows the British team and their lead driver probably better than any other rider in the peloton and this will help him avoid making any tactical mistakes. At 32 years, he is no younger than Froome, but is equally experienced as well. In BMC, he has a team with intent to challenge for top honours and will surely be supported by a strong squad come 2018. If Porte can keep himself fit and upright on the bike, he would always be a factor in Froome's calculations.
Mikel Landa (Team Sky): Landa was one of Sky's strongest riders this year and a key cog in Froome's victory, but that will surely not be the case next year. Landa is frustrated of being the support cast, first for Fabio Aru (at Astana) and now Froome. There is no debating that the Spaniard would have made it comfortably to the podium this year, but for being held back by the team to support Froome. And even then, he missed third place by a solitary second.
Landa will certainly leave Sky at the end of the season and sign for a team (probably Movistar) where he is not reduced to playing second fiddle. Though a little weak in the time trials as compared to the other top contenders, the Spaniard more than makes up for it in climbing prowess. Landa has stood on the podium in the Giro and gained valuable experience with Sky this year. At 27 years, he is younger than Froome and will hope to be stronger come next year. Provided with as good a support cast as he was for Sky, Landa can be the party-pooper next year for his current teammate.
Nairo Quintana (Movistar): Quintana has already won the Giro d'Italia in 2014 and the Vuelta a España in 2016, and thrice finished on the podium in Paris. The Colombian certainly disappointed his fans by finishing out of the top ten this year, but that could be attributed to him riding his fourth successive Grand Tour. He may not repeat the mistake next year, and a rider with Quintana's raw talent coupled with fresh legs, cannot be counted out till he is in the race.
Quintana has previously put Froome in a spot of bother on the slopes of Alpe d'Huez in 2015 and is certainly a better climber that the Brit. The only chink in Quintana's armour is his poor time trial capabilities. In order to overcome the time lost in time trials, he would need a team with the collective might to unsettle Sky. That may not be Movistar. This will especially be the case if the Spanish team pick Landa as their leader next year. A change of team and better form could see Quintana justifying his talent and completing the holy trinity of Grand Tour victories.
Vincenzo Nibali (Bahrain Merida): Nibali already has the holy trinity in his resume, winning the Tour and Vuelta once and the Giro twice. Nicknamed "the shark" by his fans, the Italian's hunger is far from satisfied, as shown by his third-place finish in the Giro this year. Nibali's switch to a new team hinted at change of priorities, but it might provide him the undisputed leadership which he would not have enjoyed at Astana in Fabio Aru's presence. The Italian will certainly have watched Froome's discomfort this year and might already be making plans.
Some say that Nibali won the 2014 Tour because Froome had crashed out of contention and he would be keen to prove his detractors wrong next year. To do that, his team will need to recruit top talent. For a team sponsored by the government of Bahrain, there is no dearth of resources. Nibali is one of the best readers of a cycling road race endowed with supreme descending skills. With a strong team and iron will, Nibali's attacks can draw a tactical or racing mistake from the Brit and his team next year.
Apart from the five riders listed above, the peloton would also likely comprise of talented competitors like Romain Bardet, Thibaut Pinot, Fabio Aru and the Yates brothers, Simon and Adam, who can all beat Froome on their day, but are unlikely to sustain a title-winning challenge. The 2018 route is likely to include the feared cobblestones and also a team time trial. While Froome has proved this year that tweaking the route cannot stop him, and that he can adapt to all terrains, but a different route will bring its own unique challenges, which can unsettle even the best.
Any of the above riders can individually challenge Froome, however, it would be even more interesting if all of them arrive at the Tour next year. The collective might of such top talent coupled with strong teams could be bigger than the sum of their parts. Their contrasting racing styles could certainly unsettle the title holders, but Sky and Froome will also come better prepared. That is the best case scenario for fans, who will get to witness an exciting and open race. Coming up in 2018, twenty one perilous stages, five (or more) hungry competitors and one legendary event. It doesn't get much better than this and for any sports fan, it has to be manna from heaven. All we can say is — may the best man win.
Sports
Thomas moved a step closer to becoming Wales's first Tour champion when he came through the 18th stage to Pau unhindered and with his lead of 1min 59sec on Dutchman Tom Dumoulin.
Sports
With the toughest Alpine climbs coming in the last week, here's our analysis on what lays in store for the riders, particularly Chris Froome.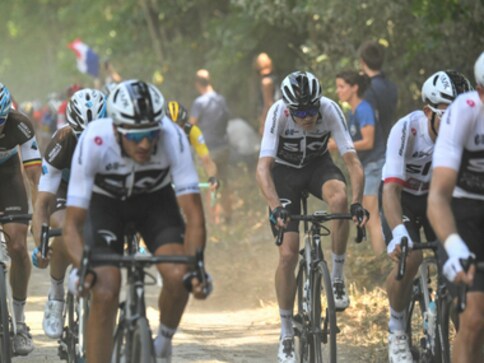 Sports
At the end of a hard week of racing, the Tour is evenly poised with no single rider having a distinct advantage, and all but one of the top contenders still in the race.