Top-ranked Lakshya Sen to lead India's challenge in Junior Asia Cup and World Championships
World Junior No 1 Lakshya Sen, alongwith Maisnam Meiraba, will carry India's hopes at the Asia U-17 and Under-15 Championships in Myanmar from 4 October and the World Junior Championships in Jakarta.
New Delhi: World Junior No 1 Lakshya Sen, who clinched the Bulgaria Open International Series last week, will lead the Indian challenge in the upcoming U-17 & U-15 Asia Cup and World junior Championship in October.
Lakshya, alongwith India No 1 player (Under-17) Maisnam Meiraba, will carry India's hopes at the Asia U-17 and Under-15 Championships in Myanmar from 4 October and the World Junior Championships in Jakarta from 9 October.
The 64-member strong squad was picked by the national selection committee headed by BAI's secretary Anup Narang during a meeting late last week.
"We are steadily improving in world badminton. This is another opportunity for our young players to extend their supremacy," Secretary of BAI Anup Narang said.
Manipur's Meiraba, Dhruv Rawat of Uttarakhand, Akash Yadav of Andhra Pradesh and Iman Sonowal of Assam are also in the U-17 competition.
All four have been performing consistently at the national level and will be eager to follow in the footsteps of their seniors, who are currently playing in the World Championships in Glasgow.
The country's No 1 (Under-17) player Akarshi Kashyap of Chattisgarh will spearhead India's charge in the U-17 girls' category. Akarshi, who recently won the Under-19 title in the All-India Junior Ranking tournament, will have Gayatri Gopichand of Telangana, Unnati Bisht of Uttarakhand and Malvika Bansod of Maharashtra by her side.
Sidhant Gupta of Tamil Nadu, Ayush Raj Gupta of Uttar Pradesh and Punshiba Yengkhom of Manipur will lead the boys' challenge in the Under-15 category, while the girls' team will see the likes of S Kavipriya of Punjab, Sneha Rajwar of Uttarakhand and the Telangana duo of Gayatri Gopichand and Samiya Farooqui.
Badminton Asia Championships Squad:
U-17 Boys: Maisnam Meiraba, Dhruv Rawat, Iman Sonowal, Aakash Yadav, Amit Rathore, Sathish Kumar, Edwin Joy, Arvind V Suresh, Vishnu Vardhan, Ishan Bhatnagar, Khush Chug; Reserves - Sai Charan Koya, Sarath D, Rohan Gurbani,Pranoy R
U-17 Girls: Gayatri Gopichand, Akarshi Kashyap, Unnati Bisht, Malvika Bansod, Ritika Thakar, Samiya Imad Farooqui, Varshini VS, Sahiti Bondini, Kavi Priya S, Keyura Mopati; Reserves - Amolika Singh, Ashi Rawat, Simran Singhi, Trisha Hegde, Drithi Yatheesh
U-15 Boys: Sidhant Gupta, Ayush Raj Gupta, Punshiba Yengkhom, Jayant Rana, Varun Kumar, Vikas Yadav, Arshan Shaik, Shubham Patel, Sanjeev Rao, Khajamoinuddin Shaik; Reserves - Shankar Muthusamy, Arshad Shaik, Rithvik Sanjeevi, Tushar Bhandari, Chaynit Joshi, Mayank Chaudhary, Manish Chaudhary
U-15 Girls: S Kavipriya, Sneha Rajwar, Gayatri Gopichand, Samiya Farooqui, Ashi Rawat, Kriti Bhardwaj, Treesa Jolly, Reza Mahreen,Tanya Hemant, Aditi Bhat; Reserves - Janani Ananthkumar, Maheshwari Kshetrimayum, Bhargavi K, Shruti Moghe, Khushi Thakkar
BWF World Junior Championships
Boys: Lakshya Sen, Rahul Bhardwaj, Kartikey Gulshan Kumar, Aryaman Tondon, Dhruv Kapila, Krishna Prasad, Sanjay Srivatsa, Siddhart Elango, Krishna Sai Kumar Podile, Arintop Das Gupta, Dinku Singh, Manjit Singh; Reserves - Swarn Raj Borah, Deep Rambia, Saurabh Kerhalkar
Girls: Akarshi Kashyap, Ashmita Chahlia, Purva Barve, Gayatri Gopichand, Mithula UK, Rituparna Panda,Simran Singhi,Ritika Thakar,Vaishnavi Jakka Reddy, Ira Sharma,Malika Bansod; Reserves - Ashwini Bhatt, Apeksha Nayak.
First Cricket News
The remaining 20 matches off Pakistan Super League 6 have become a major challenge for the PCB which is already under fire for the way it shifted the event to Abu Dhabi.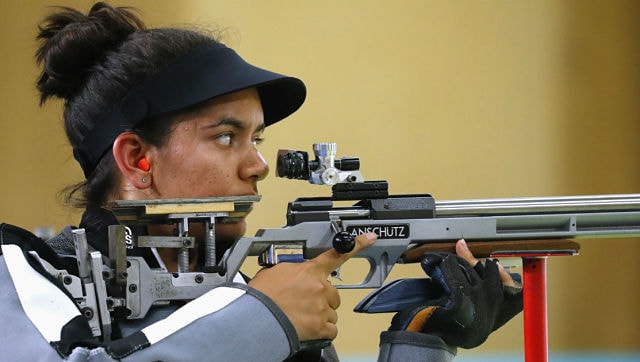 Sports
Participating in the Minimum Qualification Score (MQS) section as a guest invitee as part of India's 13-member Olympic-bound squad, Moudgil shot a score of 1173, a huge improvement from the 1162 she shot in the New Delhi World Cup in March.
Sports
Given the fact that the growth of eSports as well as tech advancements, one would never expect problems such as the server crashing during a game between professionals, especially not when money is on the line for them. However, in the last few months, there have been two big tournaments that faced problems.