To succeed, F1 in India doesn't need a dream; it needs a plan
Motor racing takes more than just plain hope and talent to make it big. It's a basic sport – in the sense that anyone who has a car can compete – but it's expensive.
By Dhananjay Khadilkar
In Paris: Parth Ghorpade, 18, has won five National Karting titles, including the 2008 and 2009 Rotax Junior and the 2010 Rotax Senior Championships. That's when he thought that he had enough of the karting scene. He wanted to move on, but when he looked around, there was nothing to move on to.
For driving talent in India, that is a pretty common story. Some like Narain Karthikeyan, Karun Chandok and even Ghorpade find sponsors and make their way to foreign shores, most give up the dream and resign themselves to a life in the outback that is India. But is that how things have to remain?
A recent habit noticed among officials of all sports, with the exception of cricket, is to say that given India's population of 1.2 billion, sooner than later, a star shall emerge. And he shall take the sport to the next dimension.
Isn't that a very convenient way to wash their hands of the mess that the sporting infrastructure is? Falling back on a billion is always easy – if one fails, there are plenty more options to look at.
Motor racing more than any other sport requires funds, backing and training to succeed. It takes more than just plain hope and talent to make it big. It's a basic sport – in the sense that anyone who has a car can compete – but it's expensive.
In recent years, India has moved up the Formula One hierarchy. There are two drivers who hail from the nation, one of the team owners is an Indian and the India Grand Prix is scheduled for October 30 this year. Yet, the system that is needed to produce drivers, good ones at that, remains non-existent.
Force India boss Vijay Mallya and Team Lotus driver Karun Chandhok recently had an interesting exchange of words, the former hinting at the lack of world-class talent among the current crop of Indian drivers and the latter taking potshots at the methods employed by Force India to find Indian talent.
Rather than go around trying to find one driver in a billion, Mallya and Co need to concentrate on building not just academies that will help India drivers take their first step into motor sport but also chart out a plan that will lead them to Formula One.
And if they are looking at a place to take cues from, then the best model is the Auto Sport Academy which is based in Le Mans, France — the same place where Ghorpade is now earning his stripes.
The academy, which started in 1993 by Renault, occupies an area of 3,000 sq m and is located next to the circuit that hosts the famous Le Mans 24 hours, one of the biggest and most famous events on the motor sport calendar every year.
The quality of infrastructure and training methods at this training facility can be judged from the fact that two of the three drivers from this year's Le Mans winning team, Benoit Treluyer and Marcel Fassler as well as runners-up and former F1 driver Sebastian Bourdais are products of this academy. In fact, at this year's Le Mans 24-hour race, 19 drivers, more than 10 percent of the grid, were products of the Auto Sport Academy.
Continue reading on the next page
Every year, the academy trains some 20 drivers aged between 15 and 23. Instructors train these drivers on various aspects, including physical, interaction with engineers to do better car set-ups, dietary advice, road safety, media interaction and English speaking.
Malo Olivier, who has been an instructor at the Academy for the past three years, says: "The training techniques ensure overall development of the drivers. Just being fast is not enough. A good driver must have plenty of endurance strength as well as the knowledge of the machine he is driving. Interacting with the media and knowing the English language too become important once you start climbing the ladder."
Drivers are given lessons on technique (trajectories, braking), corner by corner study with live debriefing or after each series, data acquisition debriefing after driving sessions. This is almost like the movie Top Gun, remember what Tom Cruise and Ice Man had to go through.
The cars used in the French F4 championship are a cut above the rest -- they have carbon monocoques and boast of top speeds in excess of 220 kph and are equipped with the latest generation Pi system and fly-by-wire accelerator systems. According to Malo, this car is a significant step-up. "Drivers get a fair idea of the power and the other systems that they have to deal with while driving single-seater cars," he explains.
Ghorpade, who is participating in this year's F4 championship, the first Indian driver to do so, sees a host of benefits from the series. "The emphasis is on development of racing skills in equal equipment," he adds.
According to Ghorpade, since Europe is the epicentre of motorsport, it makes sense to start racing there. ''There is a structured progression within the series to the next level, which is the Renault 2.0. Cost-wise, the series is extremely affordable compared to its Asian and European equivalents. Most importantly, series graduates have performed creditably later," he points out.
He is mindful that the level of competition is pretty high. "With seven rounds taking place on different tracks, a driver has to adapt quickly to a new environment with limited track time, which is very important," he adds.
Despite missing out on pre-season testing and conferences on fitness and media training, Ghorpade says he has learnt a lot from race meetings and the F4 championship itself. "At the end of the season, the academy provides financial assistance to the best drivers. That's a big incentive for everyone to do well, but nothing compares to the lessons learnt in a competitive environment all along," he concludes.
Subscribe to Moneycontrol Pro at ₹499 for the first year. Use code PRO499. Limited period offer. *T&C apply
Sports
The Renault Formula One team changed its name to Alpine at the end of last season and said the new colors are "synonymous to Alpine's heritage and pedigree in motorsports."
Sports
Mikkola's sons paid tribute to him on social media late Friday along with other racing veterans such as World Rally champions Carlos Sainz, Sebastien Ogier and Petter Solberg.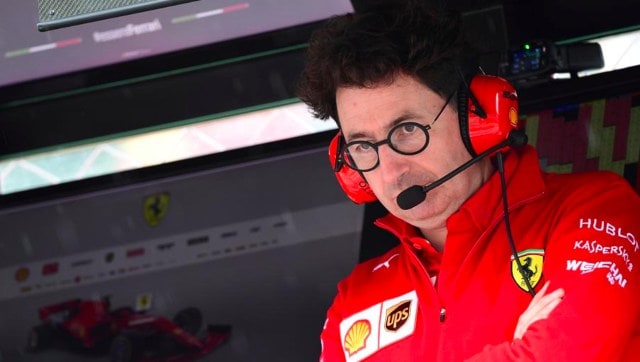 Sports
Ferrari mustered a mere 131 points compared to over 500 in 2019, and came in an embarrassing sixth in the constructors table.