Tite's new stint as Brazil manager is a welcome move to preserve their history, but he still has a mountain to climb
Tite can thus become only the second coach to lead Brazil at consecutive World Cups, Mario Zagallo having done so in 1970 and 1974.
A valedictorian qualifying campaign, encouraging results against European opposition and a new self-esteem had bolstered Brazilian expectations at the FIFA World Cup in Russia, but a quarter-final exit against Belgium, the tournament's dark horses, was an abject failure for Brazil. In Brazilian football culture, winning is everything: the team might as well have ended last, like Panama, or not participate at all.
Brazil's elimination by Belgium was defined by narrow margins: Thiago Silva clattering the woodwork early on, Renato Augusto squandering a gilt-edged second-half chance and Thibaut Courtois' fingertips denying Neymar in the waning minutes of the game. The game of the tournament could have swung the Selecao's way, but Belgian coach Roberto Martinez's daring tactic of shifting Romelu Lukaku to the right to deploy Kevin De Bruyne up front had Brazil rattled. In midfield a woeful Fernandinho got battered, underlying the importance of Casemiro to the balance of the Brazilian team.
This, in normal circumstances, would have signalled the end of Tite's reign, but earlier this week the Brazilian Football Confederation, the CBF, and the Brazil coach reached an agreement to extend Tite's contract until the next World Cup, in Qatar in 2022. Tite can thus become only the second coach to lead Brazil at consecutive World Cups, Mario Zagallo having done so in 1970 and 1974. Claudio Coutinho was reappointed Brazil coach after the 1978 World Cup, but didn't last the four-year cycle.
Will Tite? There are plenty of reasons to believe so. Historically, Tite isn't so different from Mario Zagallo. At the 1958 World Cup, Zagallo basically invented the 4-3-3, marshalling the left flank. The young winger knew that he was a less gifted player than both Pepe and Canhoteiro, but by dropping back he provided cover for the midfield in a 4-2-4 formation when Brazil were out of possession.
As a coach, ahead of the 1970 World Cup, he modified the 4-2-4 of Joao Saldanha, the Don Quixote of Brazilian football, to a 4-3-3, which offered more balance and protection against European teams. Like Tite, Zagallo was all about balance, curiosity and tactical awareness, but the latter's need to reinvent ebbed after 1970. Aged 39, he had achieved the highest a coach could, winning the World Cup.
Tite will be compelled to keep learning – he took a sabbatical to study and absorb the European game in 2013 – if he successfully wants to navigate the many pitfalls he will face over the next few years. The Brazilian could have looked elsewhere, but offers from Europe would have been limited after the World Cup and returning to the domestic club game was bound to disappoint once you have worked with players the calibre of Neymar and Philippe Coutinho.
Next year, Brazil will host the Copa America, the first test for Tite. How will he handle Neymar? Can Brazil find a midfielder, type Kevin De Bruyne, because Philippe Coutinho couldn't carry the team from his 'improvised' deep role? What about the position of centre-forward? Tite stuck with Gabriel Jesus during the World Cup. The Manchester City striker had been Tite's striker of choice during the qualification campaign. He delivered nine goals against South American opposition, but none in Russia. Personnel changes will be inevitable and Brazil seem to have an embarrassment of riches at their disposal as this transfer window has already proven, with Malcolm, Paulinho and Arthur but some of the names on the move.
At the World Cup, Neymar was petulant, a play-actor who belonged on the stage of the Bolshoi Theatre. The Russia World Cup was supposed to be his crowning moment to finally topple the decade-long dominance by Cristiano Ronaldo and Lionel Messi, but Neymar, left a different imprint on the global conscience - that of a spoiled brat. It's perhaps not his fault – after overcoming Die Geworfenheit, he is but a product of his time and environment. In Brazil, the elite class, including the nouveau riche, have a disregard for the rules. They do as they please. What Neymar's unsettling behaviour – nearly always getting the emotional tone of the game wrong at the World Cup – also suggests is that Tite indulged his star player far too much.
In the end, Brazil flew home lamenting what could have been. They were a much-improved side from the 2014 World Cup but there was always the strange sentiment that Brazil oscillated between being arguably the best team of the tournament and an ensemble of anachronistic wannabes. Indeed, that may well be Tite's main task in the future and one of the great dramas of our time – not how he deals with microeconomics of his team, but how he handles the crushing weight of Brazil's rich history?
Find latest and upcoming tech gadgets online on Tech2 Gadgets. Get technology news, gadgets reviews & ratings. Popular gadgets including laptop, tablet and mobile specifications, features, prices, comparison.
Sports
Manchester City boss Pep Guardiola revealed on Friday that Kevin De Bruyne would miss this weekend's visit of Arsenal after picking up an injury while on international duty.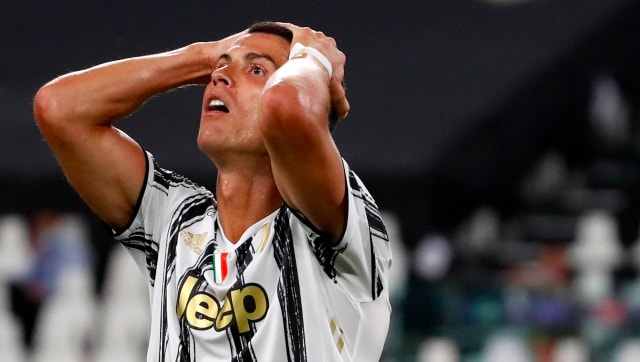 Sports
Ronaldo is currently isolating at his home in Turin after testing positive for COVID-19 on 13 October while with the Portuguese national team for Nations League matches.
Sports
Barcelona got off to a good start by beating Ferencvaros 5-1 but coach Ronald Koeman is under pressure again after the team lost at home to Real Madrid in the Spanish league Saturday.