The Javier Sotomayor column: Usain Bolt could cement his legendary status at 2016 Rio Olympics
Usain Bolt is set to be a superstar at the Rio Olympics. If he wins, he will become a better legend, since he is already a Olympic great.
By Javier Sotomayor
Havana: Usain Bolt is set to be a superstar at the Rio Olympics. If he wins, he will become a better legend, since he is already a legend based on all the things he has done.
Bolt is going to be one of the best athletes in history. Is he really the best? Seeking out the best sportsperson in history is tough. There are names that will always feature in that search, like Michael Phelps with his 22 Olympic medals and Carl Lewis given what he meant for athletics and for world sport with his 10 medals.
I think none of them would unanimously win any survey, although there are names that would always be near the top of the list. That is the case with those three men, Carl Lewis, Usain Bolt and Michael Phelps, but it is hard to say who is the greatest.
To be an athlete like Bolt, you need to be talented. However, keeping up good results over a long time is impossible unless you also do very hard work and plan it really well. That is why Bolt is taking a bit of a risk by competing in Rio, but the risk is worthwhile if he feels up to it. The possibility of winning three more gold medals for his Olympic record is worth the attempt. If I were him, I would take that risk too.
Bolt will turn 30 in August. I do not think he will set a new sprint record, but he is indeed in a position to win his races. His times have been too amazing: 19.19 seconds in the 200 m and 9.58 in the 100 m. In Rio, without setting a new record, he can still win, even with the minor injury he suffered in the run-up to the Games.
If the injury is not really serious and Bolt can stick to his usual training, I think he will not have any issues in Rio. However, if he needs to stop training, that will be a problem. Less than a month ahead of the Olympics, however good you are, you will have fewer chances if you stop training. He needs to be close to his top fitness level.
Last year, all athletics fans were uncertain about whether Bolt could win the World Championships in Beijing, and he eventually went on to win both races. I have the impression that the same thing should happen in Rio.
In general, athletics is currently going through a little crisis. It is not very attractive, and there are fewer international meetings. The international federation will need to look for more sponsors or find new assets. Those problems are compounded by doping scandals, which should be countered with out-of-competition testing, for example.
Getting back to Bolt, I think there is a good side and a bad side to the fact that he has dominated his discipline so clearly in recent years. When he competes, 6,000-7,000 people turn up to watch events that usually have 5,000 spectators. His personality and his charisma help too. However, it is also the case that athletics is currently very dependent on Bolt. As a sport, it will need to make room for other athletes.
And yet Bolt is inadvertently already helping athletics cope without him in the future. He has not competed very much in recent seasons, so it has very often been necessary to fill stadiums without him. He competes three, four times a year, I do not think it is ever more than five. All other events are already being held without Bolt.
Regarding the Games, I think Rio will have all you need in a host city: everything will be ready by the time the Olympics start. Brazilians are great lovers of sport, and that will show through. And Latin America has improved, with athletes who have stood out. Colombia, to mention just one country, has grown an awful lot in recent years. The same has happened with Venezuela, with Ecuador. By the time the Rio Olympics are over and you put together the medal count for Latin America and the Caribbean, it should top the London 2012 figure.
In athletics, there will be several highlights in Rio. Of course, you will have the 100 m, the 200 m and the 4 x 100 m, the events where Bolt can get his three gold medals. However, there will also be great clashes in the triple jump, in throwing disciplines, in the 1,500 m among Kenyans and Ethiopians.
There will be an interesting basketball competition. Since 1992, when the famous US Dream Team started to compete in the Games, fans have closely followed Olympic basketball. In Brazil, spectators are very keen on both men's and women's volleyball. And there is football, of course. And we Cubans will closely follow boxing, since it is the sport that can give us the most medals.
For me, the 100 m race is one of the highest points in the Games. Historically, there have always been great 100 m sprinters, since the days of Jesse Owens. Ben Johnson had his day, Carl Lewis had his day, now there is Bolt.
Fortunately for that discipline, there is always a favourite, but there are also always rivals to match that favourite, which makes the 100 m spectacular. I think that on August 13, when the final is held, it will also be one of the moments the fans are particularly waiting for.

Subscribe to Moneycontrol Pro at ₹499 for the first year. Use code PRO499. Limited period offer. *T&C apply
Sports
Revelling in the attention and praise he must have received for the samba moves he displayed last week in Rio, Usain Bolt has appeared on a music video for British music duo Arch Birds.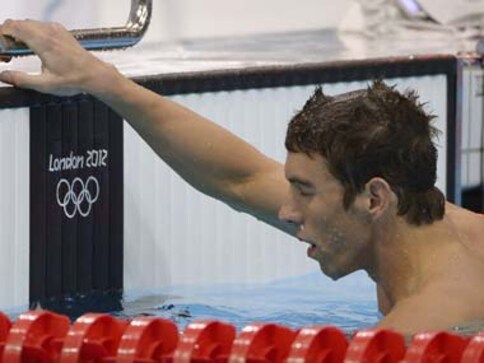 Sports
This advertisement from kit manufacturer Under Armour, which has gone viral on social media, looks at Phelps' gruelling training routine and workouts and tries to decode his success
Sports
Abhinav Bindra's quest to overcome fear saw him climb a 40-feet high 'pizza pole' which led him to win a historic gold medal at the 2008 Beijing Olympics.