The Haitian in India: Mumbai City's Sony Norde on losses, choosing India and the challenging ISL season
Norde's case is interesting in the Haiti squad. Having 'become very well-known' after his initial exploits in Argentina and Mexico, he had to take the risk of playing in unknown Bangladesh.
Sony Norde is used to winning.
In 2014, he won the Bangladesh Premier League with Sheikh Jamal Dhanmondi and in 2015, he lifted the I-League with Mohun Bagan. With Dhanmondi, he also won the Federation Cup. The move to the Kolkata giants happened after he won the Bangladesh Premier League's MVP award. He topped the assists chart in the I-League (13) and this could mean a new Rs 6.6 crore deal.
Which is why this Indian Super League season has been a nightmare compared to the past two seasons for the Haitian. Norde admits it has been the hardest of his career so far — one which started at Boca Juniors in Argentina. "It's just been... different," Norde told Firstpost in Chennai, ahead of their rain-soaked match at the Marina Arena (which they lost 3-0).
Norde scored two goals in Mumbai's final league match against Atletico de Kolkata, one of them an injury time winner. But by then, the club's fate was sealed — they finished in 6th position, one place higher than last season. This, in a season which has been riddled with off-the-field chatter about player-manager Nicolas Anelka losing the dressing room.
Norde's been one of Mumbai's best players this season with three goals and three assists. He struck a fantastic partnership with Sunil Chhetri when they won three matches in a row at home, but that was as good as their campaign got.
For Norde, who is a really sore loser, it hurts. "Whenever I lose, I feel like I've lost my girlfriend or my mother. Everything I have, football gave me, so I always want to win. Losing is part of the game, everybody knows that, but when I lose, it stays on my mind. Sometimes I stay in my room, call my mum. It's harder to lose when you are a good player."
The winger, who describes himself as 'quick, good with and without the ball, good at passing and a team man', had to go for international duty mid-season and it was clear Mumbai missed him on the pitch. Even Haiti suffered two defeats with Norde. However, they're better off than India in World Cup Qualifying — and still in with a chance of making it.
Norde's case is interesting in the Haiti squad. Having 'become very well-known' after his initial exploits in Argentina and Mexico, he had to take the risk of playing in unknown Bangladesh.
"I wanted to get a team but the window had closed so a friend connected me to Dhanmondi in Bangladesh. I didn't know about the country so I Googled it, did some research and told myself it was better to play anywhere than stay at home for six months," Norde said.
Even though Norde's career went incredibly well in Bangladesh and subsequently India, his place in the national team became questionable: "Haiti has too many players outside — France, Germany, England — so it's not easy to play in the national team. You can't compare Indian to French football. When the coach comes he has to choose quickly and when I come from India and there's another player from France, it's hard to get picked. There has been a situation where I have been overlooked just because I play in India. Now they are following the ISL and they watch it so they have some idea about me. Still in India, I have more recognition than in Haiti."
Norde's also pretty candid about the merits of playing in India, despite the danger of him becoming too comfortably with a lower level of football than he can be at: "In India, they pay very well. The football level has also gone up. In other countries, too many quality players are around, so getting noticed is hard. Even in India the quality is going up. In two-three years, you will see different football here. For me, ISL needs more time. That is the future."
"In a way, I didn't choose India. India chose me."
Find latest and upcoming tech gadgets online on Tech2 Gadgets. Get technology news, gadgets reviews & ratings. Popular gadgets including laptop, tablet and mobile specifications, features, prices, comparison.
Sports
Rakitic, who did not elaborate on the reasons for the decision, made his debut for Croatia in 2007.
Sports
Rankings after the November international break will decide seedings when FIFA draws the European qualifying groups for the 2022 World Cup in early December.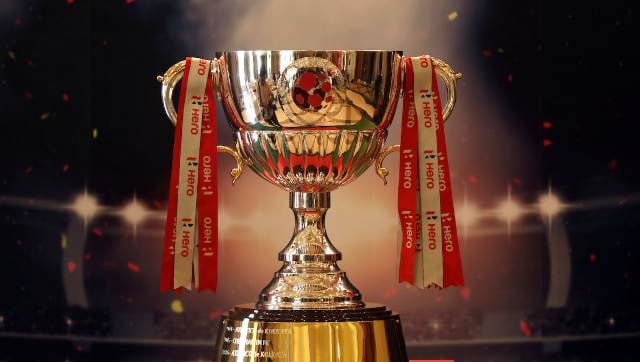 Sports
The Ministry of External Affairs (MEA) has granted permission to a total of ten foreigners to join their respective clubs for pre-season in Goa for ISL 2020-21