The comeback kid: How the sport of kabaddi fought its way back from oblivion
Kabaddi as a sport dropped from its once popular position and was in its death throes. Then, the Pro Kabaddi League gave it a much-needed blood transfusion. And as the Kabaddi World Cup draws a multitude of fans, it's clear the sport has charted a miraculous recovery.
Kabaddi, in its traditional form, was on 'ventilator' when the Pro-Kabaddi League came along in 2014. The brainchild of Anand Mahindra, chairman of the Mahindra Group, and mediaperson Charu Sharma, who came together to form Mashal Sports, the league gave the game — on its last legs—  a transfusion of blood, and returned it to good (rather, robust) health.
Ironically, the Mahindra Group was one of the corporates responsible for sending the game of kabaddi — along with a few others — to its death bed.
As the 20th century drew to a close, fearing fierce competition in the marketplace following the government's policy of liberalisation and globalisation, the Mahindra Group offered its sportsmen — some of the country's best in kabaddi, hockey, football and cricket — the option to retire prematurely. Most kabaddi players, who were uneducated, grabbed the opportunity with both hands. For the same reason, many other companies too decided to wind up their sports activities during this period.
Kabaddi, as a road to financial freedom for players, had come to a dead end. With textile mills pulling down their shutters and realty prices hitting the roof in the new millennium, most families from the textile-mill areas of Parel and Lalbaug — the hub of kabaddi in the state of Maharashtra — migrated to the suburbs and smaller towns.
A 'star' player migrates
If people in Sahyadri building, on the outskirts of Thane, know 'Gotya' Sawant, (name changed) it is only because he has a small nameplate on his front door. He lives there, unknown and uncelebrated, in a one-bedroom flat, with his 80-year-old mother, his wife and a son who is in college.
Back in the 80s, 'Gotya' was the toast of the town, especially in central Mumbai. Larger-than-life posters at every street corner besides pictures and write-ups in local newspapers had made him a household name. Tall, dark and well-built, he was a 'raider' par excellence and opponents who attempted to 'capture' him were either summarily thrown away or were made to clutch at thin air as he made good his escape with a somersault.
Every time he entered a kabaddi arena, there was a huge roar from the crowd — who sometimes numbered eight to ten thousand for a local event. 'Gotya' hardly ever disappointed his fans and was carried home on their shoulders after a successful campaign. Everybody knew 'Gotya' and you didn't have to ask where he lived in Lalbaug.
The Parel-Lalbaug area of Mumbai was where all the top kabaddi players of the state resided. Most of them were sons of textile-workers who were jobless after the mills decided to close shop, one after another, following labour problems. Excelling in kabaddi at the club level, therefore, and getting employment in banks, the railways or in some of the top, sports-minded private and public sector companies was every boy's dream.
For the less talented here, back in the '80s, there was also the dubious way of earning a living. They could run 'errands' for one of the several underworld kings of the area. 'Gotya' recalls with horror his underworld jaunts, as a novice, before he was picked by one of the top corporates to represent them in inter-company events.
Selling off his tenement in Lalbaug, Gotya moved to Thane more than a decade ago. Disillusioned, he hadn't watched a kabaddi match for ages and had lost touch with his friends and teammates. Now, with the Pro Kabaddi League on, he religiously watches U Mumba play. These matches bring back nostalgic memories of the time when he had his own fan following and they allow him to relive those 'magic moments' of old.
The game now has an up-market audience
The Pro Kabaddi League is a highly glamourised version of the matches that were played on the playgrounds of central Mumbai. If Abhishek Bachchan and others lend stature to the event now, Marathi film stars and politicians used to frequent matches on the maidans then. Besides glittering trophies — with gold coins often adorning them — the prize money on offer was attractive. Fans would, individually, hand over cash to star players and very often, the man of the tournament would walk away with a motorbike or a TV set.
The game then was typically down-market. Played on muddy courts, barefeet, the players' gladiatorial skills appealed only to the aggressive, mostly uneducated populace of the textile-mill areas. It hardly ever attracted the attention of the elite classes.
Kabaddi is now a full-fledged international sport with a professional league of its own. Rules have been tweaked to make the game more interesting. It is played on colourful mats, mostly indoors, and with players wearing shoes. The game is viewer-friendly and the Pro Kabaddi League has been successful in attracting an up-market audience.
With Star India buying a major stake in the Pro Kabaddi League and its viewership on TV soaring, the game of kabaddi is fast building up a huge fan following. In the world of broadcasting, big TRPs mean big money and from hereon, the game can only get bigger and better.
A major share of the credit for presenting kabaddi as a game, however, goes to Maharashtra (or Bombay State, as it was known then) who framed rules for the sport in the 1920s. Kabaddi was played in different versions and with dissimilar rules in different parts of India. The state officials brought them together and even managed to play it as a demonstration game at the Berlin Olympics.
The Kabaddi Federation was formed, in the 1950s, with Maharashtra's Shankarrao 'Buwa' Salvi — player, coach, administrator and politician, playing a huge role in giving it proper shape. The first kabaddi nationals became a reality in 1972 and the game was included in the 1992 Asian Games, with many of India's neighbours taking to it with a lot of passion.
Players need to be stronger
Players in the Pro Kabaddi League can expect to earn close to Rs 40 lakh a year. The highest paid last season were the two Iranians, followed by a host of players from Haryana, Punjab and Services. Though Maharashtra has a fair representation in the 8-team format, most of them are in the earnings bracket of Rs 10-15 lakh a year.
Former star player and now coach, Ramchandra Jadhav feels that the Pro Kabaddi League has surely given a fresh lease of life to the game. "The only thing that worries me is the number of injuries that players sustain, playing on mats," he says. "Players have to be very strong and fit to take the workload placed on them by the league format. While players from the north are equipped for it, players from Maharashtra — who have always relied on tactics and technique rather than on brute strength — are not."
Jadhav also believes that kabaddi is now viewed as a glamour sport by kids. "There's a 150 percent increase in schools participating in inter-school events," he says. "But there is hardly any coaching arrangement for them." He, therefore, believes that a team like U Mumba, which represents Mumbai in the Pro Kabaddi League, should start working at the grass-roots level to create more quality players and good coaches too.
It is indeed time that all the leagues, be they cricket, football or kabaddi, realise their social responsibilities and work towards making the world a better place for kids, providing them with more sporting opportunities.
Kabaddi has a future!
'Gotya' Sawant's son played in the inter-collegiate kabaddi tournament last year. He twisted his knee and damaged a ligament during one of the matches. When he expressed a desire to play again this year, his mother said, "Son, do you think you will be able to play for the country or get into any of the Pro Kabaddi teams? If not, please concentrate on your studies."
When his son said that he would try to be a great player like his dad, and be a graduate too, 'Gotya' Sawant felt his chest swelling.  "That's my son," he murmured as he struggled to hold back his tears.
The author is a sportswriter, cartoonist, former sports administrator and coach.
Sports
Naamya Kapoor, surprised almost everyone, except for her near and dear ones, by winning shooting gold in the junior world championships in Peru.
First Cricket News
Broad said it would be great to have the injured Jofra Archer in Australia and have that express pace, but his side's bowlers would need to move the ball and to be relentless.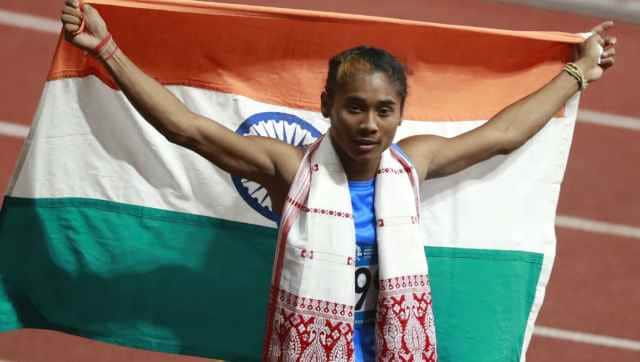 Sports
Das, 21, reported to the national camp at the National Institute of Sport (NIS) in Patiala recently.