Tennis embroiled in legal battle: Players fight to keep ATP-WTA event in Miami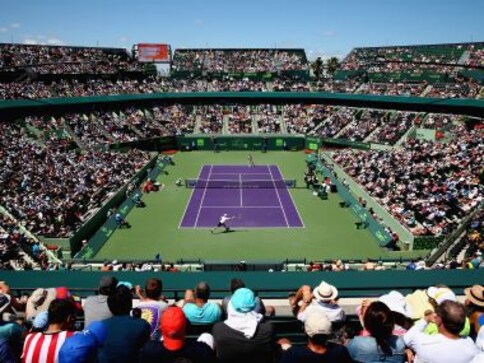 Concerns that Miami might lose its ATP and WTA tournament because of a legal battle over proposed venue renovations has top players calling for the event to stay put.
The tennis center is located in a public park and there is a court fight over what modernization can be done to the facility, with a risk of the event moving once the last eight years of its lease are up in 2024.
World number one Serena Williams, a 21-time Grand Slam champion and top seed at the 32nd edition of the ATP and WTA Miami Open, took her support of the cause to the New York Times opinion page this week.
"When I think about the Miami Open having to leave a city I love because it isn't able to make improvements that would benefit the players and fans, it saddens me," Williams wrote.
British second seed Andy Murray, the 2012 US Open and 2013 Wimbledon champion, lives nearby and trains much of the year at the facility.
"I would be gutted if it moved. I love it here," Murray said. "I spent so much of my time working out of this place. It has so much history. When a tournament moves from its original place, it loses something. I really enjoy it here."
Williams and her sister Venus played in the 1999 Miami final, their first championship meeting in a WTA event. Venus beat Serena that day to take the first of her four crowns while Serena has captured eight.
"Leaving Miami would be a blow to our sport, to the city of Miami and to me," Serena Williams wrote. "The tournament has, in many ways, set the standard for tennis events around the world in a unique time and place, and I hope we can all work together to improve this home court."
Williams, who is represented by the owners of the tournament, noted that in the recent controversy over equal pay for men and women, Miami became the first event outside the Grand Slams to feature men and women together when it began in 1985.
"Perhaps even more significant, the Miami Open paid equal prize money to men and women," Williams said.
Germany's Angelique Kerber, who beat Serena Williams in the Australian Open final two months ago for her first Glam crown, does not want to see it leave either.
"It would be sad," she said. "Miami is a special tournament."
Swiss third seed Roger Federer, winner of a men's record 17 Grand Slam singles crowns, has been coming to Miami for 20 years to play in tournaments.
"I hope this tournament stays successful for years to come," he said. "It has a nice vibe. It's a beautiful place to play. I've been coming here since I was 14. I clearly want to see this tournament continue to be good, prestigious, all that."
With markets in Asia and South America as well as the United States able to pitch state-of-the-art facilities, organizers and the ATP have time to find a resolution but issues to face if nothing changes.
"I think they are trying to figure it out as much as they can," Federer said. "But it's clearly a difficult situation."
AFP
Sports
Sharath Kamal slayed world number 15 Aruna Quadri as defending champions India rode past Nigeria 3-0 to make another final at the Commonwealth Games
Tennis
India's Rohan Bopanna and his Dutch partner Matwe Middelkoop lost to the British-Finnish pair of Llyod Glasspool and Harri Heliovaara in straight sets in the Hamburg European Open final
Tennis
Emma Raducanu will face 60th-ranked Liudmila Samsonova for a berth in the semifinals. Meanwhile, Nick Kyrgios vs fourth-seeded Reilly Opelka, and Frances Tiafoe vs Botic van de Zandschulp were halted due to rain on Thursday night.