Tata Steel Masters Chess: Viswanathan Anand crushes Fabiano Caruana's opening novelty to join Anish Giri in the lead
In one of the top games of the round, Viswanathan Anand got the edge over world number three, Fabiano Caruana and joined Anish Giri as the joint tournament leader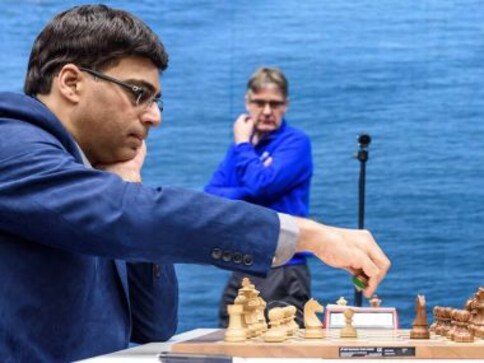 The third round of the Tata Steel Masters witnessed only two decisive games and both of those featured an Indian. In one of the top games of the round, Viswanathan Anand got the edge over world number three, Fabiano Caruana and joined Anish Giri as the joint tournament leader. In the other decisive game of the round, the lowest rated player in the pack, Gawain Jones, scored his first victory of the tournament against Adhiban Baskaran.
Caruana, with the black pieces, played the Petroff Defence — an opening well known for its drawish nature — for the the second time in the tournament. But just as the jaded grandmasters and other spectators began to yawn at what they saw, the Italian-American GM uncorked an opening novelty that lit up all eyes. On the thematically weak diagonal in the Petroff — the b1-h7 diagonal -- Caruana left his knight en prise created tons of tactical complications.
Anand knew he was caught in preparation. After thinking for about 30 minutes, he came up with the most pragmatic solution, keeping tactical complications to a minimum. Once the storm had calmed, the Indian chess legend had two minor pieces in exchange for his rook. He further consolidated his position with a masterly bishop maneuver and tucked his king into safety. Caruana, recognizing that things were going out of hand, tried complicating matters but only ended up worsening his position. On his 42nd move, Anand finished the game offering a queen sacrifice which, if accepted, would have led to forced mate. And even otherwise, it wasn't possible to avert the mate without ruinous loss of material.
The reigning world champion and one of Anand's rivals at the tournament, Magnus Carlsen, tipped his hat to Anand's genius tweeting that the former five time world champion has "still got it".
While Anand won brilliantly by outplaying his opponent in the opening, the star of last year's edition of Tata Steel Chess, Baskaran Adhiban, fumbled quite early in the Tarrasch Variation of the French Defence and shed a pawn against Gawain Jones. Once he had an extra pawn, the English GM simply had a better position. Adhiban tried complicating matters but none of the tactics really worked in his favour.
On his 32nd move, Jones found a nice tactical shot that liquidated the position into a queen and pawn endgame and also netted him an extra pawn. Then on, it was merely a technical task which Jones accomplished successfully.
In the Challengers, Vidit Gujrathi retained his joint first place winning a splendid game against tournament's second seed, Amin Bassem with the black pieces. Bassem chose Rossolimo variation to counter Vidit's Sicilian Defence.
Equalizing comfortably out of the opening, Vidit got a better position in the middle game thanks to Bassem's inaccuracies. Grabbing a pawn on move 20, Bassem created tactical complications but soon faltered. After the tactical skirmishes had settled, Vidit had a bishop and a knight against his opponent's rook. Vidit also missed the best continuations but right after the first time control, Bassem blundered and allowed Vidit to roll down his passed pawn on the queen's file. Bassem limped on until move 59 but once Vidit had gotten his queen pawn rolling, the result was never in doubt.
India's only female representative in Wijk Aan Zee, Harika Dronavalli, was caught off guard by Erwin L'ami's Alekhine Defence in her third round game. The Dutch grandmaster essayed a dubious variation in the opening which gave Harika a big advantage very early in the game.
L'ami's pieces were caught in a traffic jam and were tripping on one another after Harika sacrificed a pawn early in the game and harassed the black forces with her pawn advances. Things got even stranger when L'ami, unable to castle, took his king for a walk on the queenside. The problem with the position, however, was that it was very difficult to find a decisive break-through.
The computers, of course, gave Harika a decisive edge, especially after the Dutch GM sacrificed his f6 bishop for almost nothing. But Harika was unable to find a plan and only shuffled her pieces back and forth. By the 42nd move, Harika still had her extra piece but wasn't able to find her way into the black camp. At this point, the players, quite surprisingly, agreed to a draw.
Of course, a draw against a player rated 2600+ is no mean feat but not being able to win despite having an extra pieces is surely not heartening for the Andhra girl.
After three rounds, both categories have one Indian player as the joint leader — Anand in the masters and Vidit in the challengers. Round two will feature India versus India clashes in both events. Anand will be playing Adhiban with the black pieces while Vidit will have white against Harika.
Sports
World No.1 Magnus Carlsen of Norway continued his winning run, crushing Azerbaijan's Shakhriyar Mamedyarov 3-0.
Sports
World No.1 Magnus Carlsen began his campaign with a 2.5-1.5 win over American Wesley So.
Sports
In the third round on Thursday, R Praggnanandhaa will meet Quang Liem Le and Arjun Erigaisi will take on Wesley So.