Tata Steel Chess Round 9: Viswanathan Anand holds World No 1 Magnus Carlsen, remains joint sixth
Carlsen equalised without much ado when Anand parted with his bishop for a knight and the position was just level when the two decided to split the point in 32 moves.
Wijk Aan Zee: World rapid champion Viswanathan Anand played out an easy draw with World No 1 Magnus Carlsen of Norway in the ninth round of Tata Steel Masters at Wijk Aan Zee.
Settling for his sixth draw in nine games, Anand took his tally up to five points and remained joint sixth in the 14-players, 13-rounds tournament.
Carlsen employed the Breyer variation as black in the Ruy Lopez and Anand could not get much with his white pieces. The world's top-rated player equalised without much ado when Anand parted with his bishop for a knight and the position was just level when the two decided to split the point in 32 moves.
Local star Anish Giri nosed ahead of the field after his fourth victory in the tournament. On the receiving end was Maxim Matlakov of Russia who fell prey to some deft manoeuvres in what looked like a level endgame.
Giri moved to a very impressive 6.5 points to emerge as the sole leader as his was the lone decisive game of the day.
The draws on remaining board meant that nothing changed for other participants and Carlsen and Shakhriyar Mamedyarov of Azerbaijan slipped to joint second spot on six points apiece.
Wesley So of United States and Vladimir Kramnik of Russia remained joint fourth half-a-point behind while Anand continued on joint sixth spot along with Sergey Karjakin of Ukraine.
Grand Master B Adhiban played a fine game to hold Fabiano Caruana of US to a draw. Playing black, Adhiban found his counter play in the endgame and drew in 60 moves when only the two kings remained on board.
In the challengers section, Vidit Gujrathi was held to a draw by Matthias Bluebaum of Germany. Playing white, the Indian went for a Catalan opening and held a symbolica advantage in one of the main variations.
Bluebaum kept finding resources and exchanged pieces at regular intervals to reach a queen and minor pieces endgame that was about equal. The peace was signed in 44 moves.
Grand Master Harika Dronavalli, meanwhile, held Gujrathi's co-leader Anton Korobov of Ukraine to a draw to ensure that the parity remained at the top.
Both Gujrathi and Korobov are sharing the lead on 6.5 points each in this section and are 1.5 points ahead of Jordeen Van Foreest of the Netherlands.
Results round nine masters: Gawain Jones (Eng, 4) drew with Yifan Hou (Chn, 1.5); V Anand (Ind, 5) drew with Magnus Carlsen (Nor, 6); Wesley So (USA, 5.5) drew with Peter Svidler (Rus, 4.5); Shakhriyar Mamedyarov (Aze, 6) drew with Vladimir Kramnik (Rus, 5.5); Maxim Matlakov (Rus, 3.5) lost to Anish Giri (Ned, 6.5); Sergey Karjakin (Rus, 5) drew with Wei Yi (Chn, 3.5); Fabiano Caruana (Usa 3.5) drew with B Adhiban (Ind, 2.5).
Challengers: Aryan Tari (Nor, 4) drew with Benjamin Bok (Ned, 4.5); Michal Krasenkow (Pol, 4) lost to Jordeen Van Foreest (Ned, 5); Amin Bassem (Egy, 5) beat Olga Girya (Rus, 2.5); D Harika (Ind, 3.5) drew with Anton Korobov (Ukr, 6.5); Erwin L'Ami (Ned, 4) lost to Jeffery Xiong (Usa, 4.5); Vidit Santosh Gujrathi (Ind, 6.5) drew with Matthias Bluebaum (Ger, 4.5); Lucas Van Foreest (Ned, 4) lost to Dmitry Gordievsky (Rus, 4.5).
Find latest and upcoming tech gadgets online on Tech2 Gadgets. Get technology news, gadgets reviews & ratings. Popular gadgets including laptop, tablet and mobile specifications, features, prices, comparison.
Sports
The Athletics Integrity Unit said it was "highly likely" that Wanjiru used prohibited substances, citing abnormalities in his biological passport.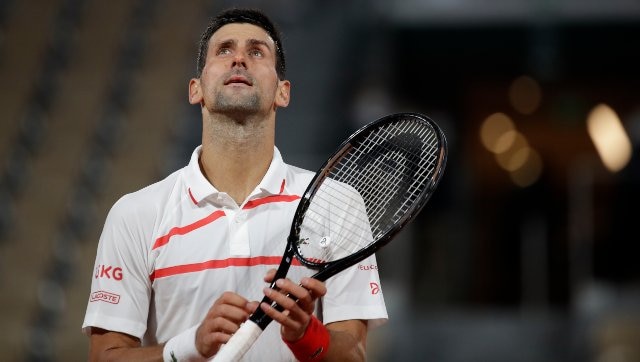 Sports
The Serb said that the London Masters, starting on November 15, is the second and final tournament that he still intended to play for the remainder of the season.
Sports
The tournament, which was scheduled to take place between 14-20 December, has been "directly affected" by the mandatory two-week coronavirus quarantine players have to respect before being allowed into Australia.