Tata Steel Chess Round 4: Adhiban Baskaran ekes out draw against Viswanathan Anand; Vidit Gujrathi beats Harika Dronavalli
In the Masters, Adhiban Baskaran managed to hold Viswanathan Anand to a draw while Vidit Gujrathi defeated Harika Dronavalli with the white pieces in the Challengers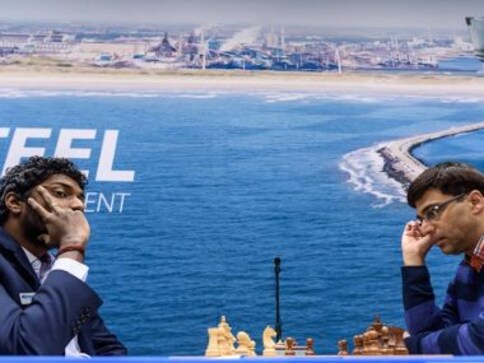 Indians were pitted against one another in the fourth round of Tata Steel Chess in both the Masters and the Challengers event. In the Masters, Adhiban Baskaran managed to hold Viswanathan Anand to a draw while Vidit Gujrathi defeated Harika Dronavalli with the white pieces in the Challengers. In another exciting game of the round, Magnus Carlsen held Anish Giri, who is co-leading the tournament, to a draw with the black pieces. Due to this result, there were no changes at the top of the leaderboard. Anand and Giri still lead the tournament, half a point ahead of their nearest rival.
Adhiban's game against Anand was a tense battle in which the 25 year old from Chennai displayed inspired play from the very start. Kicking off with the non-committal 1. Nf3, Adhiban went on to sacrifice a pawn on his fourth move in an attempt to open up files and diagonals for his pieces. Anand, however, chose to keep things simple and returned the pawn immediately.
Equalizing comfortably out of the opening, Anand was able to build up some pressure against Adhiban's position. The former five time world champion even had an extra pawn on the queenside. But Adhiban in his trademark aggressive style generated counterplay with his active pieces and the presence of bishops of opposite colour only helped his cause.
After forcing an exchange on the 34th move, Adhiban went on to make a temporary bishop sacrifice that forced perpetual checks. After two back to back losses, this was a great performance by the young GM.
In his post-game interview Adhiban sounded very optimistic and pointed out that even last year — when he finished joint third at the event — he was in the exact same spot as he is this year. It all changed for him after the first rest day and he is, therefore, looking forward to it.
Talking about Anand, Adhiban said, "He has been a God for so many years in Indian chess and he proved it yet again by winning the World rapid event (last month). My path and his different path are totally different and I want to keep improving and hopefully one day succeed him if possible."
Anand's co-leader at the event, Giri, was almost caught by surprise by the reigning world champion, Carlsen. Carlsen essayed a complicated line in the Winawer variation of the French Defence and the game got razor sharp in no time. Giri, though, turned out to be prepared for this tactical battle.
After a plethora of tactical skirmishes that also entailed a lot of piece trades, Magnus decided to call it a day on move 31 having forced perpetual checks.
Talking about his preparation, Giri revealed after the game that he had mainly been preparing for 1…e5 when it occurred to him that Magnus might play this line of the French Defence and when Magnus did go for the French Defence, he was very excited. "When he played 1…e6, I was excited because I was thinking now I am going to bang out thirty moves, because I had something very nice there. But then he allowed me to take on g7; that surprised me. This I hadn't repeated in a while," he said.
Despite all the exciting tactics in the game between Giri and Carlsen, the game that stole the day was Vladimir Kramnik's game against his compatriot and eight time Russian champion, Peter Svidler. Kramnik, who had the white pieces in this game, went daringly into one of the lines of the Gruenfeld Defence, a line which Svidler champions and demolished his opponent in merely 24 moves. Perhaps, Svidler resigned a bit too early but Kramnik was clearly in a much better position while Svidler could barely move a piece.
Kramnik had lost in the very first round of this tournament to Anish Giri. But since then, he has more than recovered. With this win on Tuesday, the former world champion has moved up to the joint second spot with Carlsen and Shakhriyar Mamedyarov.
The Challengers also witnessed an Indian versus Indian clash between Gujrathi and Harika. Yet again, Vidit was involved in a battle that kicked off with the Moscow variation of the Sicilian. But this time, he was on the white side of the board.
Vidit played the opening well and seized the advantage quite early in the game creating good play on the queenside. Harika tried creating counterplay on the queenside but this only backfired. As play progressed, Vidit's initiative on the queenside grew insuperable. Harika, who was already in a lost position, missed a mating trick on her 37th move and resigned immediately.
Vidit's co-leader in the Challengers, also won a very nice game against Olga Girya. With three wins apiece, Vidit and Korobov have established a full point's lead over the rest of the field, having scored 3.5/4.
Standings (Masters)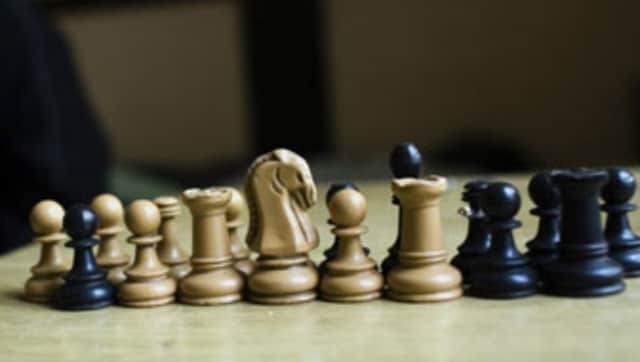 Sports
On-air, Ilya Smirin made vile comments against women, saying: "Chess is not for women".
Sports
The International Chess Federation, FIDE, says that it will create an investigatory panel comprising three members of its fair play commission to look into the claims.
Sports
Magnus Carlsen resigned from his game against Hans Niemann at the Julius Baer Generation Cup after just two moves.