Tata Open International Challenge: Tai Tzu Ying fan Ashmita Chaliha continues to make big waves on domestic circuit
Just two days after knocking top seed Ksenia Polikarpova out of the tournament, the Assamese shuttler upstaged fourth seed Chananchida Jucharoen 21-19, 21-19 to enter the women's singles final of the Tata Open International Challenge on Saturday.
Mumbai: For 19-year-old Ashmita Chaliha, overcoming gritty and higher-ranked opponents isn't really a tough task. Just two days after knocking top seed Ksenia Polikarpova out of the tournament, the Assamese shuttler upstaged fourth seed Chananchida Jucharoen 21-19, 21-19 to enter the women's singles final of the Tata Open International Challenge on Saturday.
Despite her short height, she controlled the pace of the rallies and produced exquisite deceptive strokes, leaving the spectators in awe of the calculative shots flying off her racquet, just like her idol Tai Tzu Ying would unsettle her opponents. "I watch her videos to make myself a better player every day," Ashmita told Firstpost.
Ashmita isn't lanky like PV Sindhu or as robust as Saina Nehwal, but at 19 years of age, she has strokes in her armoury that would surprise the bigwigs on the circuit. Again, similar to the kind of attacking flair a 16-year-old Tai boasted when she defied expectations to lift her first Superseries title at the 2012 Japan Open.
Ashmita's speed and power in her strokes come from years of practice sessions with boys at the Assam Badminton Academy. "We don't have many girls playing badminton in Assam. So, practicing with the boys in the academy improved my footwork and overall gameplay. My strokes are similar to the men's game," Ashmita said.
She had a point. The strong backhand and speedy on-court movements were on display against Chananchida in both the games. "She was moving slow and my forehand strokes were getting too much for her. But I knew she was a difficult opponent as this was my first match against her. I had played against another strong Thai shuttler in the World Junior Championships last year. Thai players are hard to beat," Ashmita explained after beating the World No 85.
No longer can it be considered a fluke or just a major stroke of luck. It was only a few days ago that she bagged her first international title at the Dubai International Challenge. Even there, Ashmita, a qualifier, outmuscled all the higher-ranked counterparts with maturity, including World No 68 Jeon Jui in straight games. Not only that, she reached the semi-finals of the All-India Senior Ranking event in Bengaluru before defeating a few other seniors to clinch her first senior ranking badminton tournament in Hyderabad, which also sealed her Asian Games berth earlier this year.
Although Ashmita did not get to play a single match in Jakarta, she did notice how the Indian shuttlers would approach big matches. "Saina was my roommate in Jakarta. She told me how to improve my training and also my eating habits. I learned the way she maintains herself. I trained with her in one of the morning sessions. There is so much to learn," she recalled.
Training under Indonesian coach Edwin Iriawan at the Assam Badminton Academy has been a rollercoaster ride. "I get punishments all the time," she laughed. "That's why I make sure to play as per the instructions given by the coach. Their technique is different from the Indian coaches. I used to play rallies and drops and all that, now I'm more of an attacking player," explained Ashmita, who has played the Junior Worlds and Junior Asians earlier.
However, badminton was not the first choice for the Guwahati shuttler. It was Ashmita's dad, who played tennis, who wanted his daughter to take up a sport. "Tennis was my dad's first choice but since the badminton academy was closer to our home, we ditched tennis," said Ashmita.
She wasn't interested in the sport but once she started winning district and state-level tournaments, she never looked back. On Sunday, Ashmita will have to use the same approach in the final. She is not only challenging for the title, but also facing yet another higher-ranked shuttler Vrushali Gummadi. A title win in Mumbai is what the teenager needs to cap off a year full of surprises.
Only time will tell whether she follows the footsteps of Tai to achieve her dream of becoming a World No 1 shuttler. After all, she adores Lee Chong Wei too.
Find latest and upcoming tech gadgets online on Tech2 Gadgets. Get technology news, gadgets reviews & ratings. Popular gadgets including laptop, tablet and mobile specifications, features, prices, comparison.
Sports
"Remember how everybody said cricket will not be the same anymore when Sachin retired? I think it is a bit like that with Lin Dan's retirement," Prannoy said.
Sports
Lin Dan, known for his ability to suddenly up the ante in the middle of a match, won two Olympics gold medals, won the World Championships five times and the prestigious All-England crown on six occasions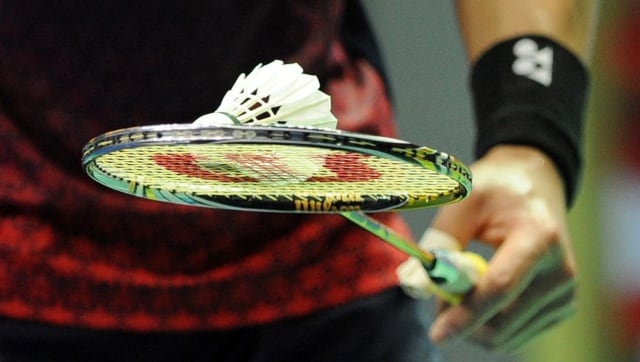 Sports
Badminton's World Tour is due to restart with the Taipei Open during the first week of September, followed by the Korea Open a week later.