Talented Ramkumar Ramanathan shows temperament for bigger battles in standout season
An aggressive baseliner, Ramkumar has the tools of the trade to break into the top-100. Now, he has also started showing the maturity to use them well.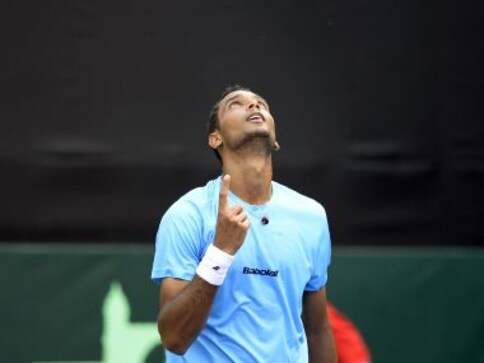 A towel draped on his face, Ramkumar Ramanathan strode off to the locker room in a hurry. His season had got off to a disastrous start: a 1-6, 1-6 defeat to fellow Indian Yuki Bhambri in front of his home crowd at the Chennai Open. He had not just lost, but failed to put up any sort of performance against Bhambri, admittedly a more accomplished player, but one who was returning to the tour after a six-month injury layoff from a tennis elbow.
It had been a jarring reality check to where his tennis was headed. For all the talk of his talent, Ramkumar had seemed complacent playing on the lowest rung of professional tennis — the Futures — and rarely came out of his comfort zone. After the loss to Bhambri, rather than pushing through from the low, he went back to the training ground to iron out the tactical and mental flaws.
He emerged from the two-week boot camp with former pro Emilio Sanchez in Florida as a player more willing to push the boundaries. The 23-year-old from Chennai scripted his most successful season on the tour this year, rising from 227 in the ranking charts to 150.
"This year I have played everything," exclaims Ramkumar on the sidelines of the KPIT Challenger in Pune, where he made the final. "Futures, Challengers, ATP 250, 500, and Masters (1000) events. I also played in the US Open qualifying. Playing more matches is what makes me play better, so I was doing that. I had some tough losses, few wins in between. I also had not great weeks. But I took it in the right spirit."
The Indian has been visiting Spain, and the Sanchez-Casal Academy in particular, since a young age and the Spanish influence on his game goes well beyond the occasional cries of 'Vamos!' he utters. He tirelessly runs down a lot of balls and uses a heavy, heavy forehand to dominate rallies.
"As a player I have grown because I have been playing a lot of matches and sometimes on the important moments I am more relaxed. I am not rushed. It's nice to see that," says the 6'2" player. "Playing on those big events gives you a lot of confidence. You play with the crowd, the atmosphere is great. It is a kind of a boost for you to play well. If you have to go to the next level, the only way to do it is keep playing those kind of tournaments as and when you get a chance, no matter what the rank is."
Even as the Davis Cup wins at home over New Zealand and Uzbekistan helped with his confidence, Ramkumar gave a measure of his growth by beating then World No 8 Dominic Thiem 6-3, 6-2 in second round at the grass-court ATP 250 event in Antalya, Turkey.
"I was not even supposed to go for that tournament," says Ramkumar, who last played on grass during the Davis Cup Group I match against South Korea in July, 2016.
"I was sick in France the week before. I called up Emilio on Thursday night and he said give it a try. I started feeling well on grass in the qualifying rounds. Beating Thiem was something very special for me. It meant that I can play that kind of tennis and gave me the belief that whoever I play with, I always have a chance. I was aggressive all the time, taking my chances against Thiem. I served really well the whole 3-4 days I was there. Next match, Baghdatis was also so close..." he trails off.
Taking off from his surprising success in Antalya, Ramkumar qualified for the ATP 500 event in Washington and also made his maiden Masters appearance in Cincinnati. He defeated Serbia's Dusan Lajovic in the first round of qualifiers and progressed till the second round, before losing 4-6, 6-2, 4-6 to World No 60 Jared Donaldson. In the Davis Cup World Group playoff in Canada, he gave India an ideal start with a 5-7, 7-6(4), 7-5, 7-5 win over Brayden Schnur.
It is significant that Ramkumar has racked up these results in a year that he parted ways with long-time benefactor Karti Chidambaram of the Tamil Nadu Tennis Association. Left to fend for himself in the brutal world of professional tennis, the 23-year-old seems to have emerged on the other side stronger and more responsible.
After a busy and exhausting summer, the Indian is ready to wind down his season at next week's $100,000 ATP Challenger in Bangalore. He hasn't quite yet cracked the winners' circle at the level, losing all the three Challenger finals he made this season. Making that leap is an important piece in the puzzle, and it may well start with strengthening the backhand.
"I've been trying to hit it," says Ramkumar, who almost as a default setting starts running around his backhand when the pressure is turned on. "I am still slicing more, but I have been working a lot on it and I need that one month of training in the off-season to get in shape again. You really have to do the off-season. If I stay back in Chennai, there's no way I am going to start well (in 2018). It's always tough to keep it up and go to higher. But I think I can do it."
An aggressive baseliner, Ramkumar has the tools of the trade to break into the top-100. Now, he has also started showing the maturity to use them well.
Tennis
India were thrashed 0-3 by a far-superior Norway team as world No.2 Casper Ruud combined with Viktor Durasovic to win the doubles match and complete the rout in the World Group-I tie of Davis Cup.
Tennis
Roger Federer made roughly $1 billion (before taxes and agents' fees) in his career just from endorsements and other business endeavours.
Tennis
For many, Federer's sheer aesthetics stand out over and above his collection of 20 majors, 103 singles titles and 310 weeks at World No 1.