Sergey Karjakin might have missed the title prize in the Rapid leg of the Tal Memorial but in the Blitz, the former world championship challenger was at the top of his wits. Raking a massive 10.0/13, Karjakin sped past his opposition at the speed of light. In this 13-round run, he lost only one game, won eight and drew four. Neither Hikaru Nakamura, who took the second place on the leaderboard, nor anyone else in the field had any chance of catching up with Karjakin in the final round as he was already 1.5 points ahead of them. With the Candidates Tournament just around the corner, this victory will be a big confidence booster for Karjakin especially since three other participants of the Candidates except him were also a part of this event.
With this win, Karjakin became the only player in the field to have made a podium finish in both the rapid and the blitz legs of the tournament. "Yeah, well, I was enjoying and it's always very nice when you're winning. So you want to keep the moment for the longest time," Karjakin said talking about his experience at the tournament. Talking about his win at the Tal Memorial Blitz, he said, "It's very nice to win. I feel like I am in a good form but it will be very important not to lose this form in one week (when the Candidates begins)."
Viswanathan Anand, who had won the rapid leg of the event, kicked off with flair in the Blitz segment too. Just like in the Rapids, Anand started with two back to back wins and led the tournament with Dmitry Andrekin after two rounds.
His second round encounter against Alexander Morozevich was especially interesting. Compelled by innate creativity, Morozevich chose the King's Gambit, one of the most aggressive and rather rare openings, to open the game. Anand responded well with the black pieces. Anand not only able to avoid any lines that might have got his king in trouble but he also ensured that Morozevich's gambit pawn would not be an easy one to recover. In an attempt to encircle and execute Anand's pawn on f4, Morozevich overextended and lost his queen for a knight and a rook.
A few moves later, Anand sacrificed another exchange making his opponent's material compensation look better. However, by the 25th move, the players reached an endgame with Anand having a queen and a minor piece with two extra pawns against Morozevich's two rooks and a minor piece. With his queenside passer, Anand's position in this endgame was simply overwhelming and it did not take too much effort for him to convert this one into a full point.
But third round onwards, the Indian maestro slowed down. The next five games turned out to be disastrous for Anand. He drew back to back games from round 3 to round 5 and then his standing worsened even further after losses in rounds 6 and 7 to Nepomniachtchi and Fedoseev, respectively.
Anand did try to make a comeback with his win against Shakhriyar Mamedyarov in the eighth round but a loss immediately in the next game against Daniil Dubov was perhaps too much to handle. The game itself had begun quite decently for Anand. Once again, the Indian number one had put his faith in the Mikenas-Flohr variation of the English Opening with the black pieces.
Anand had played this opening more than once in the Rapids and had had decent results with it. In this round again, he got a decent position but on move 17, Dubov found a sham knight sacrifice that complicated the position significantly. It was after all a blitz game and even if it was dubious objectively, it gave Dubov good practical chances.
Anand soon fumbled and returned his extra piece and, eventually, found himself in a much inferior position. He limped on for a few moves after this but decided to throw in the towel after Dubov's 31st move.
Final Standings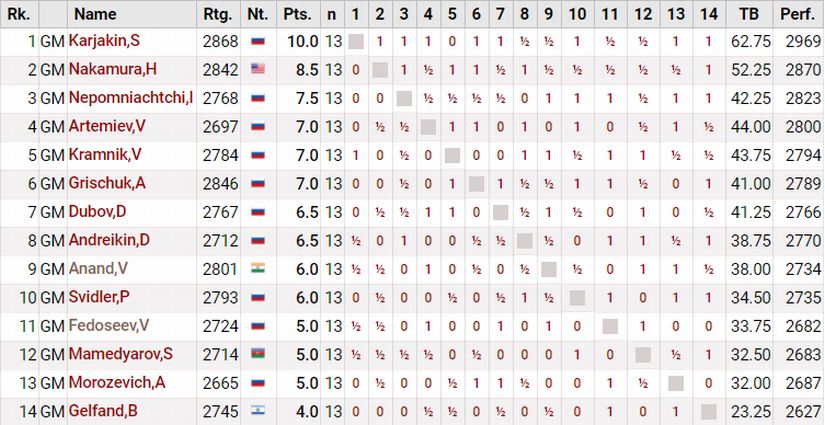 Updated Date: Mar 06, 2018 21:02 PM