Tal Memorial Chess Day 2: Viswanathan Anand beats Hikaru Nakamura in final round to become joint leader
Scoring one win and two draws out of his three games, reigning World Rapid Champion, GM Viswanathan Anand joined Shakhriyar Mamedyarov in the tournament lead
Three more rounds of rapid games were played on day two of the Tal Memorial Rapids. But unlike day one, the second day was rather peaceful and featured only three decisive games. However, despite the low number of decisive games, there was an important change on top of the leaderboard. Scoring one win and two draws out of his three games, reigning World Rapid Champion, GM Viswanathan Anand joined Shakhriyar Mamedyarov in the tournament lead.
After his loss in the final round of the first day, Anand began with back to back draws in the first two rounds of day two against Peter Svidler and Vladimir Kramnik. Svidler got a nice position in his game against Anand from the white side of a Queen's Gambit Declined in round four. After an early queen trade, players reached an endgame within the first 20 moves. Svidler had an edge because of his active rooks in this endgame. In order to keep his pieces active, Anand gave up a pawn and began defending a pure rook endgame which arose after the trade of knights on move 27. Svidler did have a decent edge in the position but Anand managed to wriggle out with a draw in the course of the next fifteen moves.
With a loss and a tough draw in the last two rounds, Anand decided to take things slow in his fifth round game against Kramnik. Anand went for complete equality right out of the opening. Within 16 moves of play, queens were exchanged and both players had an almost symmetrical pawn structure. Peace was signed at this point.
In the last round of the day, Anand was pitted against Hikaru Nakamura. Anand had the white pieces once again and yet again, he chose the Italian Opening to kick off with. Once again, queens were traded early in the game but this time, Anand had a little something to bite on in the position. Right out of the opening, Anand was able to win a pawn. On the other hand, Nakamura was also able to inflict several exchanges and enter an endgame with bishops of opposite colour. Anand still had the advantage but a slip on the 35th move almost let Nakamura slip out with a draw. Unfortunately for Nakamura, that was not to be. He also missed the most critical detail on the very next move and blundered a full point away.
After the game, Anand agreed that it was special to win against Nakamura given how tough an opponent he has been. However, he also added that since there is hardly any time between the rounds, it is difficult to reflect too much on the games.
In another interesting game from the day, Boris Gelfand, who is otherwise known to play in classical style, went for the off-beat Trompowsky Attack with the white pieces in his game against Daniil Dubov in round 4. Quite early in the game, Gelfand gave up his bishop for Dubov's knight and tried to create imbalance in the position. Dubov, in response, tried to get in a pawn break in the centre but found his pawn caught in a pin. In an attempt to break free from the bind, he gave up a pawn but this only hastened the end. Dubov lost a second pawn soon and by the 40th move, not only was Dubov a full pawn down but his king was also about to be caught in a mating net.
Tournament leader, Shakhriyar Mamedyarov drew all of his games on day 2. Due to this, Anand, after his win against Nakamura his final game of the day, was able to catch up and jointly lead the tournament. On the third and final day, Anand will be playing against Sergey Karjakin, Alexander Grischuk and Boris Gelfand in the last three rounds.
Subscribe to Moneycontrol Pro at ₹499 for the first year. Use code PRO499. Limited period offer. *T&C apply
Sports
The French Rugby Federation said the unnamed player tested positive following another round of tests late Wednesday, prompting their medical committee to suspend training.
First Cricket News
The coverage will capture the performance of new teams including Hungary, Romania, and Serbia, who are competing for the first time in the men's T20 World Cup qualification, and Finland playing host to an ICC event for the very first time.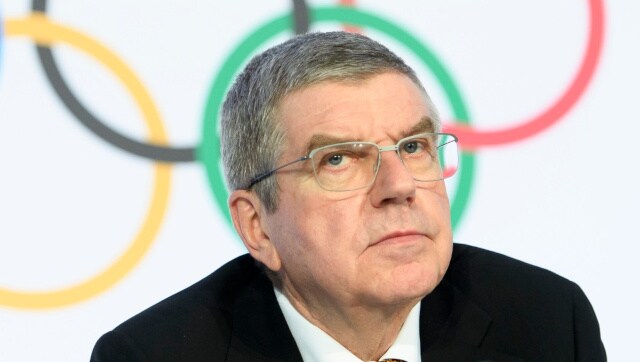 Sports
The IOC announcement does not mean Brisbane is guaranteed to get the Games, and there is said to be interest from other cities, but it is now the hot favourite.