Tai Tzu Ying interview : Defending Malaysia Open champion reveals a supreme confidence in her talent and abilities
A dozen titles on the Superseries circuit, including five in 2017 alone, bear mute testimony to Tai Tzu Ying's hegemony on the international badminton circuit.
There appears to be a remarkable lack of intensity about World No 1 Tai Tzu Ying as she prepares to go on court for her Malaysia Open second-round clash against Canada's Michelle Li.
The Chinese Taipei shuttler, who celebrated her 24th birthday on 20th June, is humming a song under her breath as she limbers up and stretches her hamstrings, touching her forehead to her knee, even as one leg is extended fully in front of her, in a near-split. Long-time coach Jian-Cheng Lai hovers around like a protective mother hen, ensuring that his ward concentrates on her routine.
A scant half hour after she enters the Axiata Arena to a thunderous applause from the badminton-mad Malaysian crowd, she is back in the changing room, a facile 21-11, 21-13 victor over the World No 13 Li. The win took only a few minutes more than the 21-10, 21-9 triumph that Tzu Ying (that is her first name, by the way; Tai is her surname) had posted in her opening round against local girl Soniia Cheah, the previous day.
Killing me softly, killing me softly, with his song…
So, is the apparent absence of concern and happy-go-lucky mien that the Kaohsiung native demonstrated before her match – at a time when most players withdraw into themselves and glare in a forbidding manner at anyone who dares to disturb their warm-up routine – a mere facade? Or is she genuinely unconcerned by the opponent that she is scheduled to face on the day?
"I would not call it over-confidence, but she is very aware of her talent and abilities, and is confident of being able to tackle any player in the world. After all, she is the defending champion at the Malaysia Open," says the Taiwanese interpreter, on conditions of anonymity. Tzu Ying is not a total zero in the Queen's English but is not anywhere near as confident in expressing herself in the international language as she is while unfurling her exquisite repertoire of strokes on court.
"She works very hard on her fitness, watches her diet closely and has maintained her 57 kg weight for the past three or four years," the interpreter adds, in a matter-of-fact manner. The point is, Tzu Ying actually enjoys working out and does not dread her daily two-hour sessions in the gymnasium, or treat them as an unpleasant but necessary evil, the way most players would.
There is not an ounce of fat on her compact 5' 4'' frame and her six-pack is very evident in the work out pictures that she occasionally posts on her Facebook page. She is assiduous about her light-weight training, the bench press and the hundreds of crunches she routinely does to remain flexible and burn off the calories.
Allied to her awesome fitness is her playing style which is unique, not just in contemporary badminton, but even in the history of the game. When she gets under the shuttle and snatches a quick glance at where her rival is, she appears to have five different shots she can play with virtually no difference in action or follow-through.
Indeed, Tzu Ying has that inborn ability to command the shuttle to perform tricks with effortless wristwork. It is all thanks to a deep-rooted awareness of how the bird will behave, when and where it can be propelled to make it fly exactly to the desired spot on the other side of the court and in exactly the manner she wishes it to go.
She is a master of deception, not just on where she will place the shuttle, but at what speed it will travel through the air. She can delay its flight, hold it a split-second longer in the air and mix it all up. That wrist is often poised to send the bird straight only to have it travel 45 degrees across the court with a last-second sleight of hand.
Killing me softly, killing me softly, with his song…
So, how did Tai Tzu Ying develop this style which Indian ace Saina Nehwal has – with deep admiration, mind you – called "maddening"? Tzu Ying shrugs her shoulders. She has no real explanation for it. Her father was a firefighter by profession and the director of Kaohsiung city's badminton committee. His favourite activity in his spare time was playing badminton and he encouraged his daughter, who was then a third grader in elementary school, to accompany him to the courts.
"I won the title in the second national division and earned promotion to the first division games," she recalls. "I remember being the youngest player to compete in the first division. Then, in 2009, when I was 15 years old, I started competing in international games."
Tzu Ying was runner-up in her very first international outing at the 2009 Vietnam Open. Then, in July, she represented Kaohsiung City in the National Games and reached the quarter-final. In the same month, she entered the Asian Youth badminton tournament in Malaysia and ended runner-up – all when she was still just 15. In December that year, she represented her country at the East Asian Games and won a silver and a bronze.
The felicity with which Tzu Ying rattles off all these statistics, with the interpreter struggling to keep pace, shows that she clearly cares deeply about her game and performance. Behind the affable, smiling visage lurks a ruthless badminton assassin who would seek to dominate – nay, overwhelm – an opponent from the opening stroke itself, but with finesse and timing, not raw power, even though some of her smashes have reached speeds of upto 350 kmph.
Killing me softly, killing me softly, with his song…
Not for nothing has the Taiwanese had a sensational run since taking over as World No 1 in December 2016 and maintained that position for 67 straight weeks before ceding the position briefly to the 20-year-old Japanese girl who currently occupies the No 2 slot and promises to be the main pretender to the throne – Akane Yamaguchi.
A dozen titles on the Superseries circuit (since re-named the World Tour), including five in 2017 alone, bear mute testimony to Tzu Ying's hegemony on the international circuit. "The All England Open has been my biggest achievement to date," she says. "It is a very prestigious event and is known as the mini World Championship. When I won it in 2017 and defended the title successfully this year, I was achieving another milestone for Taiwanese badminton."
That particular statement exposes, by deduction, the biggest lacuna in Tzu Ying's otherwise outstanding resume – the absence of an Olympic gold or a world title. At the 2016 Rio Olympics, she was ruthlessly trampled upon by India's PV Sindhu in the quarter-finals, while she was conspicuous by her absence at the 2017 World Championships in Glasgow.
In this aspect, Tzu Ying could be considered on par with tennis players Caroline Wozniacki and Simona Halep, who topped the world rankings and stayed there for a while without winning even one Grand Slam title. Perhaps Tzu Ying actually falls behind in this comparison, since both Wozniacki and Halep have since won a major title each, while the Taiwanese stares at an equivalent empty spot in her trophy cabinet.
Badminton aficionados considered it a bizarre decision when she gave the 2017 World Championships a miss because the dates clashed with the World University Games back home in Taipei. It speaks volumes of her priorities when she claims it was not at all a difficult decision to make and that she remains comfortable with it.
"It was my last year at university and my last chance of winning a gold medal in the World University Games," she says, matter-of-factly. "Also, it was being held at home, so I wanted the world to see Taipei. It was also important that a Chinese Taipei player won the gold. I have so many more years left to win a world championship. I am not worried!"
Need one add that Taiwanese President Tsai was all praise for his compatriot's decision and ensured that Tzu Ying was honoured with the Special Contribution national award for her selfless act? Or that the 2017 World Universiade gold medal duly found a permanent home in her display cabinet?
Killing me softly, killing me softly, with his song…
Inevitably, our Taiwanese inquisition veers round to the subject of how hard or easy she finds playing against India's two crown jewels, Saina and Sindhu. Tzu Ying has seen Saina top the rankings in May 2015, during the period when she herself was making her way up the rankings. But it is the younger Indian who has troubled her more in recent times.
"Both are very fine players and both have had a good 2017 season, but I find Sindhu a tougher opponent because she has powerful smashes," says Tzu Ying. "I think this is just the beginning of a glorious era in Indian badminton with most of the singles players in their early-20s. They are likely to improve and flourish further."
Tzu Ying, though, has a great record against both the Indians. She is 8-3 in career meetings against Sindhu, after beating the Hyderabad player in every one of their three meetings in 2017. In fact, after her quarter-final reverse against Sindhu in the Rio Olympics, she has not lost to the World No 3.
Saina had a lot of initial success against Tzu Ying, thanks perhaps to the five-year age gap between the two and the Indian's vast experience on the world circuit in the period before November 2014. However, the Taiwanese ace has beaten her older rival now in eight of their last nine meetings, including the last six in a row. Saina has simply been unable to find a chink in her armour since then, nor has she been able to unravel the Tai conundrum and their overall head-to-head stands at 8-5 in favour of the latter.
Killing me softly, killing me softly, with his song…
There will be Tzu Ying-Sindhu meeting at the semi-final stage of the Malaysia Open after the Taiwanese got past Malaysia's Goh Jin Wei, while Sindhu beat the sixth seed, Carolina Marin.
It was the charismatic left-handed Spaniard that Tzu Ying beat in the rip-roaring final last year, after trailing by a match-point in the second game. That was a summit clash in which Tzu Ying displayed the mental strength that some of her critics had accused her of lacking, at least in the early stages of her career.
Marin, today, is not the dominating player she was in the 2014-16 period and her career since has run virtually along the lines of China's Chen Long, who was her male counterpart in World Championships singles victories in 2014 and 2015, and the 2016 Olympics gold medal.
On Saturday, Sindhu will get a twelfth career opportunity to reverse the 3-8 adverse scoreline against a player who has been troubled, but never overwhelmed, by her powerful smashes and merely proceeded to weave a web of sorcery and deceit around her taller, stronger, younger rival. Not bludgeoning, but charming, her antagonist into submission.
Killing me softly, killing me softly, with his song…
Badminton
Praneeth beat Korea's Hyeok Jin Jeon 24-22, 7-21, 22-20 in the men's singles second-round match to enter the quarters of the Super 300 tournament in Bangkok.
Badminton
World No. 12 Sen squandered an opening-game advantage to go down 21-15, 10-21, 13-21 to home favourite Christie, ranked third, in a 62-minute men's singles match.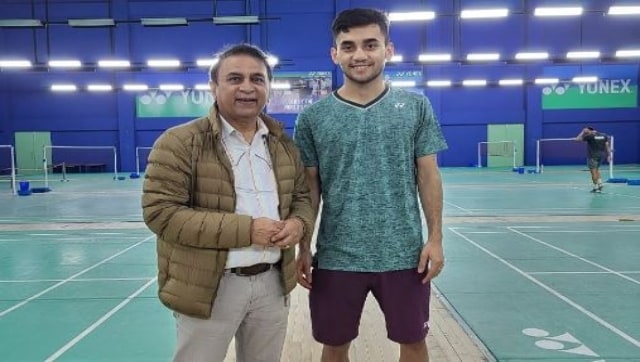 Badminton
Gavaskar posted a picture with Lakshya Sen on Instagram and captioned it: ''My new badminton hero Lakshya Sen, after the one and only Prakash Padukone.''