Table tennis star Manika Batra has mixed feelings on being recommended for Arjuna award as coach Sandeep Gupta misses Dronacharya honour
'Yes, I wanted him to get the award. But it is the government's decision and we have to respect that. I will work harder so that he gets it next time,' Manika Batra said.
New Delhi: An Arjuna award for her historic achievements has made Manika Batra happy but only just, as she says the Dronacharya snub to her coach Sandeep Gupta has been a dampener.
The celebrations after securing country's second-highest sporting honour were subdued as her childhood coach Gupta missed out on the Dronacharya award for the second time.
"Yes, I wanted him to get the award. But it is the government's decision and we have to respect that. I will work harder so that he gets it next time," Manika told PTI on Thursday.
"It's a case of being partially happy for her," said her mother Sushma.
Manika, who is the first Indian woman to win a Commonwealth Games gold and an Asian Games bronze, was also in the running for Rajiv Gandhi Khel Ratna.
"I was expecting that (Khel Ratna) but there were other deserving athletes. It is fine. I will continue to strive for it," said the 23-year-old.
While her coach was overlooked for Dronacharya, another deserving candidate, Srinivasa Rao, father of India's finest paddler Achanta Sharath Kamal, got the selection committee's nod.
Rao is among the eight coaches who will be bestowed with Dronacharya on 25 September. Manika's coach Gupta was obviously disappointed with the snub.
"I have no issues as long as any deserving coach gets the award. My problem is with the number of Dronacharya awardees every year. It should be at par with Arjuna winners. Behind every Arjuna winner, there is years of hard work put in by a coach. It must be acknowledged," lamented Gupta.
He, however, was happy for Manika. The Delhi-based paddler has reached 56th in the latest ITTF rankings and aims to break into the top-30 by December end.
"I have four tournaments to go on the Pro Tour. The target is to be in top-30, for that I need to beat some top players. The men's team is doing well and that is also motivating," she said.
Having conquered the Japanese and Koreans at the Asian Games, the Indians have also been able to instill doubts in the minds of the mighty Chinese.
"Even the Chinese are scared of us. Earlier, the mindset was that they were unbeatable but not anymore. We can beat them," said Manika.
Talking about her surprise mixed-doubles bronze alongside Sharath in Jakarta, she said, "We hardly practiced before the Asian Games. We barely had five sessions before the competition. It all just clicked for us on that one day.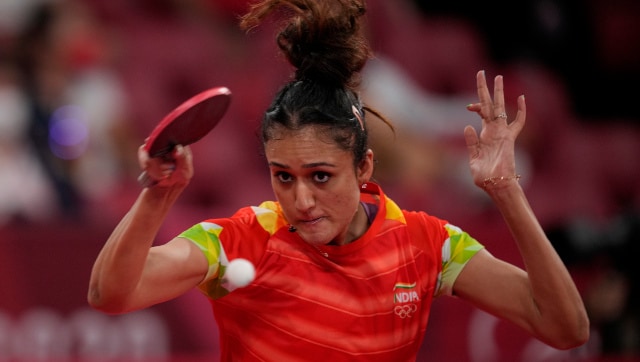 Sports
Manika, ranked 62, made a remarkable comeback after losing the first two games to prevail 4-11, 4-11, 11-7, 12-10, 8-11, 11-5, 11-7 in a second round match that lasted 57 minutes.
Sports
The 39-year-old Sharath struggled in the first game but pulled himself up just in time to win 2-11 11-8 11-5 9-11 11-6 11-9 in the 49-minute second-round contest.
Sports
The Indians had no answer to Lin's bullet-like tops-spin drives from both forehand and backhand.