Syed Modi International 2018: With marriage on horizon, Saina Nehwal, Parupalli Kashyap insist sport remains priority
Kashyap said: 'We have been together for 14 years, so now the wedding and the reception will just be another session to be finished and then we can get back to training.'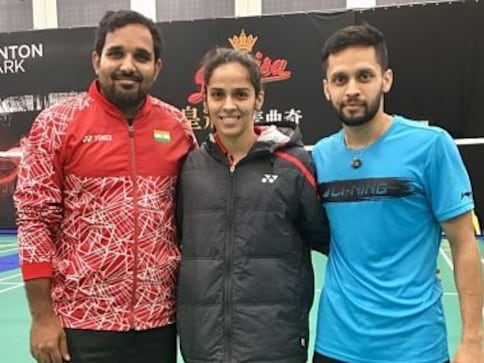 Lucknow: Soon after winning her Round of 16 match against Amolika Singh, Saina Nehwal left the court in a hurry and rushed to the changing room. Within a space of a few minutes, she returned to the arena and stood transfixed, as Parupalli Kashyap neared yet another pre-quarter-finals exit after dropping the opening game 9-21 against the unseeded Firman Abdul Kholik of Indonesia.
Sitting behind Kashyap's side of the court alongside RMV Gurusaidutt, Saina cheered her soon-to-be husband, who looked off-colour right from the word go. What followed next would sound a little filmy, but the truth is that Kashyap, suddenly all pumped up, started to get his strokes right thereafter.
The second game was a tight affair as the change of ends did the magic for Kashyap, who not only saved two matchpoints in the second game, but also went on to win and level the tie.
"It's important to help someone who is helping you out so much," said Saina, who admits that she feels a little scared to sit on the coach's chair. "I'm happy to be sitting outside and cheering. The men's game is a little difficult to track, especially for a women's singles player, but I did my bit."
In the decider, Kashyap looked in full flow and didn't allow Kholik a chance of a comeback after taking an 18-7 lead before wrapping up at 21-8. The former World No 6 sealed a dramatic comeback victory, much to the delight of the home fans.
"My body is fit, but match practice is a little less. I could have lost the match but I was lucky. Once I got back into the rhythm, I knew I was the better player," Kashyap said.
The 32-year-old is looking to get into the top rung of the men's singles circuit once again after struggling with injuries for the last three years. Having shown glimpses of his past form in Lucknow, he has reached the quarter-final of a Super 300 tournament for the first time since the Indian Open in February.
"It is very important to get back to form. It's been three years that I am struggling with injuries. Since 2015, (there has been) injury after injury and today was an important victory, two good wins for me so far."
Recovering from a back injury he sustained during the Singapore Open earlier this year, Kashyap had utilised his free time in helping Saina prepare for the Asian Games. In the absence of national coach Pullela Gopichand, the 32-year-old would take charge of Saina's training.
"Since the Asian Games, I can see the amount of involvement he is showing in my game. I can't thank him enough for his support at the Denmark Open where I reached the final. I played well at the French Open as well," said the former World No 1.
Saina went down fighting against Tai Tzu Ying in the final at Odense, but feels that Kashyap's pre-game analysis gave her the slightest of chances to end her 11-game losing streak.
"We worked on finding ways to beat World No 1 Tai Tzu Ying who played extremely well. But I feel I'm close to beating her and he's helping me to reach that level," she said.
Marriage just another session
Ever since the news of their wedding broke, mediapersons have been following the couple in Lucknow. After the match, both Saina and Kashyap were left surprised by the questions asked by the media about how next month's wedding would drastically change their life. They clearly didn't expect that.
"We have been together for 14 years, so now the wedding and the reception will just be another session to be finished and then we can get back to training," said Kashyap.
The duo insisted that they would still be very much focused on their respective careers even after 16 December. "Both of us have one thing in mind and that is to win and do well for the country, and for ourselves," said Saina.
"Everyone has been scaring me by saying that it's going to be tough. But it's exciting that something different is happening in our life. Among my colleagues (players in my group) we don't have any badminton players who are couples. There are few juniors who are living together and they seem okay. So it should be okay," Kashyap concluded.
Badminton
The eighth seeded Lakshya Sen looked a pale shadow of himself as he failed to match the level of his rival, losing 18-21, 11-21 to bow out of the men's singles competition.
Badminton
India had qualified for the Sudirman Cup after winning the bronze medal at the Badminton Asia Mixed team championships in February.
Badminton
The second-seeded Indian pair, the 2022 World Championships bronze medallist, was solid in defence and dished out an attacking game to outwit the world No. 21 pair 21-19, 24-22 in 54 minutes