Syed Modi International 2018: HS Prannoy's long battle with persistent breathing issue continues with early exit
It has now been four and a half months since HS Prannoy last made a quarter-final appearance at a competitive event, and the Indian shuttler has had to deal with a series of health issues in the meanwhile.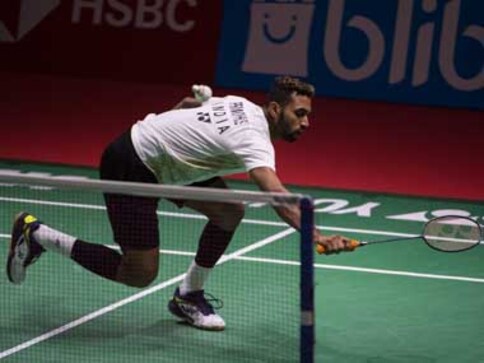 Lucknow: It wasn't long ago that HS Prannoy kept the legendary Lin Dan at bay in their last-32 clash at the Indonesia Open earlier this year. Not to forget, he started his World Tour season with a couple of upsets at the All England Championships. Everything seemed near-perfect for the Kunnur-born lad who had sealed his place into the top rung of the men's singles rankings following a superb 2017 season.
Cut to November, and it has now been four and a half months since Prannoy last made a quarter-final appearance at a competitive event. First, he had to recover from the foot corn injury he suffered at the India Open in February and now he has gastroesophageal reflux – a condition where acid from the stomach leaks up into the oesophagus, causing burning pain in the chest – to deal with.
The on-court issues resurfaced yet again on Wednesday at the Syed Modi International Super 300 event. Everything seemed indifferent; every stroke that came off Prannoy's racquet was feeble. In fact, his opponent Chico Aura Dwi Wardoyo, schooled Prannoy with deep and crisp strokes towards the backcourt in both the games to register a 21-14, 21-9 victory.
"Whatever he was doing on the court just didn't work," academy coach Amrish Shinde told Firstpost after the match.
The net exchanges had even left the 20-year-old Wardoyo surprised as the drop shots produced by him proved to be too difficult for the second seed. The World No 100 could easily capitalise on Prannoy's situation and hit booming smashes down the line to unsettle his opponent.
It just wouldn't work for Prannoy as he admitted that he couldn't last for more than 10 minutes on the court. Everything that Wardoyo hit turned into gold, much to the annoyance of Prannoy.
The 26-year-old has been facing breathing issues for the last three months and hasn't been able to use his weapons the way he would have wanted. "I had extensive acidity, which was causing breathing issues for me. Some days it's tough to play and some days it's normal," said the national champion.
The Indian shuttler had the breathing problems diagnosed before the World Badminton Championships in July and underwent tests in Cochin and then in Mumbai. He was quick enough to diagnose the persistent issue and get back to training at the Pulella Gopichand Academy in Hyderabad.
"We noticed that the breathing issues crept in. Everything else was rectified and he took precautions at the right time," said Shinde.
Eight tournaments have passed by since then, and Prannoy has been playing with chest congestion throughout. "I can't get a full breath. So, after 5-10 minutes I can't prolong the rallies. It's really bad," said Prannoy.
Last week in Hong Kong, the World No 39 suffered a narrow 21-18, 29-30, 18-21 defeat to compatriot Kidambi Srikanth in a marathon match. After managing to wrap the opening game, Prannoy ran out of steam in the next two games.
"The quality hasn't come down. Winning a tournament will give him the much-needed confidence. Playing in so many tournaments is not really an issue for a seasoned player like him. Once he gets going, the results will come his way," Shinde commented.
Although Prannoy doesn't know when will he finally recover from the issue but expects to be back on the court soon. "Things have been better for me since the last one month. I'm still on medication. We're trying to figure out everything," said Prannoy.
The Indian shuttler, who will ply his trade for the Delhi Dashers this season, has the upcoming the Premier Badminton League to look up to and regain the lost form.
Badminton
Samuel Rickets had damaged his pair when he was involved in his singles match against Ng Tze Yong.
Badminton
PV Sindhu defeated Jia Min Yeo 21-19, 21-17in the women's singles semi-final match
Sports
Sindhu has been in terrific form at the CWG 2022, having won all her matches so far, including the mixed team event where India won silver, and will now aim to clinch her third successive singles medal at the quadrennial event.